DIY Chinese New Year Angpow Basket
Can you believe it that we will be welcoming the Fire Monkey in just a few more days? Still it is not too late to make some DIY CNY decor using past year's ang pow packets. 
This is the first time I am making a basket using red packets.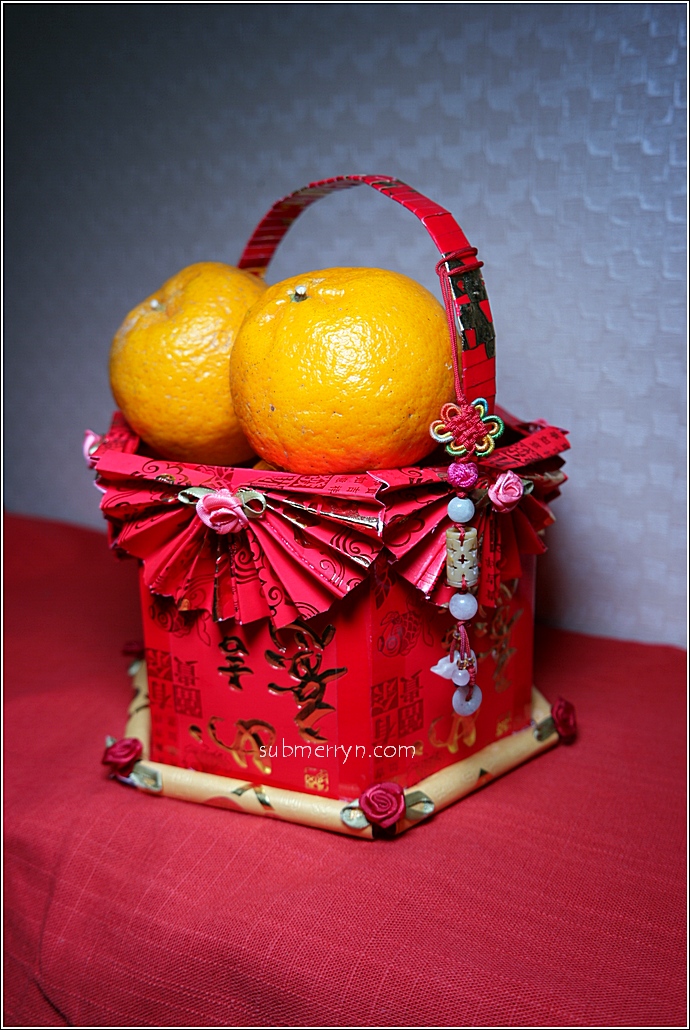 Chinese New Year Ang Pow Basket 
I used 6 red packets for the basket + 12 red packets for the decor + 6 gold packets for the base decor.

First, I cut 6 cardboards and insert into 6 angpow packets. 
Then I used cellophane tape to stick them all together. 
This is how it should look like after sticking them together. 
I cut a hexagon out of the Mandarin Orange box and wrapped it with red paper. 
Since we will be welcoming the Monkey this year, I purposely stick a cute monkey on it too :D
I placed it on the basket and stick the flaps to the hexagon board. 
There, all nice and ready to be decorated. 
I rolled 6 pieces of gold packets and glue the ends. 
As shown above. 
I stick them to the base of the basket. 
I also folded two red packets into fans and glued them together. I made 6 of this. 
I cut a long strip from the cardboard and wrapped it with red paper too.
The final step is to stick the handle onto the basket followed by all the decors. 
I bought those little flowers from Daiso.
My first ever Ang Pow basket. I made it for my Mom to keep Fortune Cookies in it :)
Check out the rest of our CNY DIY Angpow decor.
2) Red Packet Ancient Coin Lantern
5) Red Packet Toilet Paper Roll Fire Cracker
7) Fortune Cookie Fridge Magnet
8 ) Red Packet Sea Shell Tree Ornament
10) Red Packet Fan Tree Ornament
11) Red Packet Fish Tree Ornament
12) Fingerprint Cherry Blossom
15) Angry Bird Ang Pow Wheel of Fortune
17) Personalised Ang Pow Packet
19) Ang Pow Koi Fish