Things to do and complete itinerary for Lost World of Tambun
Lost World of Tambun. I hear this name often thinking it is just another dry and wet park which we already have so many in Malaysia hence I never go out of my way to plan a trip here until recently. I was planning a local getaway for the boys for the week-long school holidays and the Daddy suggested going up North. I narrowed down our option to either Penang or Ipoh and the Daddy decided on Ipoh as the boys have been to Penang but not Ipoh. The next step is to decide on what to do and where to stay in Ipoh.
After getting opinions from many friends, we decided to explore Tambun's Lost World, about two hours' drive from Kuala Lumpur.
Lush greenery and towering limestone hills greeted us upon arrival.
Such a naturally beautiful and soothing backdrop surrounded us.
I am glad we made this decision as it turned out to be one of our best holiday to date.
VIDEO
Let's take a look at this video of the activities we did here at Lost World of Tambun before I elaborate further in writing:
The Lost World of Tambun has so much to offer besides wet and dry park.
LUMINOUS FOREST
When the sun sets, the Lost World Of Tambun is transformed into a magical Night Park. Their latest attraction, the enchanting Luminous Forest is such a sight to behold.
Imagine a life in a magical wonderland where friendly creatures come out to play when night falls. Beating of the drums breaks the silence of the night. Our heartbeat syncs with the drum at a fluttering pace as we take our first step into this enchanted forest. It feels like we are about to enter a tribal village with a story to tell.
Created as an expansion to the Lost World Of Tambun's night park, Luminous Forest is open from 8pm to 10pm (Wednesday to Monday. The park is closed on Tuesdays but opens daily on school holidays).
Entrance to Luminous Forest is free (with purchase of Night Park ticket).
Read our detailed write up on this magical forest -> Luminous Forest
Once we are done with exploring Luminous Forest, we quickly made our way to the Hot Springs area to catch the much anticipated Flaming Percussion.
FLAMING PERCUSSION
Time: 9pm
Location: Lost World Hot Springs & Spa Stage
Daily except Tuesday (daily during School Holidays & Public Holidays)
The Flaming Percussion is an exhilarating show combining fire eaters and fire blowers with entertaining percussionist.

It is advisable to come here early to secure your free seating seats as this is one of the most popular shows here at Lost World of Tambun. We managed to get front seating on our first evening here. On the second evening, we kasi chan to other people to enjoy the front seat view.
Here's a video I made that comprises of the BEST SCENES from the Flaming Percussion fiery performance. As I am typing this post, I am still at awe with these fire dragons and their death-defying acts.
VIDEO
* Do not try this at home, kids! *
HIPPO KINGDOM
We also enjoyed exploring Hippo Kingdom. The entrance is just next to Tasik Cermin and it is home to the main star herself, Ms Juwita the hippo flanked by her friends, the crocodiles, hyenas, deers, flamingos and more.
Juwita makes the perfect dancing partner.
She also appreciates a good dental care so don't forget to give her a quick dental check-up when you are here 
We walked down a flight of stairs to an underground viewing room and to our astonishment we saw THE REAL DEAL, Ms Juwita in person! It looks like a gigantic framed picture of a hippo.
We stared in amazement at this huge but gentle creature just inches away from us.
She was taking a glorious snooze when we arrived but opened her eyes when Ayden went over to talk to her.
Ms Juwita actually has a big pond to swim in but she prefers to stick herself to the viewing glass for us to admire.
She poses for pictures really well too.
We can sit here for hours just admiring her beauty. We are so in love with her ♥
Next to her is the crocodiles.
The crocodile was also snoozing when we were there.
Hyenas.
The spotted hyena has the strongest jaws in the animal kingdom and that itself is enough to scare me.
Ayden standing face to face with the hyena. Yikes!
Hyena feeding is at 5pm daily.
Cute deers reaching out for the boys. They are really friendly and we are allowed to pet them.
ZIP LINE @ ADVENTURE PARK
I mentioned earlier that the entrance to Hippo Kingdom is just by Tasik Cermin, remember? The Adventure Park is located right here at Tasik Cermin.
Ethan's first time experiencing zip line.
He was nervous initially but ended up enjoying it and requested for a second round. It's RM20/pax/trip.
Minimum weight to go on the zip line is 30kg. Our Lil' Chef Ayden is not yet 30kg. He did not get to experience this but he is happy to wear my safety hat for a picture 
Here's our precious video of Ethan's first experience on the zip line:
VIDEO
LOST WORLD SWAN LAKE
Since Ayden was unable to join us on the zip line, we compensated by bringing him on a swan boat ride.
Swan Boat ride is RM5/person/per ride of 15 minutes
The boys enjoyed spending their time paddling slowly across the lake.
They also fed fish after the boat ride. We bought fish food at RM1/pack.
The lake was calm before they drop the fish food in. Once the first few fish food touches the water, an explosion of fish burst out on the surface of the water. Such a lovely sight to behold to see a healthy lake with an abundance of fish living in it.
LOST WORLD TIGER VALLEY
Just several steps away from the Swan Lake is Lost World Tiger Valley. We get to witness these Siberian Tigers feeding and be amazed by their agility, strength and power.
MINIATURE HORSE RIDE
Besides feeding animals and watching them being fed, Ethan also get to experience riding on one of them. He rode on a miniature horse.
Children need to be between 90cm to 120cm to enjoy this ride.
GIRAFFE FEEDING
Another unique activity here at Lost World Of Tambun is Giraffe Feeding.
Giraffe feeding is quite rare in Malaysia. The only time we fed giraffes was in Singapore Zoo when Ethan was much younger. I do not know any other animal park in Malaysia with such activity. Do you? Do enlighten me if you have fed a giraffe in Malaysia other than here.
Carrots can be purchased at the feeding deck for RM2/set
Little Ayden's first time feeding a giraffe.
Yummy delicious carrot sticks!
The deck is built to suit the height of the giraffe for easy and safe feeding.
CAMEL FEEDING
The latest animal to participate in the feeding program at Lost World of Tambun is these couple of camels.
We purchased the same food as the giraffe's for the camels.
Yes, camels here eat carrots.
Only RM2 for this precious experience.
Our boys experienced many firsts here at Lost World of Tambun from walking in a glowing forest at night to zip lining as well as boat paddling; they also experienced their first cave. It is their first time being in a real cave.
KEPURA CAVE
Visitors to Lost World of Tambun will get to experience real limestone cave that takes millions of years to form at Kepura Cave.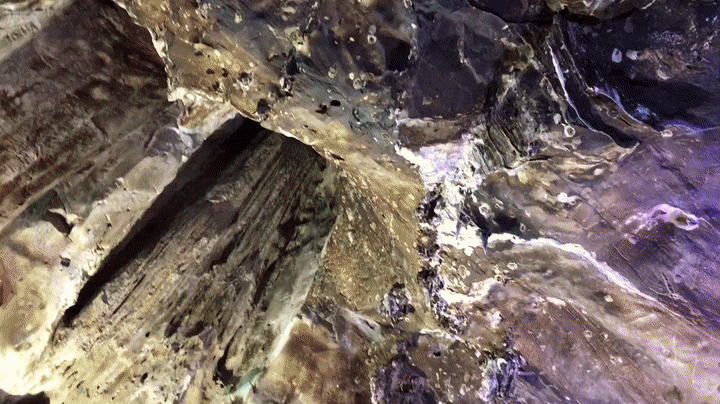 The cave here is still alive and growing and it takes a lot of maintenance to care for it.
DULANG TEA HOUSE (12:00pm – 6:00pm)
Our second cave experience here is at Dulang Tea House.
Day view of Dulang Tea House
Night view of Dulang Tea House
Located by a cave on the foot of a limestone hill, Dulang Tea House serves local favourites that tin workers in the olden days used to enjoy.
The must try here is their specialty chicken curry and potato with thick toasted bread. It is a must have for me that I had it on both evenings we were here.
Yummy to our tummy, we also tried their toasted bread with kaya, half boiled kampung eggs and refreshing roasted rice tea.
Menu for Dulang Tea House.
ONSEN NOODLE HOUSE (3:00pm – 10:00pm)
For a unique dining experience, we totally recommend to have your dinner at Onsen Noodle House at Lost World Hot Springs.
RM20/pax for the buffet with kids below 90cm eat for FREE.
We get to select our desired noodles and condiments, placed them into a basket and dip them into the hot spring water.
A variety of noodles, mushrooms, vegetables, fishballs, fishcakes, crabsticks, eggs and sweet potato are among the items available in the buffet.
A choice of chicken soup or soy soup for the noodles.
My first time eating nutritious Onsen Noodles cooked by our Little Chefs.
It is the boys' first experience cooking in an onsen and they thoroughly enjoyed it.
They had so much fun they kept volunteering to cook for us 
Onsen Buffet Menu
Ala-Carte Menu
Watch this video to get a better idea of this unique Onsen Noodle House concept.
VIDEO
LOST WORLD NIGHT HOT SPRING
After digesting the unique onsen noodles, it is time for us to soak in the hot springs. Of course we do not soak in that special hot spring for noodles but the many other hot spring pools available for humans 
There are several hot springs with different temperatures for you to choose from.
We went around like Goldilocks looking for the one that suits us best, "This hot spring is too hot. This hot spring is not hot enough. THIS hot spring is PERFECT!"
Our favourite hot spring is the Saphire Pool. The temperature is just right for the boys and we love the massage jets on our backs while soaking our tired body at the end of an adventurous day.
Look who is having so much fun in the hot spring eventhough it is way pass his bedtime!
LOST WORLD AMUSEMENT PARK
Big brother Ethan is now old enough to participate in the more adventurous rides in the amusement park. I accompanied him for the roller coaster ride on Lupe's Adventure, Storm Rider and Dragon Flight.
Lupe's Adventure is the most popular ride here in the amusement park. The queue is always very long. They do close for short breaks throughout the day and we took that opportunity to quickly queue before they reopen the ride.
Storm Rider
It is Ethan's first time on this pirate ship ride to experience what it might be like on stormy seas! Ethan survives this 180 degrees swing and wants more!
Dragon Flight
Ethan and I went on this spinning ride high up in the air.
Giddy Galleon
Just like the name suggests, round and round and round it goes! I took this ride with Ayden while Ethan went solo. The Daddy can't stand all this giddiness 
The Daddy accompanied Ayden on the miniature train on Perak Parade though.
LOST WORLD WATER PARK
As much as we wish to spend more time at the water park, we did not get to do much as the boys were engrossed with many other activities that they encountered for the first time such as the luminous forest, zip line, boat paddling, cave exploration, tin mining, giraffe and camel feeding, certain rides in the amusement park and hot springs. We spent more time at the hot springs instead of the awesome water park.
Ethan enjoyed this tube slide at the Hot Springs …
While Ayden entertains himself with these slides.
As for the water park, they enjoyed the Jungle Wave Pool a lot that they spent most of their time there.
The boys simply love wave pool. Nothing beats the excitement of waiting for the next wave to hit you..
Look at Ayden totally enjoying himself at the wave pool.
LOST WORLD TIN VALLEY
Tin mining is one of the oldest industries in Malaya and Ipoh "The City that Tin Built", became the meeting point and commercial center of the Kinta Valley.
At Lost World Tin Valley, we get to learn more about the rich heritage of tin mining in Ipoh at the Tin Mining area which is  equipped with a life-sized palung (sluice box), an original gravel pump monitor and a large area for visitors to experience "Dulang Washing"(Tin Ore Panning) just like the good old days.
PETTING ZOO by night
We also managed to bring the boys for a quick tour of the petting zoo at night before going into the Luminous Forest. 
Their favourite feature here at the petting zoo is this huge hamster's playground. 
All these activities will surely make us hungry. We spent our entire day at the park hence we get to explore most of their F&B outlets. I've mentioned Dulang Tea House and Onsen Noodle House earlier in this post.
Other F&B outlets in Lost World of Tambun are Kukuntalu Hawkers and Ipoh Street.
KUKUNTALU HAWKERS (11:00am – 7:00pm)
Kukuntalu Hawkers is located in the amusement park area. We have our lunch here as we spent most of our afternoons in this area.
Menu for Kukuntalu Hawkers.
The boys love the roasted chicken rice here.
I enjoyed my nasi lemak kukus with ayam berempah.
Not to be missed is this refreshing glass of cendol on a sunny day.
LOST WORLD IPOH STREET (11:00am – 10:00pm)
A row of shops selling famous Ipoh delicacy.
We had dinner here on our second night.
We ordered dimsum, beansprout chicken, curry noodles, satay and tau fu fah.
The curry noodle with TWO prawns (only ONE is visible in the above picture as another prawn was hidden underneath) at RM8 is the clear winner here at Lost World Ipoh Street.
I love it very much so please remember when you dine here at Lost World Ipoh Street, do give it a try. You won't regret it.
Another favourite here is the Beansprout Chicken Rice at RM15.
LOST WORLD HOTEL
Throughout our holiday here at Lost World of Tambun, we stayed in Lost World Hotel which is just across the road.
We spent our entire day at the park, leaving only for an hour in the evenings to go back to our room to freshen up for the evening activities.
We stayed in their Executive Suite that comes with 2 units of flat screen TV and free wi-fi. 
The spacious Executive Suite has a living room with sofa and an additional powder room.
Additional powder room in the master bedroom.
The master bedroom with 1 King Size bed. We requested for an extra bed for Ethan (not in picture).
Coffee and tea making facilities with fridge. 
Complimentary bottled drinking water and Lost World Ipoh White Coffee and Ceylon Milk Tea. 
Phew! This is such a long post. I am doing my best to be as descriptive yet trying to keep it simple and neat for easy reading.
I know some of you may get confused after seeing so many pictures and words so let me help you create an itinerary for a 3D/2N getaway to Lost World of Tambun. I'd recommend 4D/3N if you have the budget and time permitted but if you don't, then my specially curated itinerary may be of great assistance to help you plan your holiday here. 
Let me also share the animal feeding schedule at Lost World of Tambun for your easy reference. 
ITINERARY
First Day
11am

Arrival at Lost World of Tambun

12.00noon

Lunch @ Kukuntalu Hawkers

1.00pm

Lost World Amusement Park




– Lost World Dragon Flight, Storm Rider, Lupe's Adventure, Giddy Galleon




– Lost World Haunted Chambers (RM10/entry)

2.30pm

Giraffe and Camel Feeding

3.00pm

Tiger and Friends Show @ Lost World Tiger Valley

3.30pm

Tin Story @ Tin Valley

4.00pm

Tea break @ Dulang Tea House

5.00pm

Check In @ Lost World Hotel

6.00pm

Dinner @ Onsen Noodle House

8.00pm

Luminous Forest

9.00pm

Flaming Percussion Show

9.30pm

Hot Springs and Spa

11.00pm

Lights off
Second Day
| | |
| --- | --- |
| 9.00am | Breakfast @ Garden Terrace |
| 10.00am | Hippo Kingdom |
| 11.00am | Zip Line |
| 12.00noon | Swan Boat Paddle and Fish Feeding |
| 12.30pm | Lunch @ Kukuntalu Hawkers |
| 2.00pm | Explore Kepura Cave |
| 2.15pm | Lost World Water Park |
| 5.00pm | Back to hotel to freshen up |
| 6.00pm | Dinner @ Lost World Ipoh Street |
| 7.30pm  | Tales of the Tribe @ Monkey Valley |
| 7.45pm | Lost World Petting Zoo by night |
| 8.15pm | Luminous Forest (again, coz we LOVE it ) |
| 9.00pm | Flaming Percussion (again, coz it's so awasome! ) |
| 9.30pm | Hot Springs and Spa |
| 11pm | Lights Off |
Third Day
| | |
| --- | --- |
| 9.00am | Breakfast @ Garden Terrace |
| 12noon  | Check-out from Lost World Hotel |
I end this post with this famous Tambun Needle of Lost World of Tambun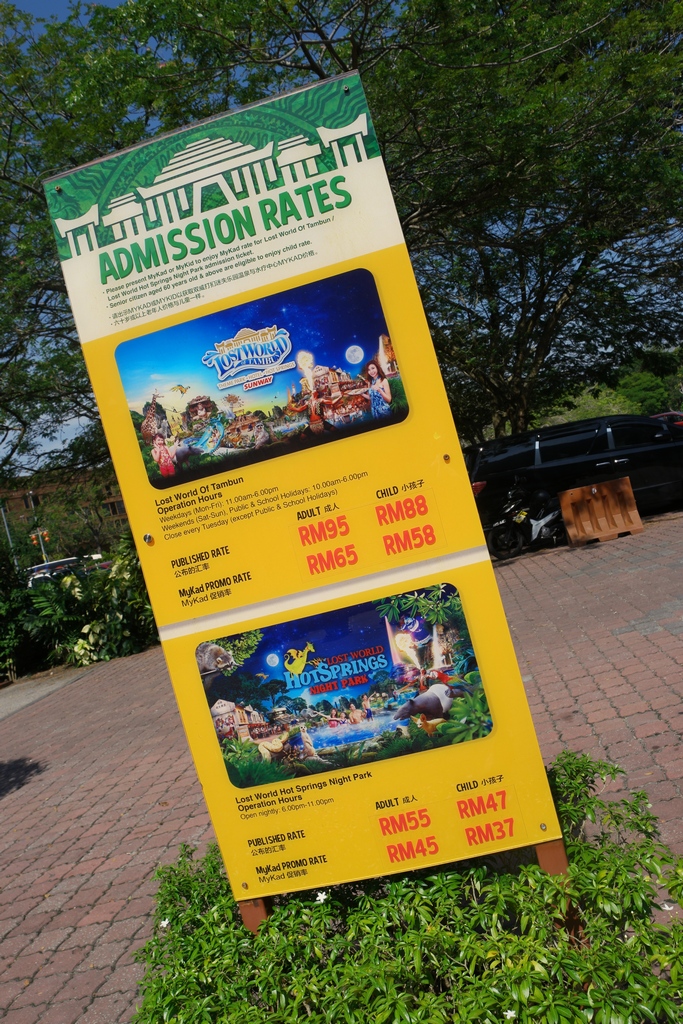 For more information, do check out their website or social medias:
https://sunwaylostworldoftambun.com/
FB: lostworldoftambun
IG: lostworldoftambun
//
//
//
//
//
//
//

//

//

//