Shangri-La's Rasa Sentosa Singapore: The Only Beachfront Resort in Singapore
We travel to Singapore at least once or twice annually. During our past visits to Singapore, we always stay in the city center but this time we decided to stay in Sentosa itself, The State of Fun; Asia's leading leisure destination and Singapore's premier island resort getaway.
Nestled in the lush greenery of Sentosa Island and the only hotel located on Singapore's beachfront…
Shangri-La's Rasa Sentosa Resort & Spa
We stayed at the family-friendly Shangri-La's Rasa Sentosa Resort & Spa, Singapore's only beachfront resort with direct access to the beach. 
Set on Siloso Beach facing the South China Sea, Shangri-La's Rasa Sentosa Resort & Spa, Singapore offers spacious and comfortable accommodation amidst a natural landscape.
THE BEACH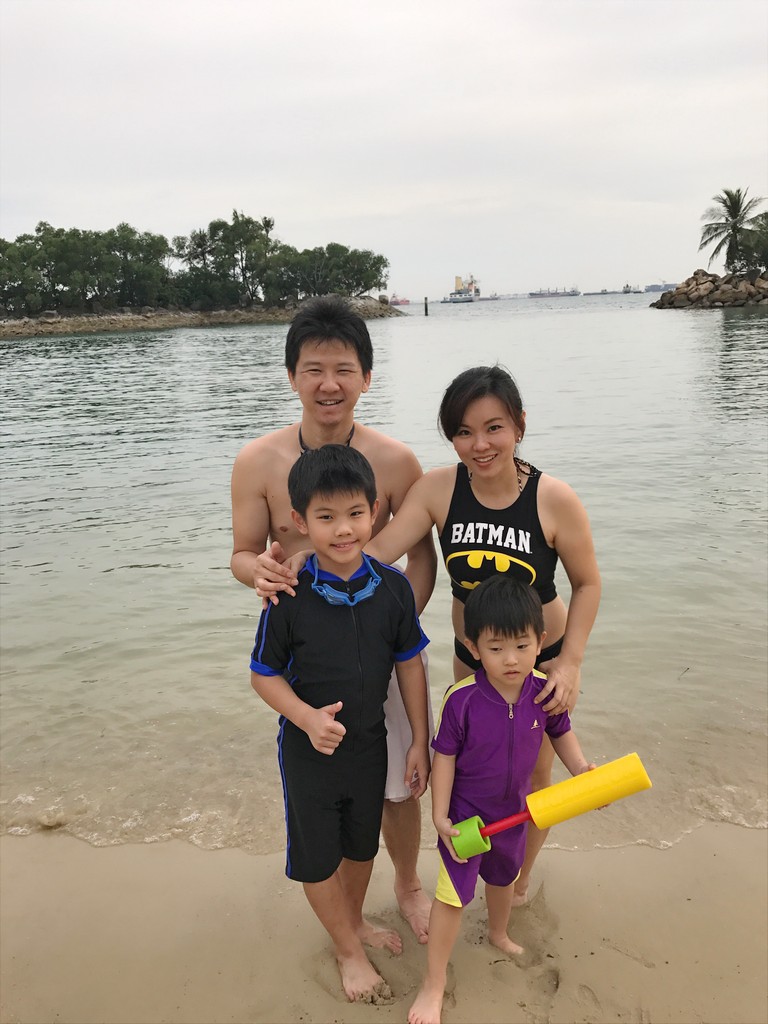 With the beach at our doorstep, we never run out of our dose of Vitamin Sea right here in a metropolitan city.
Sun, sea and sand can never go wrong with children. Life is a beach! ♥
Clean, white, sandy beach. We spent our time on the beach until dusk.
Sunset is beautiful here.
The changing color of the sky as the sun begins to set is simply mesmerizing.
I just can't get enough of the spectacular view. The ships in the ocean makes the shore uniquely Singapore.
It can't get any more perfect than this. Every corner of the resort looks like a picture out of a postcard.
As the resort is set on Siloso beach, it is also next to numerous attractions including Southeast Asia's first Universal Studios, S.E.A. Aquarium, KidZania Singapore, MOSH!, iFly and Mega Adventure Park. The cable car is also highly visible from here.
There is also a bridge on Siloso Beach for us to walk across to the opposite island.
The view from the other side.
The Sea Sports Centre is located on the private beach area where resort guests can rent non-motorised water sports equipment, such as kayaks and paddle boats, at the Sea Sports Centre until 5.30pm every day.
Resort friends, the peacocks is a common sight here.
They roam freely around the resort and the boys always get excited upon spotting them.
The outdoor playground overlooking Siloso beach is a nice play area for children too.
Workers ensuring the beach is clean for the comfort of beachgoers.
I always believe the cleanliness of any beach not only lies on the workers but it is our responsibility too. Beachgoers play a vital part in keeping the beach clean. As the saying goes, "Take nothing but pictures. Leave nothing but footprints. Kill nothing but time". Glad to report that the beach here is clean.
READY, SET, GET WET!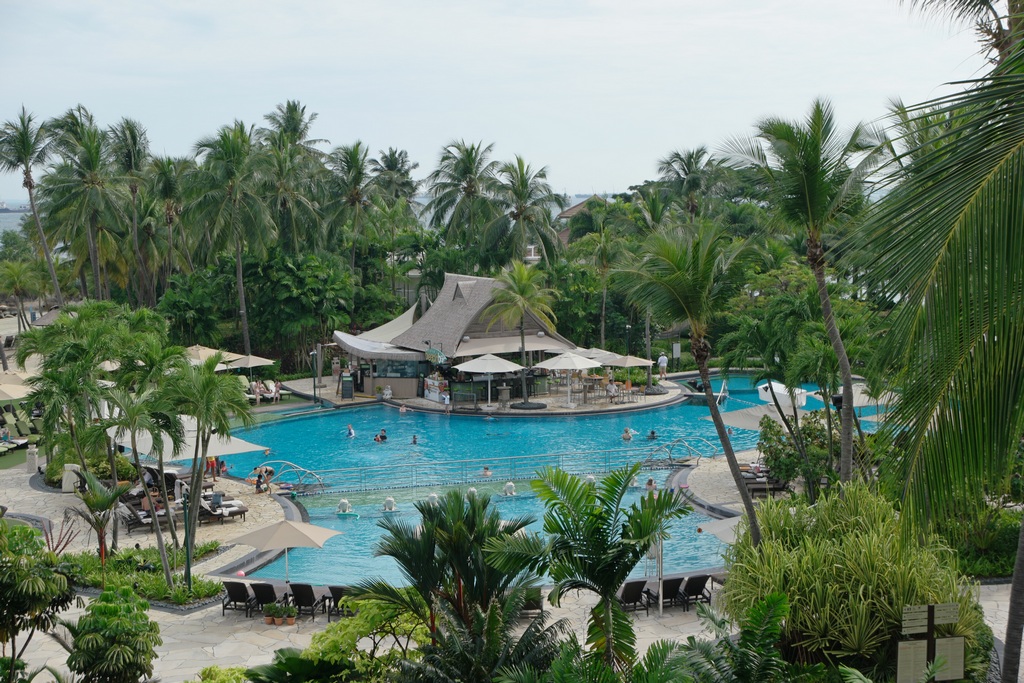 The swimming pool here is one of the largest free-form swimming pools in Singapore with two Jacuzzis and a children's pool with water slides. 
The swimming pool functions on particle physics-based water management system that was installed to keep the water in the swimming pools in a natural state, where only minimum amount of chlorine is added, as opposed to the four or five chemicals usually found in a commercial pool, making it suitable for children (or adults) with sensitive skin to swim in.
The slides are all shaded from the sun much to our delight so the boys can play there all they want, even in the scorching hot mid afternoon.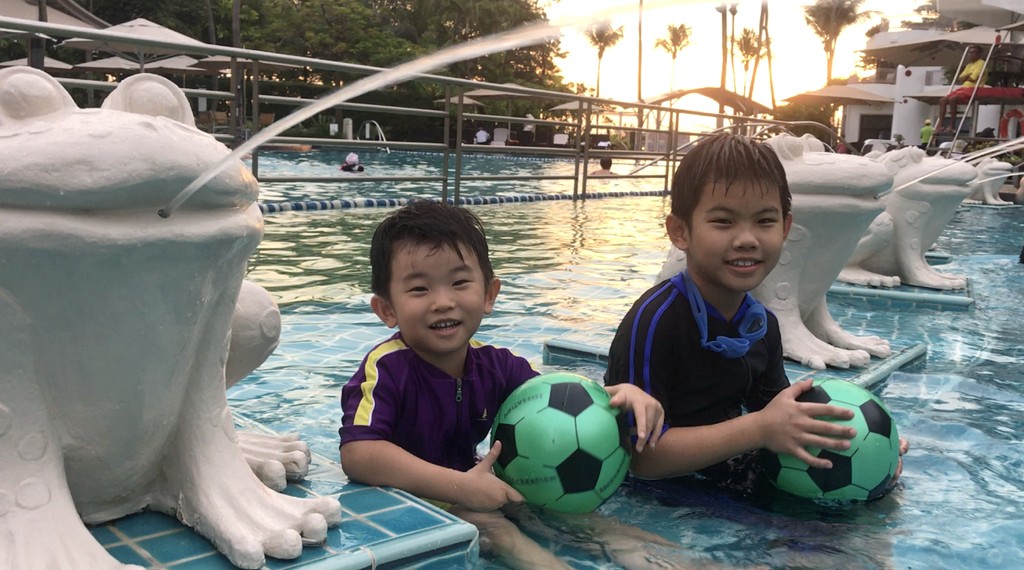 The kids' wading pool is huge. We can also catch the beautiful sunset here.
There is also a splash pad; a safe "zero-depth" water play area with tipping water buckets and water sprays.
The pool is open until 9pm which allows us plenty of time for a relaxing night swim.
Lifeguards can be seen policing the pools during operation hours.
THE COOL ZONE
The Cool Zone provides fun for children with various activity centres, including the Toots Club and Mini Toots Club.
This special brightly colored jungle-themed play area features a giant block puzzle, colorful ball pits and baby rockers. Besides the play area, parents / guardian can also read to their children with the plenty of story books available or alternatively just sit back and enjoy the movies.
Toddlers below 5 years old who are under the supervision of a parent or guardian can enjoy complimentary access to the Mini Toots Club.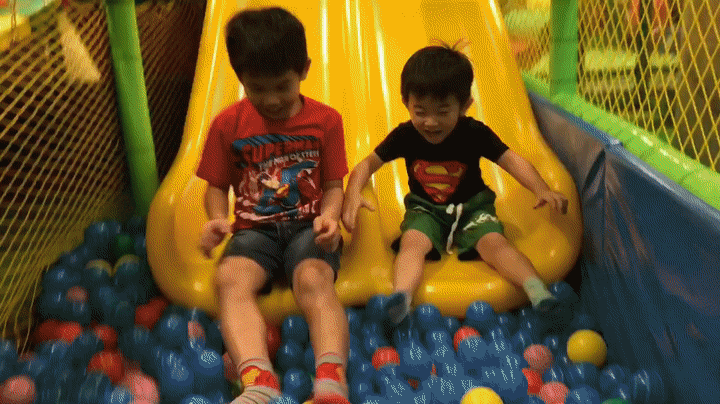 The boys super love it here. It takes great effort to get them to leave this area 
On the other hand, children above 5 years of age will love the Toots Club.
Parents can sign-in their children here and leave them in the care of the friendly and helpful recreational team to enjoy some time off or indulge in a spa session.
The highlight of Toots Club has got to be the giant treehouse slide; spanning across two-storey high.
Children at the Toots Club can have more fun with the club's daily themes – Toots Monday, Pirate Tuesday, Adventure Wednesday, Zoo Thursday, Survival Friday, Circus Saturday and Sporty Sunday.
A separate arts and crafts area for kids to unleash their hidden creative side.
Even the washroom is made with the comfort and convenience of kids in mind. Everything here is kid size.
FUN ZONE
The resort's latest addition, the Fun Zone is suitable for older children and teenagers. It opens daily, from 10am to 9pm, and is stocked with Xbox, race car simulators and air hockey machines.
Families can also enjoy a game of foosball or table tennis just outside of the Fun Zone.
DELUXE POOL VIEW ROOM
Let's take a look at our room.
Travelling with kids, we find the deluxe pool view room located on Level 4 most suitable for us. It has bright corridor and spacious room with a long bath in the bathroom.

The corridor leading to our room is brightly lit with windows that gives beautiful view of the ocean.
A generous platter of fruits, macarons and chocolate welcomes us as we stepped into our room.
Our room remain spacious even after converting the sofa into a double bed for the boys together with the king-sized bed for us.
It comfortably fits a family of four.
The mini bar comes with first round of complimentary items for guests in all rooms.
Oh look! There is a frog on our pillow 
The work and charging station cum vanity table for me as we are here for a holiday not for work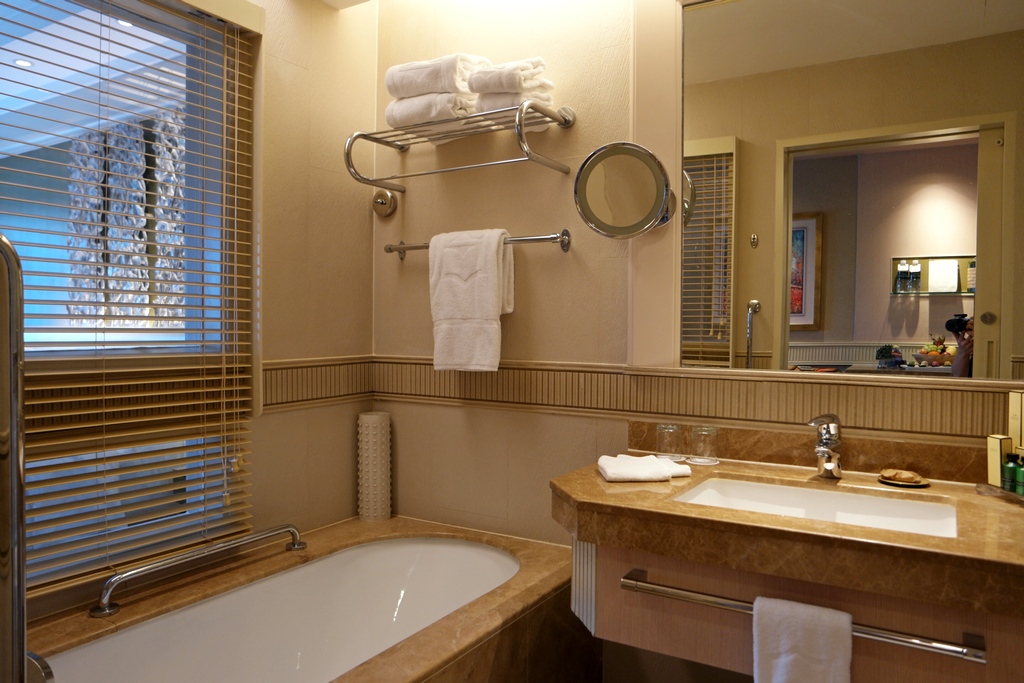 The luxurious bathroom with walk-in shower and very inviting long bath.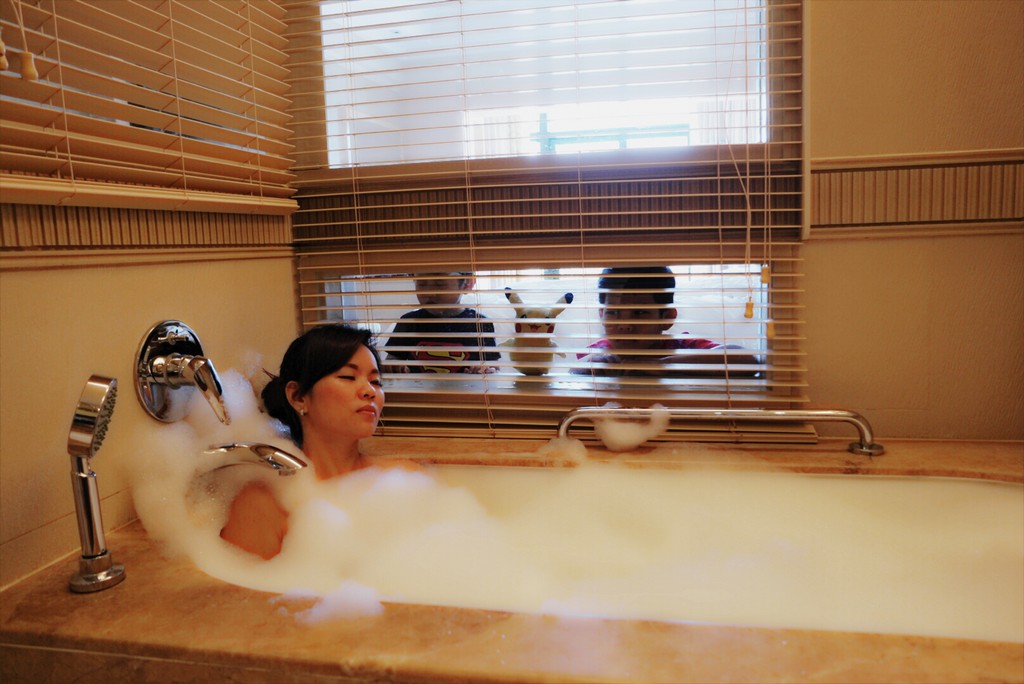 I just love soaking in here to soothe my aching body after a long day exploring Sentosa but first, I'll need to shut the blind and bolt the door because the boys are equally excited to jump in and play with bubbles too!
True to their kid friendly effort, a step stool is provided in the bathroom to give that little boost of height for the little ones.
Toiletries.
Our room comes with a balcony with chairs and a coffee table; facing the lush greenery and the swimming pool.
The 24-hour gym is accessible with our room card. It comes with windows up to the ceiling that allow us to enjoy views of the surrounding greenery while working out.
SHUTTLE BUS
The resort offers complementary shuttle service to Vivo City and back every 20 minutes. We took that opportunity to explore Vivo City and also to check out their giant golden Christmas tree that is already up this time of the year.
Besides the free resort shuttle bus to VivoCity we also make use of Sentosa Bus service to move around the island.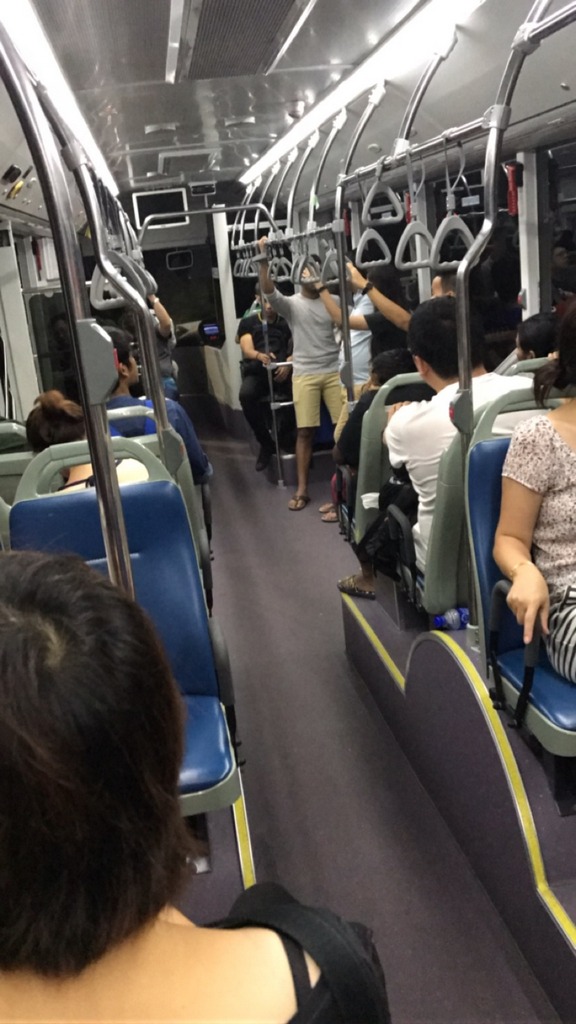 The buses run on several routes to help us reach many destinations within the island with ease.
For the convenience of in-house guests, bill-operated washing machines are available on Level 1, 3, 4, 5 and 7 near the lift lobby.
YUMMY TO MY TUMMY
For dining options, there are plenty of choice here at Shangri-La's Rasa Sentosa Singapore.
Dine On 3 is a unique destination dining concept with a cluster of restaurants and a bar under one roof – Casserole, Silver Shell Cafe, 8 Noodles and The Bubble Bar.
There is also Trapizza, a restaurant by the beach with a selection of its signature wood-fired thin crust pizzas, pasta and salads which we managed to try during our stay here.
The Siloso Beach Bar offers an array of light snacks including candies, popcorn and crisps for more fun under the sun by the swimming pools.
BUFFET BREAKFAST
We had our daily breakfast at Dine On 3. Selection is great with much choice.
Perfect for families as there are Baby Zone with selections of baby food available, Kids Zone for the little ones as well as Gluten Free area if you are cutting out gluten from your diet.
Baby Zone with bottled baby food and juices, hot water and even a microwave for the convenience of guests travelling with their babies.
Little children are given the liberty to be treated like an adult here with their very own Kids Zone. They have a selection of child friendly dishes to choose from. No more eating what the parents make them eat. Instead, they can select their own dish and drinks from here as the food are laid out lower to suit their height.
We know how difficult it is to travel when a person is on a gluten free diet as it can be quite a hassle to find food free from gluten. Here at Shangri-La's Rasa Sentosa Resort & Spa Singapore, they have a special corner that serves gluten free pastries, cereals, hot dishes as well as drinks.
Happy boys enjoying their daily breakfasts.
We also had the opportunity to have lunch at Trappiza, the resort's beachfront al fresco dining overlooking the South China Sea on the day we arrived. The boys spotted an adjoining playground just in front of the restaurant.
QUENCHER $10++ SGD
After a 4 hours drive from Melaka, it was refreshing to just chill by the beach sipping this lime juice iced tea cooler drink.
MANGO MAMBO $10++ SGD
If you love mango, the Mango Mambo will suit you just nice.  Made up of mango juice, mango puree and strawberry, this mocktail is perfect for a sunny day by the beach.
Crispy Chicken Wings $13.50 SGD
The chicken wing tastes as good as it looks; tender and flavorful meat with shatteringly crisp skin. Served with Thai sweet chili sauce, I don't mind having this as my main meal instead of just as snack as they are so good!
Siloso Prawn Salad $19.80 SGD
Beautiful garden salad with fresh, plump prawns and crunchy walnuts.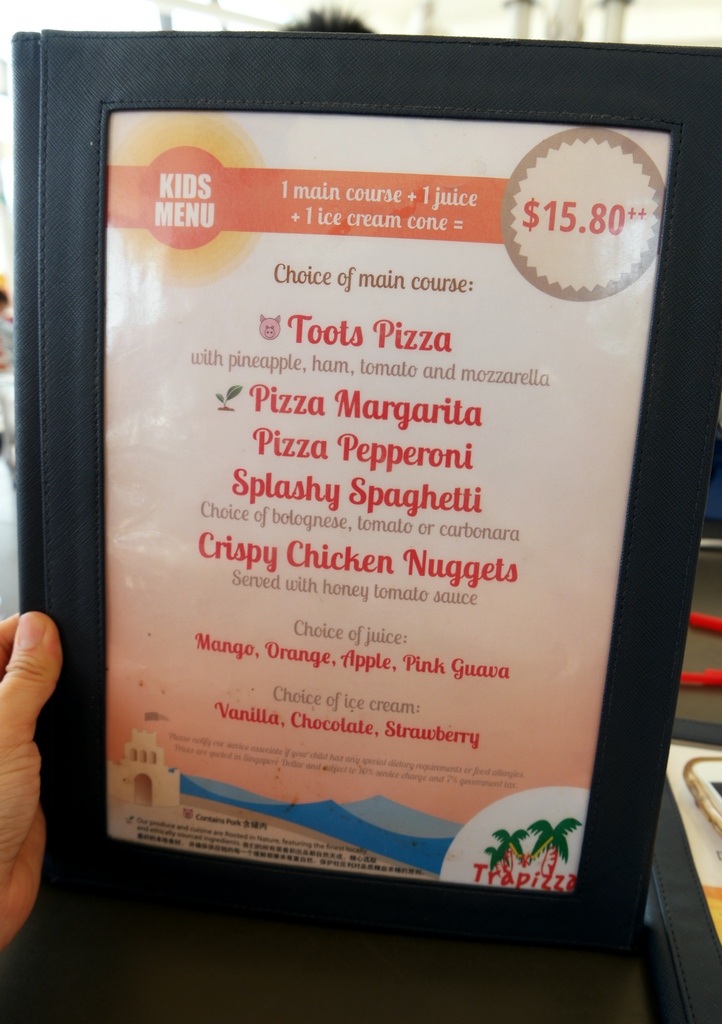 The boys ordered from the Kids Menu. The Kids menu comes with a main course, a drink and an ice-cream cone.
Ayden chose the Toots Pizza and got extremely excited when it was served before him as the pizza has cute little oinky ears on it 
The best part of their lunch has got to be when ice-cream was served. I was green in envy to see them getting an entire ice-cream cone. I want one too! 
For us adults, we had pasta and pizza.
Trapizza Linguine $25 SGD
Such luxurious seafood pasta. It has prawns, mussels and crab meat all over the linguine noodles.
Pizza di Mare $25 SGD
Last but not least, our wood-oven pizza with ocean treasures such as prawns, mussels, smoked salmon, crab meat, tomato paste and mozzarella on it.
Food was spot on and having them with the sea breeze brushing on our face was simply wonderful.
We've had a great stay here at Shangri-La's Rasa Sentosa Resort & Spa. We are contented to just stay at the resort and not explore outside as there are so many things to do with so little time but we are glad we squeezed some time out to explore the Fort Siloso Skywalk as well as ride on The Luge and Skyride at Imbiah Lookout, explored S.E.A Aquarium and Universal Studio Singapore and also the must do – catch the complementary Crane Dance in Sentosa. 
FORT SILOSO SKYWALK
Just two minutes walk from the resort is the famous Fort Siloso. 
This 11-storey, 181 meters long Skywalk trail makes a scenic trek among the treetops en route to Fort Siloso.
Both the Skywalk and Fort Siloso are free for all, and there are also guided tours at Fort Siloso for a more detailed historical account of the area.
A bird's eye view of Shangri-La Rasa Sentosa Resort & Spa from the Siloso Skywalk.
IMBIAH LOOKOUT
We also walked to Imbiah Lookout to ride on The Luge and Skyride while we were staying at the resort as it is only around 1.5km away. 
This popular ride in Sentosa Island has two new luge tracks and a new skyride so it is recommended to give it a try if you are in the vicinity. 
Little Ayden's first time on the Skyride!
S.E.A AQUARIUM, SENTOSA
Only 1.7km away from the resort is the S.E.A Aquarium Sentosa. It is recommended to give this aquarium a visit since it is just a walking distance away. 
UNIVERSAL STUDIO SINGAPORE
5km away from the resort via Sentosa Gateway. We took the free shuttle bus service, Bus A to Resort World Sentosa and into Universal Studio. 
CRANE DANCE
Last but not least, the must do when you are in Sentosa is to catch the complementary Crane Dance. It's free for all so just hop onto Bus A at the bus stop nearby Shangri-La's Rasa Sentosa entrance.

Shangri-La's Rasa Sentosa Resort and Spa, Singapore. We love this paradise of a resort in a metropolitan city.
We will definitely return to explore further and this time we'll make sure to stay longer. 3 days slipped by too quickly. 
In the meantime, we'll sign off with this video of the kids having fun here at Shangri-La's Rasa Sentosa Resort and Spa, Singapore:

Related Posts
//

//

//

//

//

//

//

//

//

//

//

//