S.E.A Aquarium, Sentosa Singapore
We've been to Singapore numerous times but have never been to their S.E.A Aquarium until last week. Our priority is always Universal Studio Singapore first and often by the time we are done with USS, we won't have time for the aquarium anymore. We almost missed the aquarium again last weekend as we went to USS again as usual but this time we made sure to leave a couple of hours earlier so we can bring the boys over to the S.E.A Aquarium. 
It was almost 4pm when we purchased our tickets. By then we have already missed the fish feeding show :(
The boys received complimentary water bottle tumblers with our purchase of children and adults tickets. 
S.E.A Aquarium ticket fee. Darling paid using his MasterCard so we got additional discount. 
Our first time into the S.E.A Aquarium, Sentosa, Singapore.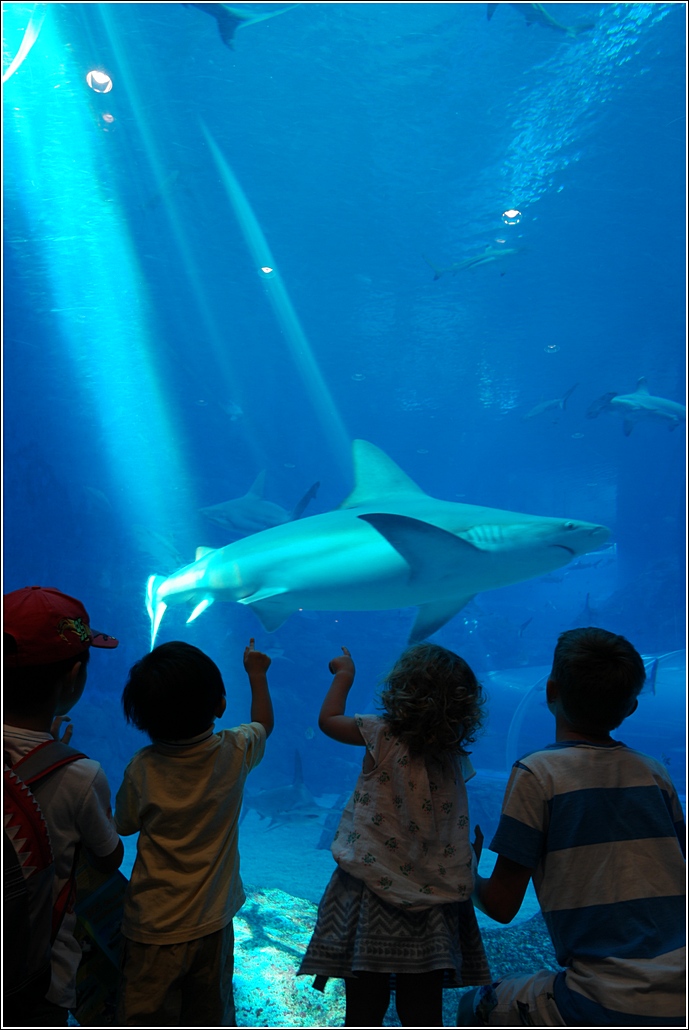 The first thing we saw was sharks. So many of them. Countless sharks! They are everywhere! 
Those sharks are even above us. 
Sea creatures are everywhere in here. Front, back, up and even down… 
Yup, they are even below us. 
Ayden caught a stingray smiling at him :)
This I don't fancy. Eels! So geli!
Just look at the amount of fish in there. So many fish are bigger than Ayden. In fact, there are so many that are bigger than us adults. Sea creatures are big creatures. That is why I am always afraid of the deep blue sea. This Submerryn here is afraid of the ocean :P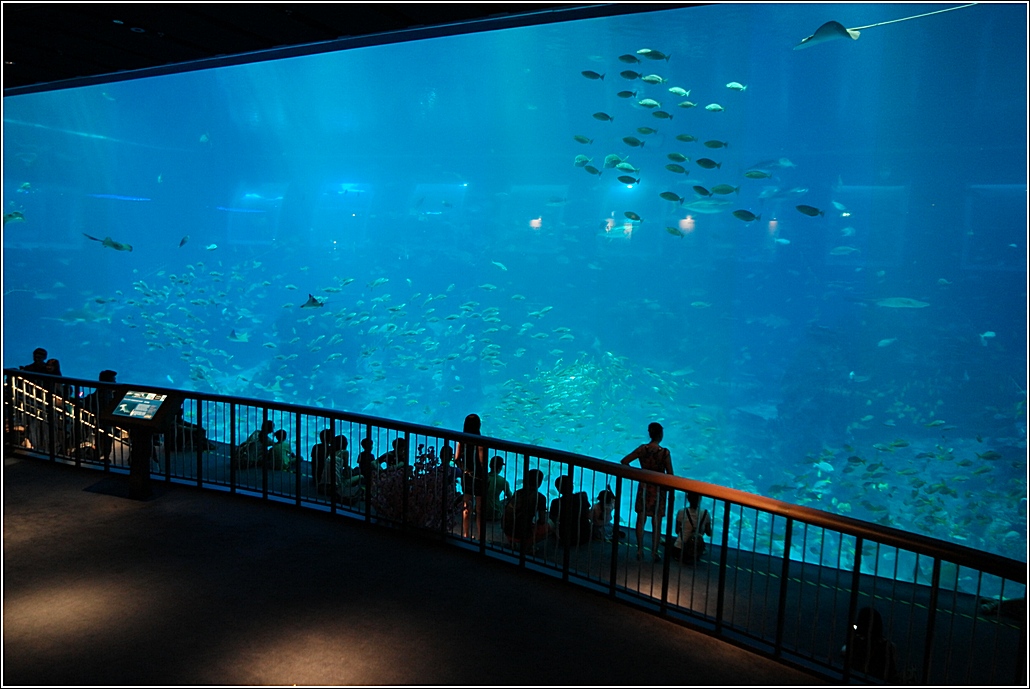 That is one huge aquarium. We spent almost an hour here just sitting and watching the fishes swim. It is just so soothing looking at them. Too bad we missed the feeding show :(
This is extremely beautiful – Colorful corals. 
They even have glow in the dark corals. 
And even glow in the dark jellyfish. Well, jellyfish are always glowing in the dark in any aquarium anyway.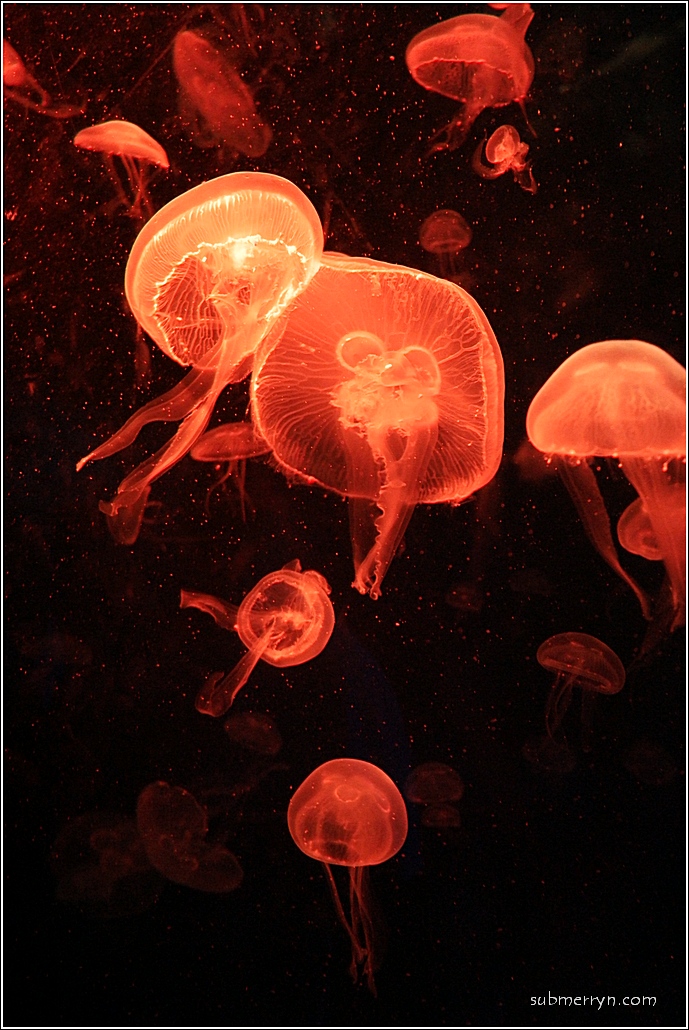 It is so mesmerizing to see them move. So gentle, so graceful but once they sting you is a completely different story. 
It's a wonder how a creature of such substance can survive. Both Ethan and Ayden love the jellyfish a lot. They stood here for quite sometime just seeing them move around.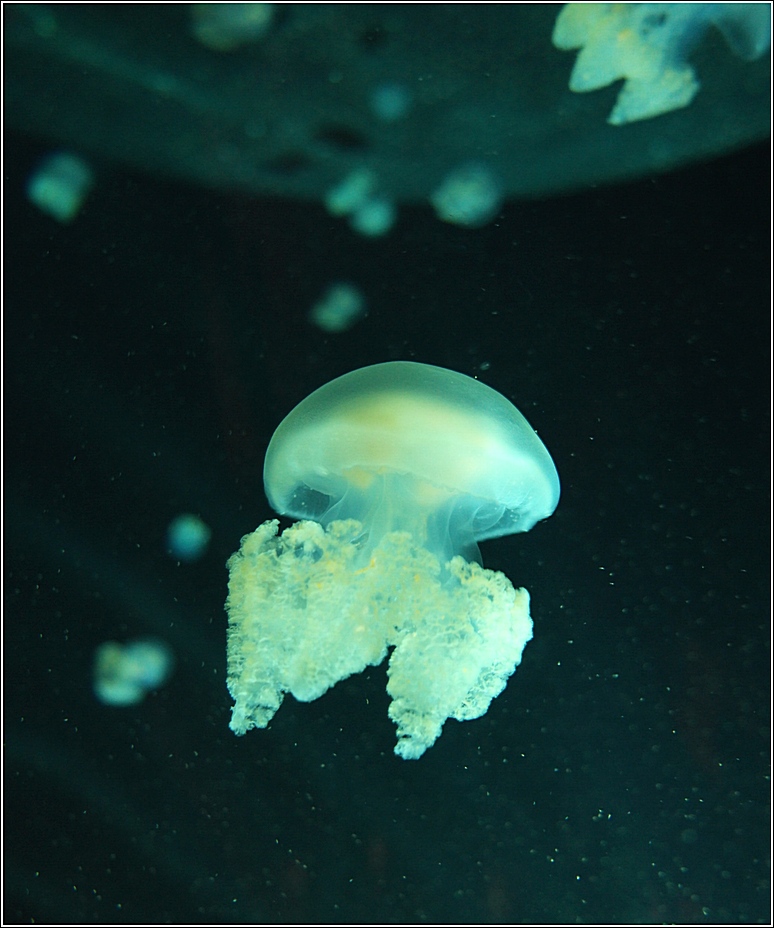 Such beauty. The Daddy taught the boys that jelly fish is made of two things – MUSHROOM for the head and BROCCOLI for the bottom >_<
Octopus! Ethan learned about octopus recently in school and got very excited seeing a real one. 
I can't believe I'm seeing it for real too as their suction cups on their tentacles look so fake. It's either that or the suction cups we use in our daily life is modelled exactly after these octopus that I'm so used to seeing the commercial home used ones that seeing these for real freaked me out >_<
Octopus is scary too as it is so huge. 
These giant crabs are huge too. I used to see them on dinner tables. This is the first time I see them in an aquarium :P
Finding Nemo anybody? Can you spot Nemo? I thought I did… but then a dozen or more joined in and I got confused. Which one IS Nemo? :P
We stroked a sea cucumber too. My favourite and also a must-have during any CNY reunion meal. No, I did not eat this one. It is still a baby :D
It is very much Chinese New Year feel in the aquarium with the many CNY decor here, there and every where. 
We completed the entire aquarium in two hours. Not bad lah. It is Ayden's first time in an aquarium. He has not even been to the one in KLCC but Ethan has. It is quite pricey to visit the aquarium here in Spore due to our weak currency but since everyone is saying how awesome it is, we must give it a try. At least now we can tell people that we have been to the S.E.A Aquarium in Singapore :D
Related Posts
//

//

//

//

//

//

//

//

//
//
//

//