Golden Sands Resort by Shangri-La, Penang – A Family Friendly Resort
We love Penang. It is only 4 hours drive away from Kuala Lumpur hence it is easily our favourite choice for a short getaway whenever we need a boost of some Vitamin Sea and nice, sandy beaches.
We usually stay at Batu Feringgi whenever we go up to Penang as the boys love to spend time playing by the beach. It is no different this school holidays with Golden Sands Resort by Shangri-La being our choice for this trip.
Let's first watch this video to summarize our stay here before I get into more details.
VIDEO
Now let's get into the details of our beach getaway during the school holidays.
Even though it was a peak season with high occupancy due to the double holidays from Singapore and Malaysia, check-in at the Cool Lounge was swift.
Seeing that I was alone handling the boys as Darling was parking his car, the staffs promptly served the boys welcome drinks and kept them occupied by getting them to write their personal details on a customized turtle card so I can get the check-in done peacefully.

The magnificent view of the gorgeous landscape, swimming pools and the sea greeted us from the balcony of our room.
Both Ethan and Ayden were excited to be here because we heard that the resort's latest attraction, the new Splash Zone is a hit with children that we've just got to experience it ourselves.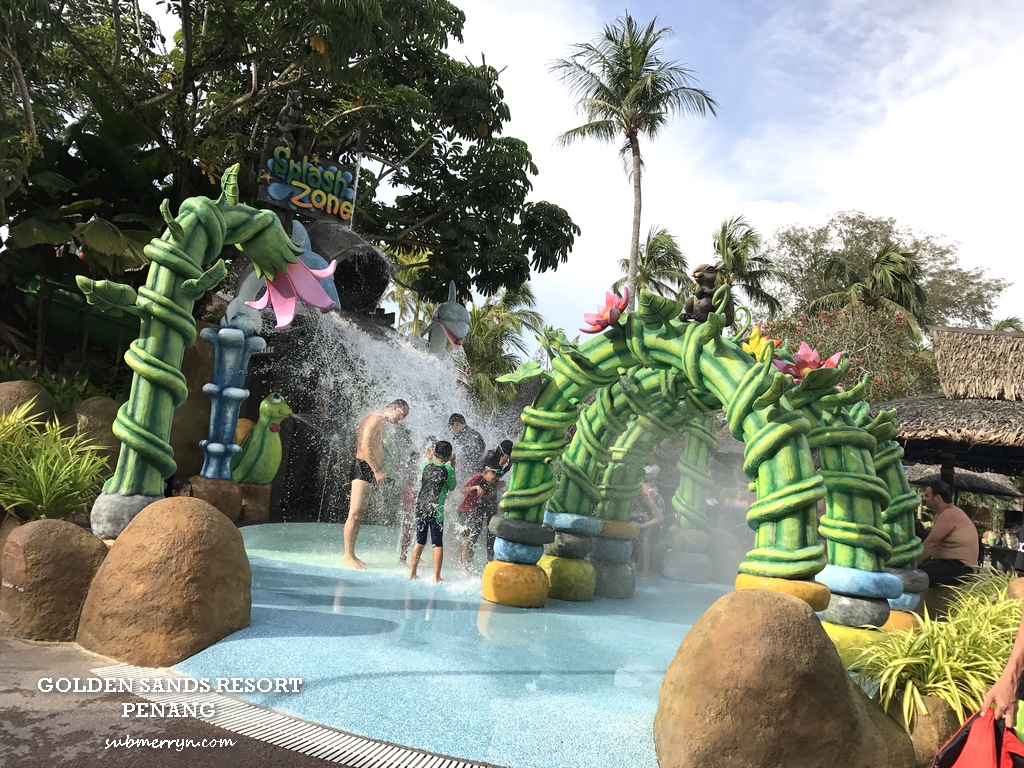 Golden Sands Resort's latest attraction – Splash Zone
The Splash Zone is a safe "zero-depth" water play area measuring 200 square metres. It is located between the two big pools. This mini water-park with non-slip flooring has twisting roots fitted with water jets and mists shooting out in different patterns and directions.
The tipping water bucket is a hit with both the young and old young at heart.
Love the many water sprays here that comes in the shape of dolphins, butterflies, turtles, monkeys and rabbits.
Walking Through A Rainbow
Have you ever walked through a rainbow?
We get to experience the priceless moment of walking through a rainbow here at Splash Zone. I guess the mists and the beautiful sunshine created this beautiful rainbow for us all. The kids kept walking through it in awe.
Little Ayden loves the shaded kids pool a lot and spent a considerable amount of time in here each day.
ADVENTURE ZONE
Another of the boys' favourite here at Golden Sands Resort is the 10,300 square foot indoor facility Adventure Zone.
Adults enter free of charge with paying children as the resort encourages families to spend fun times together.
Entrance Fee
Weekday Promotion
(excluding Public Holidays)
Weekends
(Saturdays, Sundays and Public Holidays)

RM24nett for a two-hour session

RM35nett for a two-hour session
I had so much fun here as it is not everyday an adult is allowed to play in a play-land! 
The Daddy and I relished our childhood moment here together with our boys.
Socks must be worn at all times in the play zone. Long sleeved shirts must also be worn when using any of the Drop Slides.
There is also a zone specially dedicated for toddlers so they too can have fun in a safe environment.
Ayden with his new found friend here at the resort 
Two little cuties spending precious time together ♥
Even their rubbish bins are irresistibly cute here at Golden Sands Resort. I can't help myself from walking all around the resort to take pictures of each and every one of them. Ayden gets excited and frequently requested for 'rubbish' to dispose at the bin all the time.
What an ingenious way to get people to keep the place clean! 
OUR ROOM
Now let's take a look at our room.
The deluxe room with interesting traditional wooden carving decor fits a King Sized bed and a complimentary extra bed for Ethan.
The boys had a pleasant surprise as a couple of Polly Parrots with their arms wide open welcomed them 
The complimentary drinking water comes in sealed glass bottles.
Complimentary coffee and various varieties of tea in our room.
The room also comes with ironing facilities.
Bathrobes.
Pool and beach slippers. We see almost every guests here wore the same slippers to the pool and the beach 
Click here for more information on room offers.
GARDEN CAFE
As mentioned earlier, the Family Fun Package includes daily buffet breakfast and daily buffet dinner for 2 adults and 2 children (11 years old and under) at Garden Cafe.

We thoroughly enjoyed the buffet dinner as it comes with premium seafood as well as my favourite lamb.
Would you believe me if I said little Ayden ate all of the above? YES, he DID!
Big bro Ethan dug into the tender lamb instead.
The chicken kapitan here is a must try!
There is also a Kids Corner that serves little bites for children.
COMPLIMENTARY SHUTTLE TO GEORGE TOWN
As much as I love Penang, one thing I don't really fancy is the heavy traffic during school / festive holidays. Heavy traffic aside, the main problem is actually looking for a parking spot during these peak period.
It can be nerve wrecking circling an area numerous times just to find an empty parking space hence we were extremely delighted when we were informed that complimentary shuttle to George Town is available 4 times a day here at the resort. We immediately booked our place for the next day as we planned to visit Penang's latest attraction, the Jurassic Research Center that is located at The TOP, Komtar at George Town.
We are so glad we did as my dino crazy boys learned so much about dinosaurs there. Imagine their delight when they see most of the dinosaurs that they have been reading about in books finally coming to life right before their very eyes. 
Watch this video to find out more about it. 
VIDEO
Remember to make advance booking with Golden Sands Resort for your complimentary shuttle to George Town as space are quite limited and runs out very quickly. 
To sum it up, we had a wonderful time here at Golden Sands Resort by Shangri-La. Besides leaving the resort for half a day to visit the Jurassic Research Center, we spent all our time here at the resort as it has so much to keep us occupied.
We can't get enough of the new Splash Zone, exciting pool slides and of course the Adventure Zone with awesome Drop Slides!
When we are not in the pool or at Adventure Zone, we spend our time at the sandy beach of Batu Feringgi basking in the sun and enjoying the sea breeze and soothing sound of the waves. 
Come night time, we walked around the night market that is conveniently located along the road just outside the resort. 
With such a great time we had, it is no wonder Golden Sands Resort by Shangri-La has been voted as Top Ten Family Resort recently by 'Holiday with Kids', Australia's leading family magazine and website.
We will definitely be back here!
//
//
//
//
//
//
//
//
//

//