Impiana Private Villas Kata Noi Phuket, Thailand
We don't need a crystal ball to help us decide our holiday destination when we have such a gorgeous beach with crystal clear water waiting for us at Kata Noi.
Kata Noi Beach is a beautiful little bay along Phuket's west coast with one of the best beaches on the island.
The above picture is raw and unedited. Look at that amazingly clear and inviting sea water.
Located just south of the main Kata Beach, it has lovely soft sand and stunning scenery.
It is also home to some of Phuket's most luxurious resorts.
Impiana Private Villas Kata Noi is perched above the cozy bay of Kata Noi. Comprising of 11 exclusive villas with breath-taking views of the boundless blue horizons where the sky meets the sea, these private villas are highly sought after for weddings, honeymoons, anniversary celebrations, couple getaway as well as to have some quality family time together.
WELCOME DRINK & FLOWER GARLAND
We got the first taste of Impiana Private Villa Kata Noi's unparalleled hospitality when we were presented with fresh flower garland and cranberry drink upon arrival. 
GARDEN PRIVATE POOL VILLA
All villas – Deluxe, Grand, Family and Honeymoon suite come with free high-speed Wi-Fi and butler service.
We spent 3 days in the outstanding Garden Private Pool Villa.
Villa 105. Garden Private Pool Villa is only one of its kind here at Impiana Private Villas Kata Noi.
Conveniently located nearby the Living Room restaurant, the Garden Pool Villa features a private garden and pool, one bedroom with a king size bed, spacious lounge area and separate bathroom with bathtub and standing shower in a cosy and modern styles décor.
Spacious lounge with plenty of natural lighting from the floor-to-ceiling glass walls. The sliding door opens directly into the long, private pool giving us the best panoramic ocean views and stunning sunsets.
Welcome fruit platter
Cosy dining corner
Amazing selections of complimentary coffee and tea. Nothing beats waking up to freshly brewed coffee from the coffee machine.
The generously spacious bedroom furnished with a king size bed, sofa, television and an extra bed for big brother Ethan. The bedroom comes with an astonishing view of the sea and opens directly to the balcony and the pool with a couple of sun lounges to chill on.
Beyond the bedroom is this equally roomy and luxurious bathroom.
Comfy robes for all four of us.
Separate bathtub and standing shower.
We are pampered like royalty here with branded personal care amenity collections.
Pleasurable and unforgettable. Bath and body products by Bvlgari. Every Bvlgari fragrance is an expression of pure luxury that captures the very essence of the brand's refinement and elegance.
PRIVATE INFINITY POOL
Our villa comes with a huge private pool where we can fully immerse ourselves in the privacy of our pool while enjoying the panoramic ocean views and stunning sunsets.
Panoramic ocean view
Having our own private pool ensures total privacy
We can swim all day and all night without distractions
We also spent considerable time just lazying on the lounges listening to the lullaby of the gentle waves.
DINING OPTIONS
For our meals, we have the option to dine at The Living Room Restaurant which is just outside our villa or get them to deliver to our place.
POOLSIDE DINING
We love having breakfast in the privacy of our own villa as the boys simply can't get enough of pool time.
BREAKFAST IN BED
On days when the boys prefer to sleep in, we have breakfast in bed.
ROMANTIC SUNSET DINNER
It was our 14th ROM Anniversary and we celebrated this special day over a romantic sunset dinner.
Our Garden Pool Villa comes with a spacious private garden so we can have our romantic sunset dinner here while the boys have their meals safely in the villa.
It is amazing how the sky turns into a gorgeous pink and baby blue before setting into a breath-taking sapphire.
Love every detail of our dinner set-up. The team set for a 4 pax dinner as I ordered extra food for the boys. But the boys ended eating in the villa in front of the television; giving Darling and I the much needed privacy to rekindle our romance.
Our impressive dinner menu
Our main course of tenderloin beef and lobster is simply extravagant. Buttery and unbelievably juicy, the steak is a fulfilment of our gustatory dreams.
Wonderful dessert to end the night on a sweet note.
Such a beautiful set-up in our private garden by the pool. Can you see that the television is turned ON in the villa? Yes, the boys are enjoying themselves as much as Darling and I.
Romantic Sunset Dinner with Seaview is popular with guests at Impiana Private Villas Kata Noi. It is also available for non-staying guests. All you need to do is place your reservation in advance and the team will do the rest.
So much effort being put in by the resort team to make our intimate Anniversary dinner something we'll remember and cherish for a lifetime ❤️
Head over to PRIVATE ROMANTIC DINNER WITH SEAVIEW for more information and reservation.
IN-VILLA BBQ
Besides Romantic Sunset Dinner, we can also have Private BBQ in-villa here.
Seafood is to be found aplenty on Phuket Island and delicacies are to be indulged in!
Chill and relax as the Personal Chef does all the grilling for us.
The well-executed seafood barbeque: We had fish, prawns, squid, crabs, shellfish and lobster amongst other seafood items. 
The sweet, intense, and slightly charred taste of shellfish when it's cooked on the grill is simply the BEST!
Grilled lobster goes perfectly well with butter sauce. 
Look who is enjoying his lobster? He says it is so good, it doesn't need any accompanying sauce dip. 
Chocolate lava and ice-cream for dessert.
Check-out their website for more information on Private BBQ in Room promotion.
THE LIVING ROOM RESTAURANT
We also enjoy having our meal at The Living Room Restaurant.
The Living Room Restaurant is one of the best restaurant in Kata serving both Thai and international dishes throughout the day.
It's nice to just chill and relax by the garden terrace and enjoy our meals. We can actually see our villa from here.
Our boys love the pizzas and pastas here and look forward to having them every day for lunch.
IN-VILLA SPA BY SWASANA SPA
The weather was gloomy on the second day we were here. Knowing that we won't be able to jump into the pool or bury our toes in the sand at the beach, I called for in-villa spa treatment.
One of the services provided by Impiana Private Villas Kata Noi is a relaxing in-villa spa treatment with the gorgeous blue sea view.
The spa team transformed our villa into a tranquil treatment area.
Swasana Spa offers a variety of relaxing treatments including massages, facial treatments, body scrubs and body wraps.
Their signature massage, called Swasana is highly recommended as it is a blend of Thai, Balinese and Malay massages.
I can have my pampering session while the boys chill and relax in the comfort and privacy of our suite.
VIDEO
Watch this video to get a virtual experience of in-villa spa treatment by Swasana Spa at Impiana Private Villas Kata Noi
SURROUNDINGS
Once the rain subsided, we went out for a leisurely stroll around the resort.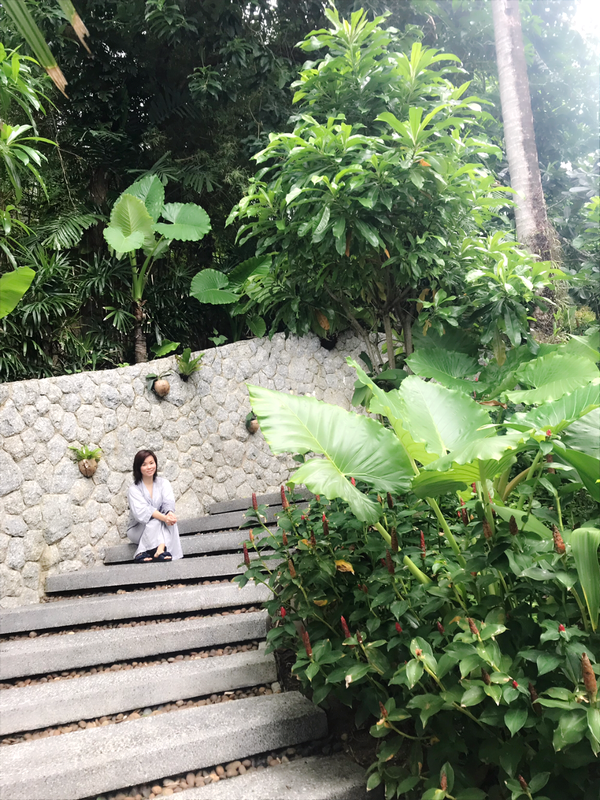 This luxurious resort is set in a breath-taking fairy tale garden where we can just close our eyes and listen to the music of nature.
Come night time, we are transported into an enchanted garden.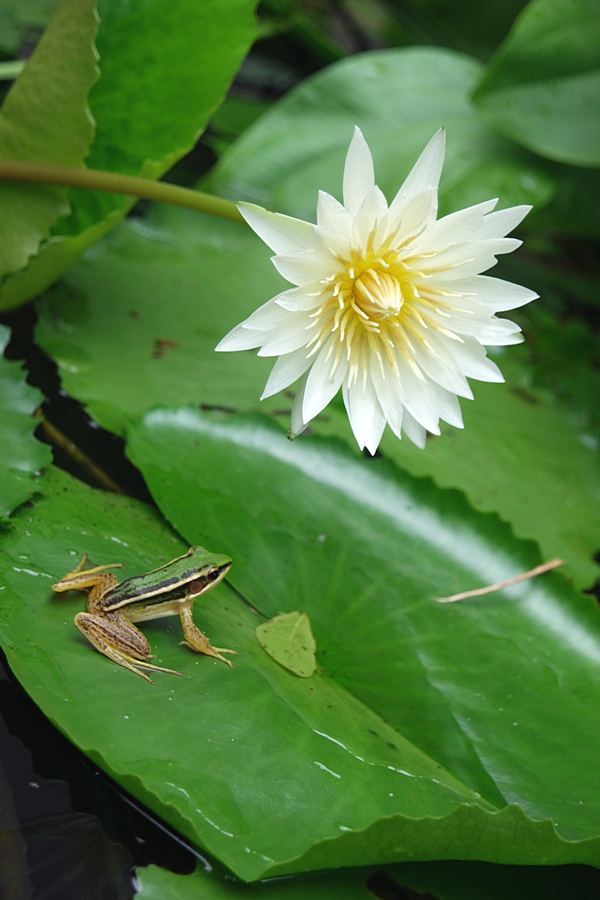 To our delight, we saw a frog on a lotus leaf in the beautiful lotus pond.
A stroll down the stairs leads us to the amazing rocky headlands of Kata Noi.
Smell the sea, feel the breeze, hear the ocean, be at ease
We can sit here for hours, perched on the rocks above the bay of Kata Noi, overlooking the stunning Andaman Sea having sea breeze blowing through our hair.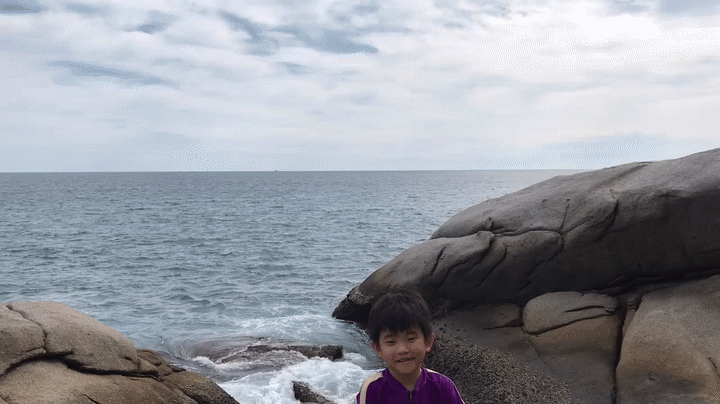 If home is where the heart is, then our heart belongs to the beach as we made our way back to our current favourite beach, Kata Noi beach, one of Thailand's finest beaches.
The tans will fade but the memories made will last forever.
We had a wonderful time here. Darling and I rekindled our romance after 14 years of marriage while the boys had plenty of exciting pool and beach time. 
If you are looking for a romantic venue to hold intimate celebrations such as weddings, honeymoons or to simply celebrate birthdays or anniversary, we would highly recommend Impiana Private Villas Kata Noi. Their service is top notch and the place is a dream come true. 
VIDEO
Watch this video for a virtual tour of Impiana Private Villas Kata Noi.

Impiana Private Villas Kata Noi
10 Kata Noi Road Moo 2, Karon District, Muang Phuket, 83100 , Thailand
Phone: +6676 330770   Fax: +6676 330771
Email : info.ipv@impiana.com
Phone (Booking & inquiry): +6676 340138
IMPIANA PRIVATE VILLAS KATA NOI is having a discounted room rate PROMOTION specially for our blog readers ❗️❗️
Enter the promo code: BLOG19
✔ Complimentary daily a la carte breakfast for 2
✔ Butler Service
✔ 10% discount on Food and Beverage (Non – alcoholic)
✔ 15% discount for Spa treatment and massage
✔ Complimentary use of Fitness Center
✔ Complimentary unlimited wireless internet access
✔ Welcome fruit in the room
✔ Welcome drink & cold towel upon arrival
✔ All room reservation must be made directly to the hotel
BOOK NOW: https://bit.ly/2IqjdIy
Stay period: Now – 31st October 2019