Shangri-La's Rasa Sayang Resort & Spa, Batu Feringghi Beach, Penang
I finally have the time to blog about our stay in Penang. This is what happens when we have too many pictures to share and do not know where to start. We almost did not make it for this trip. Reason being it clashed with a job of mine so I had to cancel our holiday plans a week before the actual date but later found out that my job had been postponed to another date so I quickly called the resort to ask if they still have any room available for us. Thank goodness they did and the next thing I know, we are here at Shangri-La's Rasa Sayang Resort & Spa, Batu Feringghi Beach, Penang.
The reason we chose this resort is because we wanted a place not too crowded during the super peak month of December. Hard Rock Penang is out of the question as we had been there several years ago and the swimming pool was a nightmare; over-crowded and very noisy. With Ayden around, I cant risk my 16 month old boy to be knocked down by excited kids running everywhere. We contemplated Golden Sands but again it can be crowded due to their Adventure Zone and sea sport activities. Finally we decided on Shangri-La's Rasa Sayang and we are glad we did as we had a marvellous 4 Days/3 Nights stay here.

Shangri-La's Rasa Sayang Resort & Spa, Penang.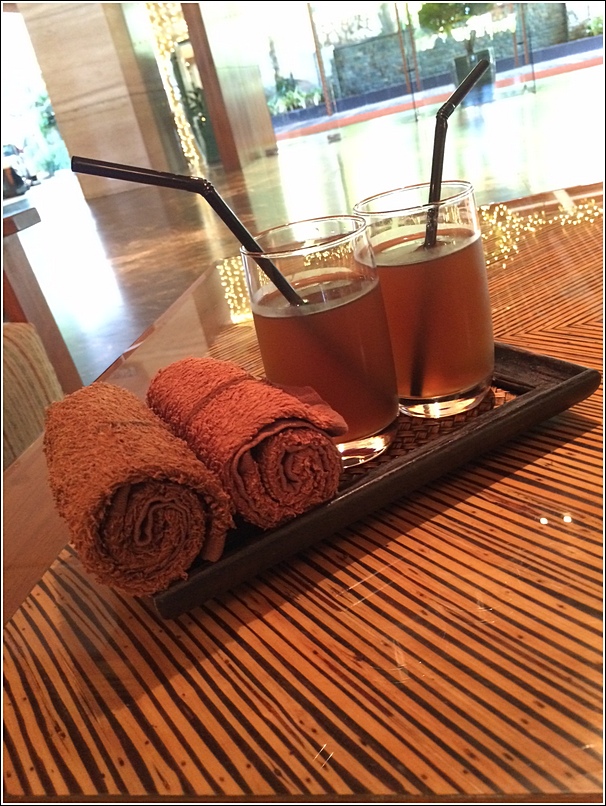 As soon as we arrived, our luggages were taken care of and we were ushered to be seated and served this refreshing nutmeg juice while Darling proceeded to do the Check-In.
We were then escorted to our room. We requested for a high floor room with one extra bed so we got a room at Level 8.

Our Deluxe Sea View Room with an awesome extra bed. Unlike other hotels where we have to pay for the extra bed, here, the extra bed is complimentary. Our room also comes with complimentary breakfasts.
I like the sofa bed. It looks nice. Ethan doesn't usually agree to sleep on the extra bed in hotels as it is always just a piece of mattress but here, it looks so good that he immediately volunteered to sleep on it.
But come night time, look who conquered the bed first! LoL! My cute sleeping beauty. I ended sleeping here with Ayden while Ethan sleeps on the bed with Daddy -.-
There is a huge mirror outside the washroom. I love full length mirrors. I am that vain.
We get complimentary fresh fruits sent to our room every single day we were here.
We never run out of drinking water as they go around in the evenings checking if we need more water, clean towels, pillow or anything else.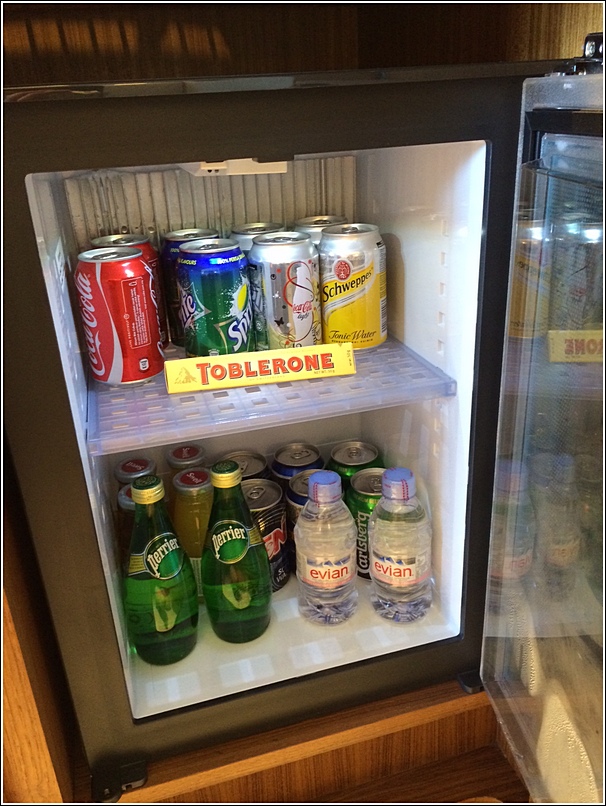 These are the items in the mini bar.
Some snacks and the coffee/tea making facilities.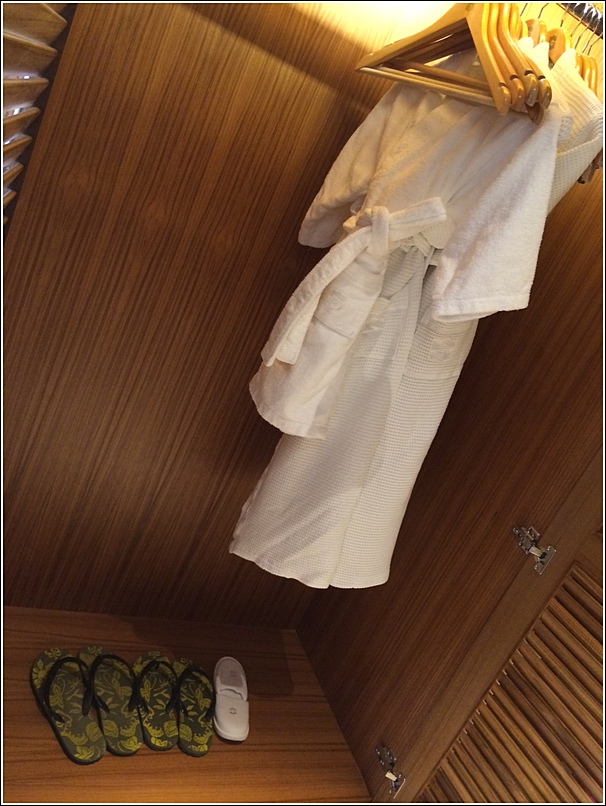 Bathrobe and bedroom slippers.
This is where I sit to update my Facebook from time to time :P
The breath-taking view of the sea horizon from our balcony.
The kids love looking out but I always keep the sliding door closed unless I am there with them at the balcony. Also because this place has some kind of smart system where the aircond will stop or decrease if the sliding door is ajar as that indicates that we are at the balcony hence the decrease of the aircond power.
Nice washroom.
With a long bath. The kids' favourite.
Shower room.
We spent most of our time in the resort, going out only to meet up with friends and eat.
We had daily breakfasts at the resort. See, I turned into a turtle after spending so many days by the beach :P It's so cute to see their turtle mascots making its rounds every single morning greeting guests.
There are many hammocks around the resort and the boys love it.
Ayden (and Ethan) love walking around the resort every morning.
But they love the beach more.
The sand here is coarse but clean.
The beach's unique landscape. Ethan made a slide every single day out of this steep part of the beach.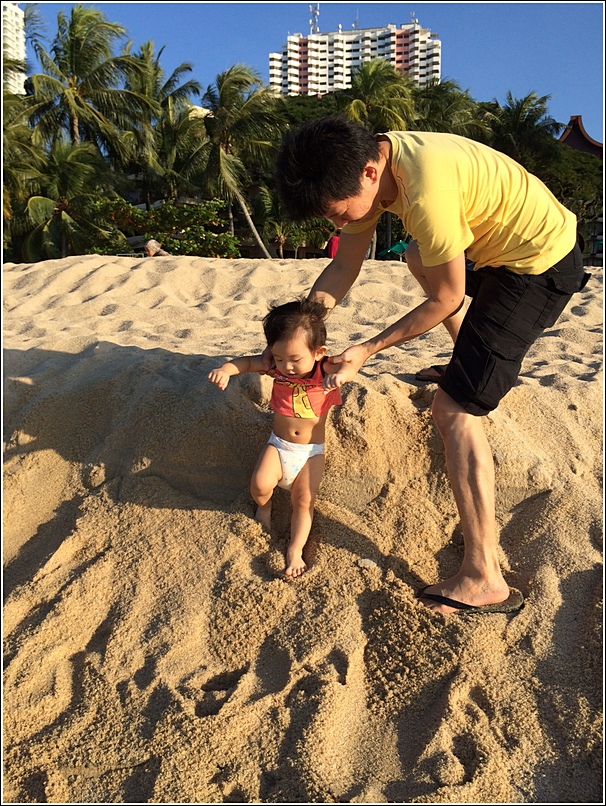 Even Ayden loves sliding down that steep part.
The boys spent a considerably large amount of time at the beach but that is expected as we don't have a beach to go to in KL.
Ayden got tanned by the day. He came here fair like tofu and left dark like charcoal. LoL. Good thing is he is not at all afraid of the sea water and wave. The sea was quite choppy when we were there end of December.
Ethan loves the beach too but he spent most of his time at his 'slide'. He can slide down that sand a million times a day and never get bored -.-
Yes, I love the beach too. One for the album :)
Another one with Darling in it :)
We did spend some time in the pool too.
Mostly at the jacuzzi as Ayden LOVES the bubbles! Hehe. Chicken soup, anybody? :P
Actually, I am only here at the pool for this fruits on skewers. The staffs go around handing this out to guests at the pool so this is one of our reason to be at the pool :P It's especially good on a hot, sunny afternoon.
Still in the pool at dusk. We were either at the beach or in the pool throughout our 4D/3N stay here. Never before have we had such a relaxing holiday. As Darling said it, we must fully utilize every penny spent paying for our stay by spending as much time as possible here. Haha!
The calm pool at night.
The sunset view from our room. 
One thing I noticed about this resort is there are plenty of super huge trees around. One of them is as shown in the picture above. These old, gigantic trees complement the resort so well, giving it a sense of calm and serenity. 
This must be one of the best holidays I've been too. The quality time spent with the boys and catching up with several friends whom we've not seen for ages is priceless. Thank you Darling for forcing me to go for this trip. I almost did not want to as we were extremely busy the second half of December. 
It's the last weekend of calmness now for in two days' time the school will reopen and all hell will break loose. I'm so not looking forward to that! >_<
//
//
//
//
//
//
//
//
//