Asiatique Sky Ferris Wheel: Bangkok's Landmark
I finally have time to blog about our Asiatique Sky Ferris Wheel ride in Bangkok. I was telling myself to better get it done before the next school holidays in two week's time. Who knows maybe we'll get to travel again? *wishful thinking*  
During our recent week long holiday in Bangkok, we managed to visit quite a number of famous tourist attractions. I've blogged about our dinner river cruise and our visit to Wat Arun temple .
Today I'm going to share pictures of our Ferris Wheel ride on Asiatique Sky. 
Located inside Asiatique The Riverfront, the capsules are air-conditioned. 
This picture is taken by an Indonesian couple we got acquainted with earlier at Angkor Wat. Such coincidence that we bumped into them again here in the evening so we helped to take pictures of each other. 
The opening hours are from 5pm to midnight daily. The ticket is quite pricey. We contemplated for some time if we should do this or not and decided to go ahead as the boys were practically begging us to let them ride on it.
We are glad we did it though as the price has increased recently. During our ride back in June, it was THB 300 x 2 adults and THB 200 x 2 children.
The current price now will be THB 400 x 2 adults and THB 250 x 2 children. 
Price
| | |
| --- | --- |
| Adult ticket | 400 THB |
| Child ticket  | 250 THB |
| Senior citizen ticket | 250 THB (60+) |
| Disabled person ticket | 200 THB |
| Private Cabin | 1,500 THB (2 persons) |
| VIP Cabin | 2,500 THB (2 – 5 person) |
We got the coach to ourselves. I think it is a common thing for them to allow a family to have a coach on their own without sharing with others? 
Sorry for the blurry and grainy pictures as all pictures were taken using Darling's phone coz I did not bring along the tripod for my camera. 
The wheel moves very slowly. It goes several rounds. It was so slow I lost count before it completes a circle hence I did not know how many rounds it made. I did not take pictures of the view as the glass kind of distorts the view and the pictures came out poorly (or maybe my camera is not good enough). It is nicer to enjoy the view with naked eyes. 
Done with taking family group pictures, we all went to our own corner to enjoy the view from the eye of Bangkok. I can see the river cruise from up here. 
With Darling ♥
Yes, we did it! Finally a brighter picture of us as the lighting is much better on the ground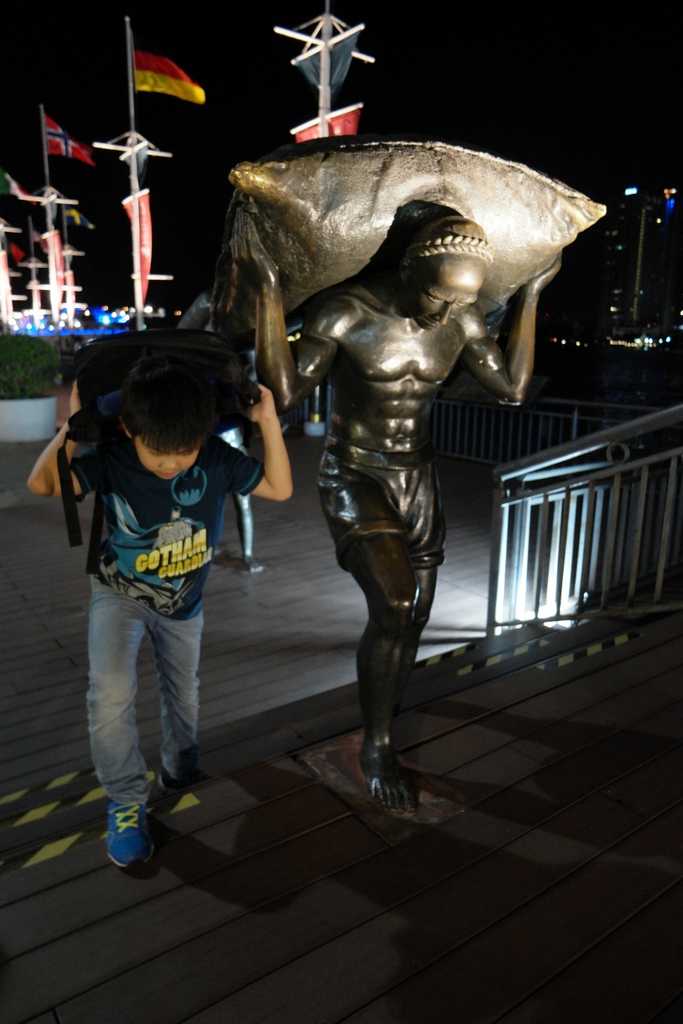 Ethan clowning around with the art pieces before we head back to our hotel.