Browsing articles tagged with " dessert"
I've been seeing pictures of people eating this J-shaped ice cream for months and told myself to NEVER ever go near it as it looks horrendous. But true to the saying, "Never say NEVER" I finally succumbed to it when Ethan requested for it. My first reaction was an immediate 'NO' but Ethan kept begging us for it each time we walked passed this place. After about two months or so, we finally bought one […]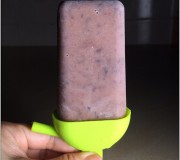 It's time to make popsicles again and this time, we are making red bean popsicle. Growing up, my favourite ais krim potong flavours are kacang merah, durian and jagung. I also like cendol and yam. I have tried making sweet corn popsicle and it turned out really well. You can refer to my popsicle posts here: http://www.submerryn.com/2015/06/easy-homemade-frozen-popsicles-recipe.html Let's start with our red bean popsicle now. First, we need to make red bean paste.  But before […]
Our entire Sunday was spent doing last minute shopping for the kids and Darling. As I had completed my CNY shopping way in advance, it is now their turn to shop. Shopping with two kids is darn tiring. One moment one of them will complain hungry. After eating, another will poo and then by the time I clean him up the big one will request to go to the washroom and by now the little […]
Winter melon is slightly cool in nature. Drinking winter melon tea in these prolonged hot days is a great way to combat heat.  It is sweet in taste, helps to detoxify, clears out mucus and phlegm and promotes digestion. Winter melon's diuretic effect helps to eliminate water retention. It contains potassium that helps flush out sugars and waste through our urinary tract. Not a fan of drinking packet drinks, I like to boil my own winter melon tea. […]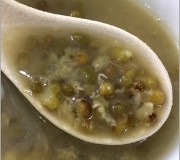 I am on a tong sui frenzy and have been boiling a different tong sui every day for the past couple of weeks mainly due to the scorching weather we are experiencing lately. I've been repeating Barley, Loh Han Guo, Red Bean and Black Glutinous Rice and Sweet Peanut Soup as these are clearly Ethan's favourite. I have always wanted to boil green bean or mung bean soup but always ended up procrastinating as both […]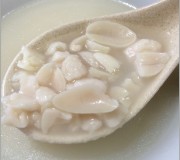 The scorching hot weather is really unbearable these days. To keep us cool, I boiled sweet peanut soup the other day. Sweet peanut soup is said to be heat-relieving. Peanuts are rich in energy and contain health benefiting nutrients, minerals, antioxidants and vitamins that are essential for optimum health. It's pretty simple to boil this delicious, refreshing dessert. Unlike common believes that it takes the whole night of boiling to achieve that melt-in-the-mouth consistency, it took […]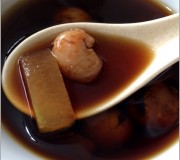 Loh Han Guo herbal tea is a great thirst quencher especially during the super hot days. Loh Han Guo also known as Buddha's fruit or Monk's fruit helps to nourish the lungs, promotes secretion of body fluids, relieves cough and reduces phlegm.  It's super simple to boil this delicious, refreshing tea at home. It doesn't take too much of my time either.  I used minimal ingredients (Loh Han Guo, dried longans and winter melon strips) […]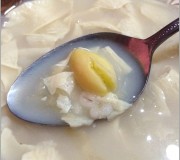 I love drinking sweet desserts. Apart from my favourite red bean with black glutinous rice dessert, my another all-time favourite is my mom's Ginkgo Barley with Bean Curd Sheet. I've never boiled this myself because I'm just too lazy to shell and remove the ginkgo core. Here's how my mom makes it: Ginkgo Barley with Bean Curd Sheet Ingredients: Barley Shelled Ginkgo with core removed. Bean Curd Sheet / Fu Chok. Make sure it's the […]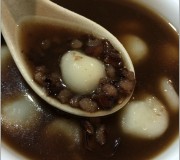 My family loves tong sui. We love to drink a different tong sui every day of the week. It is believed having dessert soup daily helps to rejuvenate skin and promotes better complexion. Here, I'm sharing my tong sui recipe collection. Click on their respective links for full recipe. Apple Red Dates Tea The antioxidant compounds found in apples, help prevent LDL cholesterol from oxidizing and inhibit inflammation. Also, the soluble fiber in apples can lower bad cholesterol levels. […]
It's pretty hot these days. Took a shower and got all sweaty again soon after. I've not boiled soy milk for some time now and today seems like the perfect day to have some! I soaked a bowl of soy bean in the morning and by the time Ethan is back from school they are all nice and fluffy. I let Ethan peel the skin off those beans as he enjoys playing with them. I […]
Taking gelato experience to a whole new level, Shogun introduces the Teppan Gelato, a premium Japanese dessert for the first time in Malaysia. Teppan Gelato is an ice cream like dessert made on Teppan or metal pan. Whooops! NO, that is not Teppan Gelato. That is the 100kg Maguro (Tuna Fish) specially flown in to kick off Shogun Fest last Thursday. Shogun is having its Shogun fest in conjunction with the Sakura spring season from […]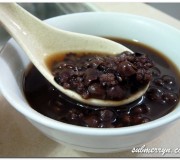 Darling told me the other day he often drops by Kedai Kopi Khoong in Sea Park in the evenings alone for dessert. He brought me there for the very first time in 1997 and is still frequenting that place today! I don't know what makes him kept going back there as I find their desserts so-so only -.- How? Am I that bad that he needs to 'cari makan' else where? :P So the other […]
Yeay! Pure happiness! Have a lovely weekend folks! You know where to find me if you need me.. Hint: See pic above! :P Dunno what's going on? Read all about it here.