Impiana Resort Patong Phuket | Beach Front Resort in Patong
"IF WE WERE MEANT TO STAY IN ONE PLACE, WE'D HAVE ROOTS INSTEAD OF FEET", Rachel Wolchin once said.
So travel we did and we chose Phuket again this time for its close vicinity to Malaysia and convenience to fly there direct.
We stayed at Impiana Resort Patong Phuket, one of the only 3 beachfront resorts at Patong beach, the most famous beach in Phuket.
Patong is a bustling town with its wide variety of activities, shopping and also nightlife and Impiana Resort Patong Phuket is situated right smack in the middle of it all. With only 5 minutes walk to Soi Bangla (Bangla Road) and additional couple more minutes to Jungceylon shopping mall, we got ourselves the best place to stay for the next 4 days.
We arranged for airport transfer to be included in our room booking and to our delight, we were given wet towels and bottled drinking water as soon as we entered the vehicle which is a comfortable Toyota Fortuner.
Sky above, sand below, peace within. We found ourselves a paradise.
DELUXE GARDEN ROOM
Upon arrival, we were served welcome drinks and wet towels again as the front office staff handed us our room keys and run us through with information on the facilities and activities available at the resort.
We took two connecting Deluxe Garden rooms. The lush greenery provided much privacy and tranquility throughout our stay.
The boys' twin sharing room. The room is spacious with comfortable pillow and beddings.
The boys' room is connected to our room. Our room is just as spacious with a day bed that we can all chill on while watching television.
Look at how spacious it is. We can actually fit all four of us in this room comfortably if we would like to cut our room expenses in half but because we are going to be here for 4 days, we decided to take two rooms for the extra space and comfort.
Each room comes with a separate bath and toilet.
The amenities provided includes shower gel, shampoo, body lotion, cotton ball, toothbrush with toothpaste, sewing kit, emery board, cotton tips, shower cap and sanitary bag.
There are two types of slippers provided – bedroom slippers and beach slippers.
SEA-FACING SWIMMING POOL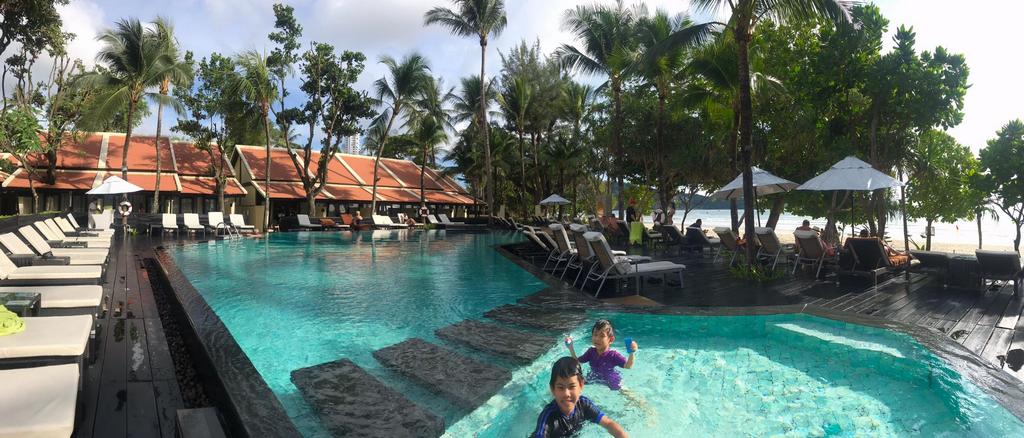 This is what the boys are here for – endless pool time.
The pool here is wide and faces the sea.
Sun lounges lined the entire poolside so we can just chill while watching the boys splash in the pool.
DIRECT ACCESS TO THE BEACH
But our heart belongs to the sea and it's great that here at this resort, we get direct access to the beach for our daily dose of Vitamin Sea.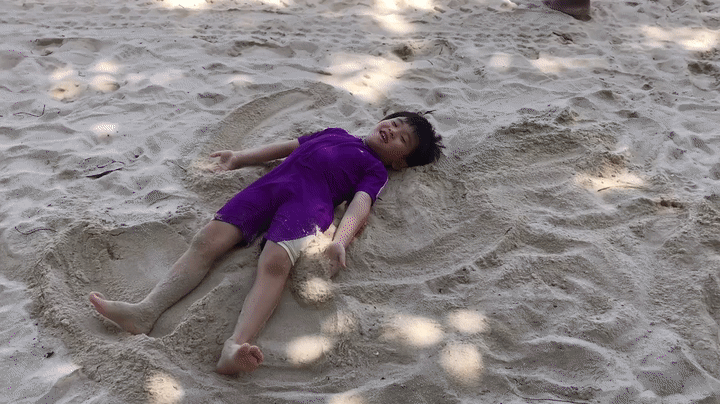 The sand is fine and white. Look at how happy little Ayden is; making sand angels on the beach.
With the beach so fine, building sandcastles is a must.
Water sports activities are available here if you are up for it – Jet ski, Parasailing, Banana Boat and more.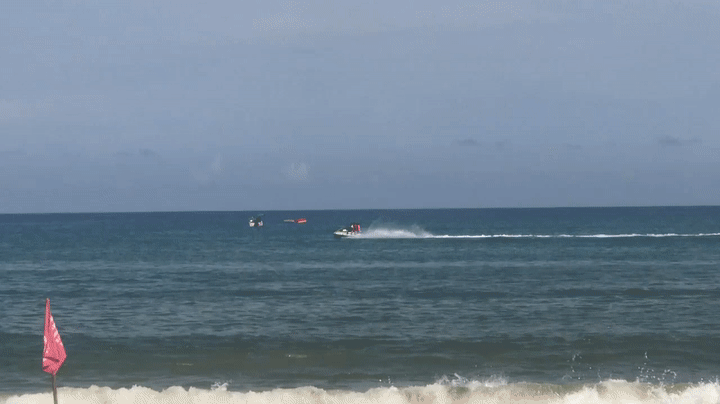 The price for water sports is not fixed so you can put your negotiation skills to good use here.
The beach turns magical pre-dusk when colours start to fill the sky. The low tide leaves ample of wet sand for play; it is actually the best time to build sandcastles.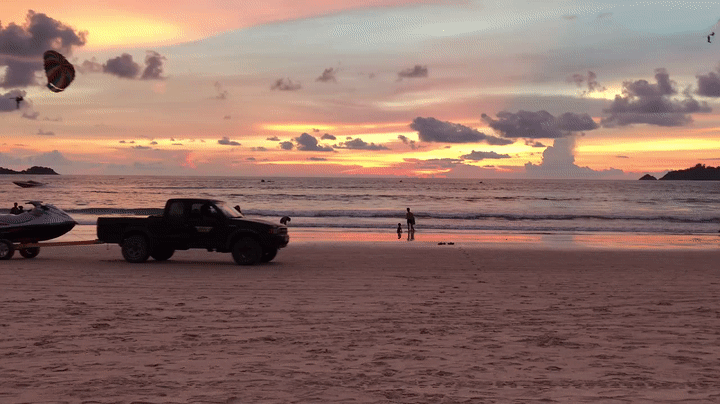 This has got to be one of my favourite moments, to see a train of jet skis passing through on the beach during sunset.
Just look at that gorgeous skyline.
ROMANTIC SUNSET DINNER
Here at Impiana Resort Patong Phuket, we can make the most of this mesmerizing sunset with a romantic dinner. Simply place your reservation in advance and the team will ensure you get a memorable experience complete with a personal chef to cook for you. 
Darling and I get to spend some quiet time together while the boys had food delivered to their room to eat in front of the TV. 
Our personal chef for the evening, Chef Koko, prepared some beautifully plated full course dinner for us. 
My steak is made exactly to my liking – medium rare and juicy, it is just perfect.
Besides enjoying our excellent dinner with the cool sea breeze caressing us, we were also overcome with emotions by the beautiful dancing twilight before us. Just look at the pictures above. The sky is simply amazing. 
PRIVATE COOKING LESSON
After being pampered by our personal chef over dinner, we signed the boys up for a private cooking lesson for lunch the very next day. 
They cooked:
1) Thai Beef Salad
2) Tom Yam
3) Green Curry
Thai Beef Salad
Tom Yam Kung
Thai Green Curry
The boys with the ever smiling and friendly Chef Koko
We indulged in the food the boys cooked for our lunch. It is one of the best meal we have ever eaten because it is prepared with love by the boys. 
SWASANA SPA
The Swasana Spa is a premier spa in Phuket with a luxurious choice of healing therapies, facials, body treatments and aromatherapy.
All staying guests were given these vouchers during breakfast.
I decided to give it a try since it is only 500THB. My therapist Khun Fon is so good that Darling requested for her too later in the evening.
We took the seaview room coz it has a gorgeous view 😘
It has curtains for complete privacy too.
Both Darling and I opt for calming oil which is a blend of rose, lotus flower and geranium. It helps to eliminate stress and soothe anxiety. 
I can see why Swasana Spa is in high demand as it is a combination of Balinese, Thai and Malay healing method and pampering treatments in a single session. 
Please ignore little Ayden in the above picture. LoL. He wanted to get a feel of laying on the massage bed with his head in that hole so we just let him be for a minute before I brought him and big brother Ethan to the pool.
Feeling totally rejuvenated like a whole new person after my spa session.
DINING OPTIONS
Dining is a much anticipated experience at Impiana Resort Patong Phuket. Their passionate chefs do their best to cater to the individual needs of their guests. I witnessed with my own eyes how the chef and his team accommodate the request of a group of Indian guests for a hearty vegetarian breakfast on a busy morning rush. Every member of that group was well fed, contented and thanked the chef wholeheartedly after their meal. 
SALA BUA BEACHFRONT RESTAURANT
Sala Bua beachfront restaurant is an Award winning restaurant. It serves Mediterranean cuisine menu with an Asian twist.
We have our daily breakfast buffet here at Sala Bua and à la carte for lunch. For dinner, we were treated to an entertaining live band. 
Breakfast by the beach
À la carte for lunch
Live band during dinner
Hand-tossed woodfire oven pizza is simply the BEST! 
BEACH BAR
Feel the sun while being caressed by the gentle sea breeze and enjoy light snacks by the beach or by the pool at Beach Bar.
3-SPICES THAI RESTAURANT
3 Spices restaurant is located at street level, serving authentic Thai, Asian and European cuisine. Overlooking the exciting nightlife of Patong's beach road and 5 minutes walking to the famous "Bangla Road Bars and Clubs" 
Meang Pla Tod Grob is totally recommended here. It is deep fried seabass with spicy salad and thai herbs. Double thumbs up for this dish. For prawns, the Tamarind, Cashew Nuts and Fried Shallots as well as the Garlic and Pepper King Prawns are our favourite. 
NATURE
The earth has its music for those who will listen.

Here at Impiana Resort Patong Phuket, we are surrounded by the breathtaking beauty of nature.
We spent a considerable time at the lotus pond admiring mother nature at work.
And last but not least, for observing nature, the best pace is a snail's pace. 
I wish we could stop the time, this very moment, right here right now and live in it forever.
VIDEO
Before I sign off, let's watch this video for a virtual tour of our wonderful experience here at Impiana Resort Patong Phuket:
IMPIANA RESORT PATONG PHUKET
41 Thawewong Rd,
Tambon Patong,
Amphoe Kathu,
Chang Wat Phuket 83150,
Thailand
Tel: +66 76 340 138
IMPIANA RESORT PATONG PHUKET is having a discounted room rate PROMOTION specially for our blog readers ❗️❗️
Enter the promo code: BLOG19
✔ Daily buffet breakfast for 2 persons
✔ 10% discount on Food and Beverage (Non – alcoholic)
✔ 15% discount for Spa treatment and massage at Swasana Spa
✔ Free Fruit Basket in room upon arrival
✔ Welcome drink upon arrival.
✔ Complimentary unlimited wireless internet access
✔ All room reservation must be made directly to the hotel
BOOK NOW: https://bit.ly/2XZN9Rp
Stay period: Now – 31st October 2019