Skyline Luge Sentosa: New Luge Tracks and Skyline Ride
We were in Singapore recently for the holidays. We spent our first 3 days in Singapore staying in Sentosa before switching to another hotel in the city. We stayed in Shangri-La Rasa Sentosa Resort & Spa. It is walking distance to our favourite spot – the Skyline Luge, situated on the Imbiah Lookout cluster.
We first rode on the Luge and Skyride at Sentosa Singapore back in 2010 when Ethan was 3 years old. Back then they had only two luge tracks. 
They now have additional two new luge tracks and a new skyride, which were unveiled by Skyline Luge Sentosa on 16th October 2017. These new tracks and skyride remarkably helps to reduce waiting time which can be more than one-and-a-half hours on weekends – to just about 30 minutes.
Today, we are back and this time little brother Ayden gets to experience his first Luge and Skyride.
We took the opportunity to explore these new routes today – the 658m-long Expedition and the 638m-long Kupu Kupu (which means butterfly in Malay).
First, we took the Skyride up to the Luge station.
The 315m-long Skyride transports visitors from Siloso Beach to the luge's starting point on top of Imbiah Lookout.
It was Ayden's first time and he is not at all afraid of the height. He happily gave me a thumbs up.
16 metres above the ground and spans 315 metres, it gives us a bird's eye view of Sentosa as well as the Singapore city skyline.
Look at the brave little Ayden 
Up, up and away on the Skyride!
Riding the luge has got to be one of the most fun thing to do in Singapore. True to their tagline, "Once is never enough", the boys did not want it to end eventhough we rode a couple of times.
Ethan is old enough to ride on his own this time. Back in 2010 he rode with the Daddy. This time, Ayden rode with the Daddy. Poor Daddy has never try riding the luge alone 
We rode on the newly opened track and it was so much fun. It was more challenging with more hairpin corners and long slopes but nothing that we can't handle. Once is never enough, twice still keeps us wanting more. The boys pestered us to purchase more rides. They refused to leave eventhough it was mid noon with the sun shining right above our heads 
Here is the video of our fun ride on the luge and skyride: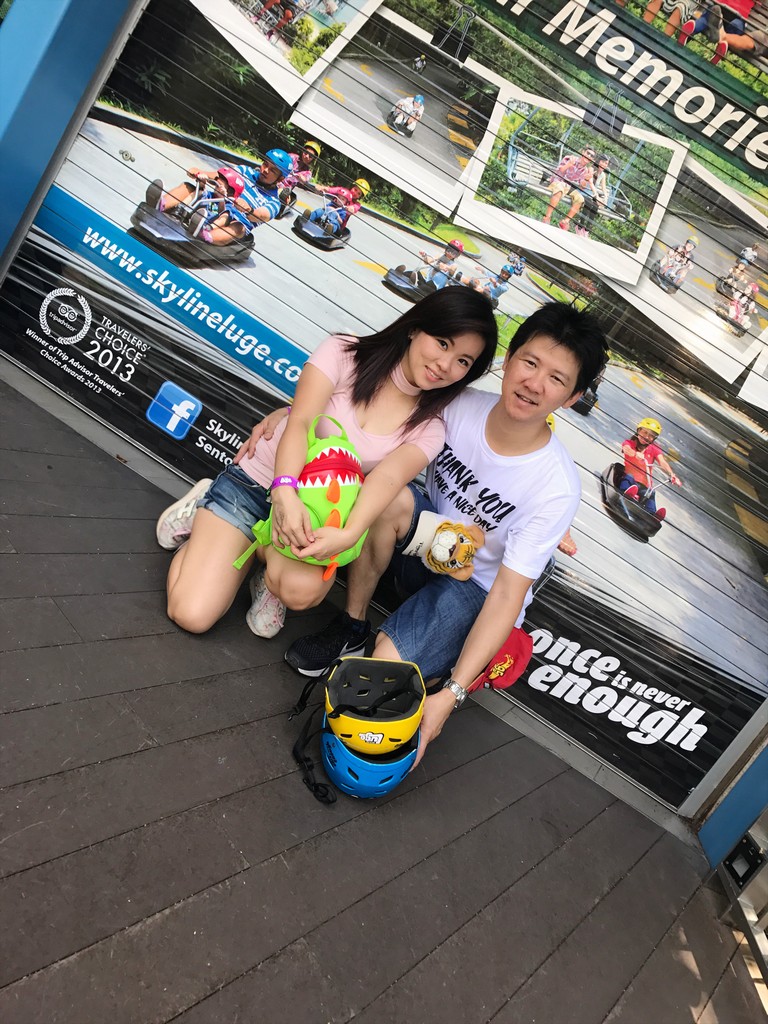 Definitely a MUST DO in Sentosa.
With these new rides and reduced waiting time, we had an even more enjoyable experience as the kids did not need wait for long. 
For more info and latest promo, check out their website at https://www.skylineluge.com/en/sentosa/
Related Posts