Siam Adventure Club | Novotel Phuket Surin Beach Resort
Phuket has some of Thailand's most popular beaches. We were here a couple of years ago and loved the warm hospitality of the friendly locals. We revisited this beautiful island in the Andaman Sea last week. Only 1 hour 15 minutes away from Kuala Lumpur Malaysia by flight, it is our third time here.
As we were here for 8 days, we stayed at three places this time to explore three out of the many beautiful beaches here in Phuket -> Surin, Karon and Kamala beach.
Our first stop was at Surin and our choice of accomodation is at Novotel Phuket Surin Beach Resort. Novotel Phuket Surin Beach Resort is about 40 minutes drive away from Phuket's new airport terminal.
Novotel Phuket Surin Beach Resort
106/27 Moo 3, Cherngtalay, Talang,
Surin Beach, 83100 Phuket
Thailand
Tel: +66 76 303 300
Fax: +66 76 300 303
Email: [email protected]
We arranged for airport pick-up via the resort so we do not need to go through the hassle of finding a cab upon arrival.
Elfie the Elephant greeted us upon arrival.
Elfie is the friendly elephant from the brand new Siam Adventure Club.
SIAM ADVENTURE CLUB
Siam Adventure Club is an exclusive in-house entertainment concept for children.
Ayden with his favourite Pikachu and the friendly and ever helpful Uncle Peach of Siam Adventure Club.
The Siam Adventure Club Tour desk also assists guests with a large range of activities and excursions outside the resort.
With endless complementary activities lined-up for the entire family by the brand new Siam Adventure Club, we spent most of our time chilling in the resort, stepping out just to head to the lovely Surin beach with crystal clear water.
The boys' favourite activity by Siam Adventure Club is Pool Boxing.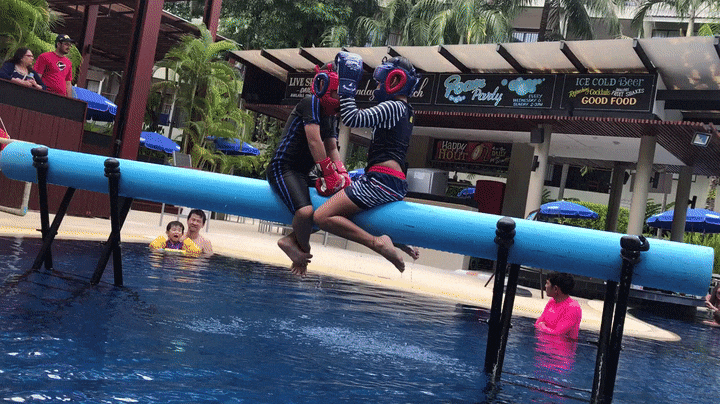 This fun water activity is provided complementary for resort guests.
The children not only get to battle with each other, they also get to challenge their parents to a fun game of pool boxing. The winner receives a special prize from Siam Adventure Club.
Another activity that got the children making a bee line for is Walk On Water where they get to try balancing and walking in a huge inflated ball.
All these activities are arranged by Siam Adventure Club hence the first thing we did when we arrived was to drop by their desk to check the activities schedule so we won't miss out.
When the sun sets, we enjoyed some cozy family time in the resort's brand new state-of-the-art cinema room watching movies.
They have three shows daily with an additional night show on Fridays and Saturdays.
KIDS WORLD
The Kid's world is a 2-storey place dedicated to kids and fun games, featuring a ball pit, a Playstation 4 room with games, and a supervised play area.
Video on Kids World: 
Every day, the Siam Adventure Club's squad will arrange fun activities for the little ones such as umbrella painting, origami, foam party, and more.
Playstation 4
Kick Boxing
Kids Yoga
Arts & Crafts
FREE POPSICLES!
Surprise, surprise! Popsicle HOTLINE!
Kids go crazy with the Popsicle Hotline at the resort.
All they need to do is to pick up the phone and request for popsicles and their wish will be granted. It's good to use the magic words, "Please" and "Thank You" here  
 These popsicles are such a refreshing treat on a nice, sunny day at the pool.
Talking about the pool, the slides here lit up in colourful glow come night time.
Here's a video on the awesome winding pool slide we did when we were here two years ago:
ARCADE GAMES ROOM
Our boys are still young but for older children, specifically teenagers, the Arcade Games Room features state-of-the-art arcade games, such as hockey table, car racing, shooting games, heroes games and more to entertain them while parents and kids enjoy their own time in the resort.
There is also a special Teens Hangout Area in one of the cabanas around the resort where teenagers can chill over a game on the PS4.
Another new addition near the lobby of Novotel Phuket Surin Beach Resort is the ice-cream shop Wow Cow with 30 different exclusive flavors such as Malabar, Gummy Bear, Tiramisu and more.
We were lingering around the lobby area when we saw Chef Kai and staffs building a life size gingerbread house. We approached him to check if those gingerbread used are edible to which he offered us some to eat and we did! I then asked if the boys can help him build the house and he happily welcomed them. What follows next is a stream of other children joining in to help build the gingerbread house together! Eventhough it was obvious the children slowed down his task, he still cheerfully accommodate them and made it a magical moment for these kids. To this, I have my upmost respect to him. Thank you Chef Kai.
Watch this video to see how happy the children are helping to help build this life size gingerbread house.
FAMILY SUITE
Now, let's check out our room.
We stayed in the gorgeous and spacious Family Suite.
Specially catered for families, the 56 sqm Family Suite features a master bedroom with king-size bed, a separated kid's room with 2 beds, and a large balcony. We got upgraded to their Poolside Terrace with similar features of a Family Suite except ours is on the ground level with an easy excess to swimming pools.
All suites at Novotel Phuket Surin Beach Resort has been renovated in 2018
Novotel Phuket Surin underwent considerable renovation with 254 rooms and suites completely refurbished by 15 September 2018. All the new rooms and suites have been redecorated in a contemporary style and features new furnitures and equipment to offer more comfort to guests. 
"Welcome Home" greeted us upon checking into our master bedroom. Novotel's hospitality at its best ♥
Setup includes kid's amenities and decorations.
The boys got toiletries specially catered for children. We really appreciate such thoughtful gestures.
WHERE TO EAT?
Joe Kool's is a new restaurant at the resort.
Located at the poolside, this open-air restaurant offers a choice of pizza, pasta, burgers, salads, Thai dishes and more.
An extensive Kids Menu is also available for children
The boys enjoyed playing table tennis by the pool while waiting for our food at Joe Kool's
It's also the perfect place to cool down and enjoy our favourite drink at the pool bar.
Other choices of eateries in the resort that we dined at are Champions Bar & Grill and Asia Alive.
The Family Size pizza is a must-have at Champions Bar & Grill. We can also enjoy this humongous 18″ Family Size Pizza at Joe Kool's.
The boys love dining at Champions as they get to play snooker. Uncle Peach from Siam Adventure Club will join them for a game or two whenever he spotted the boys playing here.
True to being a family friendly resort, there is a Kids Corner to keep children entertained while dining at Asia Alive and Champions Bar & Grill.
Asia Alive serves themed buffet dinners daily.
We let the boys enjoy a SuperHero themed buffet dinner on one of the evenings we were here while I tried an item from their Fire & Ice menu.
Fire & Ice menu
I ordered The Flame Burger. The cheese was flamed right before our eyes.
I enjoyed the deliciously gooey, buttery and melted cheese on my Flame Burger.
REJUVENATE AT IN BALANCE BY NOVOTEL
With both the boys pretty much occupied with the endless fun activities by Siam Adventure Club, Darling and I get to chill, relax and enjoy a relaxing session of rejuvenating swedish massage at In Balance by Novotel.
We chose the relaxing, full body Swedish Massage; a combination of East and West massage technique.
Here's a sneak peak of our massage session, from selecting our preferred massage oil to the therapeutic touch of our therapist. 
With plenty of activities to keep kids occupied, this resort is a heaven for kids and a relaxing holiday for parents. I'll definitely recommend this resort if you are looking for a Phuket family resort. 
To take advantage of Siam Adventure Club facilities and activities, look for their special "Siam Adventure Club Package".
For more information on this awesome PHUKET FAMILY HOTEL,  please contact Novotel Phuket Surin Beach Resort at +66 76 303 300 or email [email protected]
SURIN BEACH, PHUKET
Sunrise. Sun tanned. Sunset. Repeat.
Before we end this post, let's watch this video of our stay at Novotel Phuket Surin Beach Resort, Thailand: 
//

//

//

//

//

//

//

//

//

//

//

//