3 Reasons to Stay at Hotel Equatorial Melaka
The UNESCO World Heritage Site is the heart of Malacca city. You have not seen Malacca unless you've spend your time exploring the many places of interests here. It is a favourite amongst tourists and for that very same reason, this area is always packed and abuzz with activities. Driving here can be quite tricky as it is not easy to find an empty parking spot hence many opt to stay nearby so they can just walk.
LOCATION
Hotel Equatorial Melaka is located in the heart of Malacca.
Bandar Hilir, 75000, Melaka, Malaysia
Tel: +60 6 282 8333
Fax: +60 6 282 9333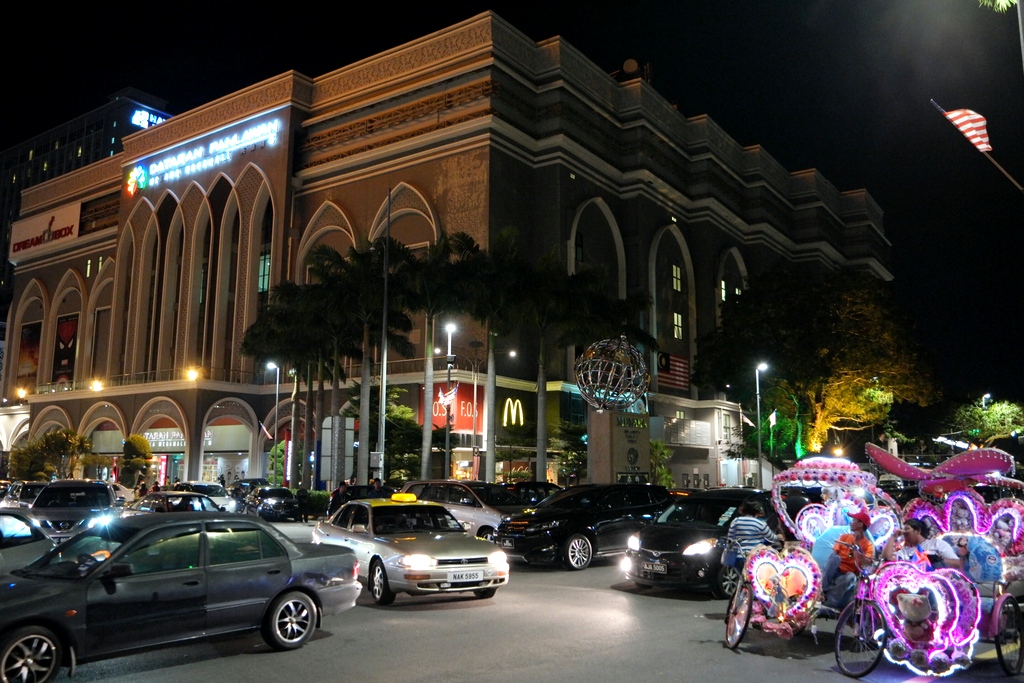 Located just across Dataran Pahlawan, it is within walking distance to Jonker Street, A Famosa and several other famous attractions.
You don't need to drive to get to the A'Famosa from Hotel Equatorial Melaka. Just take a leisurely stroll and you'll find yourself on this historical spot in no time.
It is even nicer to take a stroll here in the evenings as it won't be too hot.
SPACIOUS ROOMS
Besides the perfect location, you'll love the spacious rooms in Hotel Equatorial Melaka.
A personalized greeting on the tv screen welcomes us as we stepped into our room. I appreciate little things such as this. It makes me feel more connected and appreciated. Talking about TV, they have IPTV channels here much to the boys' delight.
Our Premier room with King Size bed provides ample space for the boys to move about.
We also love the day bed with a good view of Malacca town. The day bed also doubles as Ethan's bed at night.
The bathroom is equally spacious with a long bath. I always prefer rooms with long bath during travels so the boys can play in there should it rain. Of course if the weather is good, they'll be splashing in the swimming pool instead.
The pool here is simply gorgeous.
Here is an aerial view of the swimming pool.
It is also nice to just laze around on the many sun loungers by the pool…
while the boys enjoy splashing with the Daddy.
VARIETIES OF RESTAURANTS
You will be spoilt with the many choices of restaurants to choose from.
K5 THE STREET BISTRO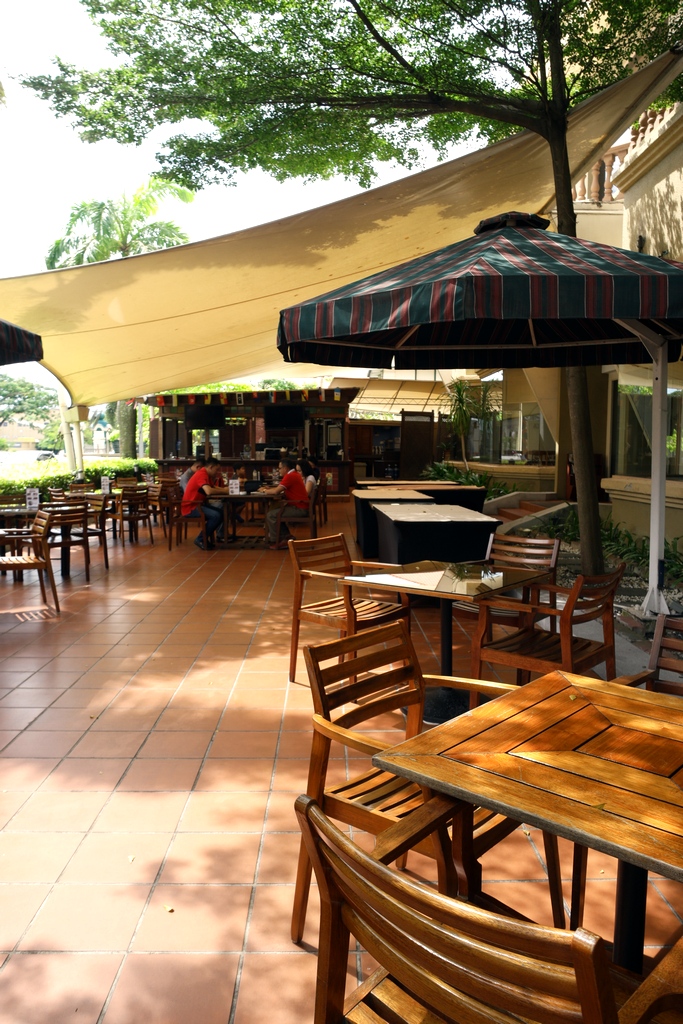 Overlooking the bustling streets of Melaka Raya and the beautiful view of the historical sites nearby, K5, The Street Bistro or "Kaki Lima" in Bahasa Malaysia is an easy-going yet sophisticated bistro in Melaka.
Super love the old newspaper themed a la carte menu.
Serving a variety of local dishes and true Italian pastas and pizzas, K5, The Street Bistro is definitely the place to hang out at.
My boys are a huge fan of chicken rice and the Hainanese Chicken Rice here got the highest ratings from them. They loved the smooth and silky chicken that was served with the flavourful and fragrant rice.
The pizza is good too. Cheesy with a combo of sweet and savoury, it is a delight to have this on a sunny afternoon.
The grilled salmon steak is totally recommended too.
200gm of salmon steak served with sauteed vegetables, lemon butter and roasted garlic potato.
Ayden enjoying his strawberry milkshake at K5 on a sunny afternoon.
SERI NYONYA PERANAKAN RESTAURANT
It is a must to eat Nyonya food at least once during your stay in Melaka. The Seri Nyonya Peranakan Restaurant at Level 3, Hotel Equatorial Melaka serves awesome Halal Nyonya food.
Tastefully furnished in a typical Peranakan style, I was told several items here are real antiques such as the lanterns, tiles and mirrors.
We've dined here twice and I dare say Seri Nyonya Peranakan Restaurant serves one of the best Nyonya cuisine in town.
Click to read about my first dining experience at Seri Nyonya Peranakan Restaurant.
Seri Nyonya is an authentic Peranakan restaurant that is renowned for its authentic home cooked meals like the "Hee Peow Soup", "Ayam Pongteh", and "Nyonya Chap Chye".
Our appetizer, Pai Tee.
Hee Peow soup
Cincaluk Omelette
Sambal Udang Petai
Cendol
Seri Nyonya Peranakan Restaurant won the best restaurant for a hotel outlet back in 2008/2009. It has a reputable reputation of being one of the better Nyonya restaurants in town. It is also HALAL certified hence it is popular not only among tourists (and even locals) but Muslim diners too.
etc… Coffee Corner
Besides the above mentioned places to eat, there is also etc… Coffee Corner if you are looking for light snacks and premium coffee blends.
Ayden had his eyes on their macarons so we came here exactly for that in the evening.
Happy boy with his macarons. The macarons here are just nice as they are not overly sweet.
RESTHOUSE CAFE
For dining with a difference, Resthouse Café is the perfect choice. In addition to the standard à la carte menu, the café also offers a buffet galore that will leave diners spoilt for choice as it highlights both Western and Asian cuisines.
Their Deep Blue Seafood Dinner buffet on Saturdays and Jazzy Sunday Brunch Buffet are such a hit that it is advisable to book ahead if you are coming as it remains as popular as ever.
I've blog about our first Jazzy Sunday Brunch Buffet experience. We love it so much that we came here again to celebrate my Dad's birthday.
A cosy place to hold a small celebration as the price for brunch is pretty reasonable especially since both my parents are senior citizens.
| | | |
| --- | --- | --- |
| Adult | RM68nett (without beer) | RM98nett (with free flow of beer) |
| Senior Citizen | RM34nett (without beer) | RM64nett (with free flow of beer) |
| Child | RM34nett | – |
My parents love the brunch spread too especially the grilled lamb.
DEEP BLUE SEAFOOD NIGHT BUFFET
The signature seafood dinner buffet on Saturdays is simply awesome.
Lots of fresh seafood to choose from.
You can have them boiled…
and enjoy these fresh seafood as it is.
Or fried and eat it with their delicious chili dip.
EQUATOR CLUB
Guests staying in the Club Class rooms are entitled to Equator Club services and facilities.
Personalised check-in and check-out at the Equator Club Lounge (21st Floor)

Daily complimentary breakfast from 7.00 am to 10.30 am at the Equator Club Lounge

Evening pre-dinner cocktail from 5.30 pm  – 7.30 pm

Complimentary free flow coffee and tea all day at the Equator Club Lounge

Complimentary entrance to Equinox Fitness Centre (3rd Floor)

Daily complimentary shoe shine

Daily complimentary light pressing of one suit

10% discount Laundry and Dry Cleaning Services

20% discount on Business Centre charges

Two hours complimentary usage of meeting room at the Equator Club Lounge

Free Internet access available for Club Floor and Suite guests only

Wireless Internet access is available in the Equator Club Lounge

Dual telephone line

Butler service, upon request

Late check-out at 4.00 pm, subject to availability
Pre-dinner cocktail with a view from Level 21
Equinox Fitness Centre (3rd Floor)
Whether you are in town for business or leisure, you'll find your work-play balance here.
We had a great time during our stay here at Hotel Equatorial Melaka and as usual, we end our post with a video of our wonderful stay.