The Haven Resort Hotel, Ipoh | Our Kids Approved
"Life is not measured by the number of breaths we take, but by the moments that take our breath away" George Carlin
And I experienced just that during our recent holiday.. breathtaking moments one after another.

Our gorgeous and spacious bedroom with see-through bath is simply amazing.
Waking up to such breathtaking view, inflating my lungs with the freshest of air coupled with the soothing sound of nature singing in my ears work wonders to my body, mind and soul.
Swimming in the glass infinity pool overlooking a 280-million-year-old lime-stone outcrop with natural pristine environment is like as if I'm dreaming. We can't get this much greenery and nature in the city I live in.
This is paradise. I'm in HAVEN.
The Haven Resort Hotel Ipoh All-Suites to be exact.
And it just gets better from here.
Everything about The Haven Resort Hotel Ipoh All-Suites screams FAMILY!
From its spacious suites to accommodate our entire family to the wonderful infinity pool with heated jacuzzis, trekking trail, outdoor playground, cycling track and various facilities, we had an extremely delightful holiday with the kids here.
We stayed in the 2+1 Bedroom Lakeview Superior Suite
This 3 bedroom-suite (1 King, 1 Queen and 1 Sofa Bed) comes with a living room, dining area, balcony and 2 bathrooms (one en suite).
The spacious master bedroom with King size bed that comes with an attached long bath.
Decorated in neutral colours of beige, brown and grey for that natural feel, our room comes with a 40 inch flat-screen TV with Astro channels and a safe deposit box.
Our room gives us a generous view of the magnificent limestone rainforest.
The kids' room with a Queen size bed.
Having their own comfortable bed means getting a good night sleep and waking up all fresh and cheerful the next day.
All the rooms come with thick blackout curtains that further ensures a peaceful slumber.
Sofa bed in the work / study room.
Cosy living room that opens up to the balcony with a vast view of the grand limestone hills.
It also has a kitchenette with a full-size fridge and a microwave oven.
I am super in love with the lovely complimentary bags of complete toiletries set.
BONDING WITH MOTHER NATURE
We walked along the jogging track and had a wonderful experience being one with nature. We simply can't get enough of the beautiful backdrop of the lake and limestone rainforest. I can just sit here all day and stare in awe at the magical sight of Mother Nature.
Look what surprises us during our walk with nature?
A blast from the past, we get to be friends with T-rex!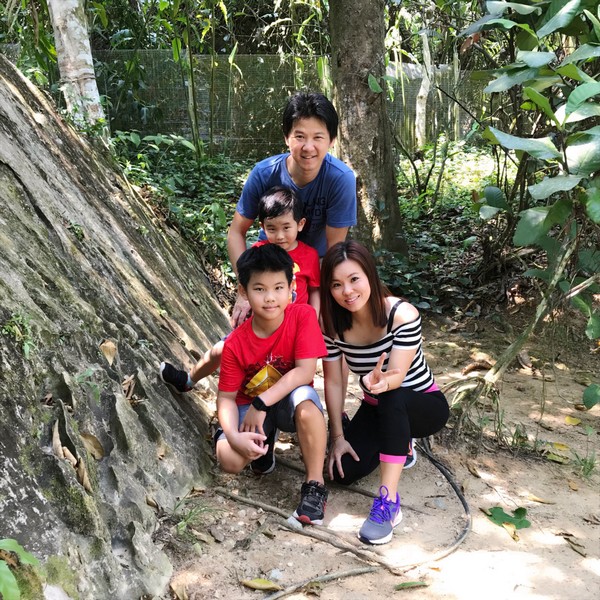 My boys being city kids, have never trekked in such a natural surrounding before. It was a memorable eye-opening experience for them.
The limestone rainforest is home to hundreds of natural and beautiful flora and fauna.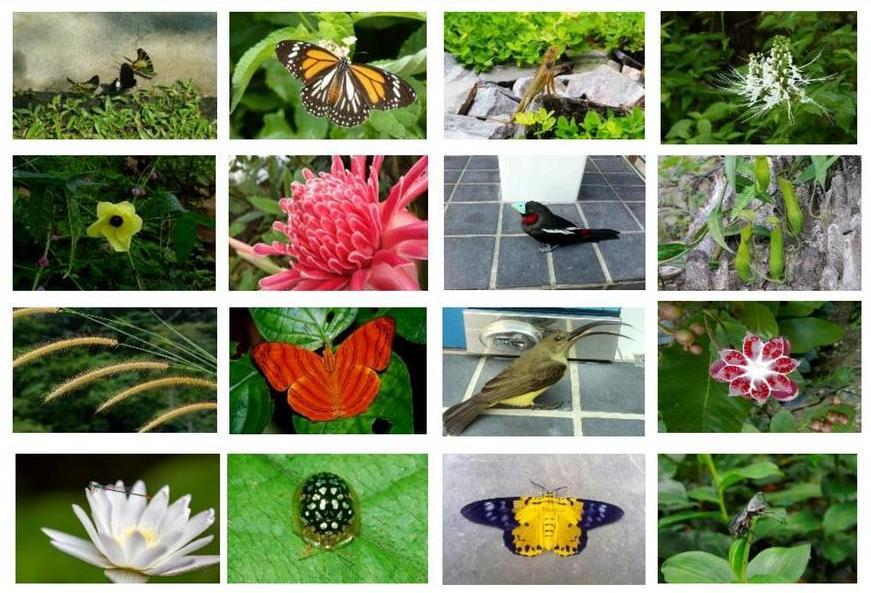 It is also a sanctuary to countless wildlife hence we had an educational walk with nature; exploring and learning to respect and preserve Mother Nature.
Here at The Haven Resort Ipoh, the air quality is preserved by prohibiting the use of harmful substance such as fogging, chemical sprays and more. Instead, a lot of pandan and lemon grass are grown all over the place to repel insects naturally.
We did not suffer from any mozzie menace during our stay here and I am now motivated to grow potted pandan and lemon grass at home too!
"Climb mountains not so the world can see you, but so you can see the world"
SEAHORSE SHAPED SWIMMING POOL
One of the highlight of our stay here is swimming in the specially designed and trademarked 60-metre seahorse-shaped swimming pool.
The seahorse swimming pool has 5 sections to it – Leisure pool, lap pool, infant pool, children pool and the BEST is the jacuzzi pool.
What is unique about the jacuzzi pool here is that instead of sitting down, we can lay down and have our entire upper and lower back massaged by the powerful bubbles.
Not only that, the water here is heated to further relax and soothe our tired and aching muscles.
Most importantly, unlike other jacuzzi pools, the pool here is shallow because it accommodates us horizontally, not vertically hence it is safe for children to play in this pool.
This is my view throughout my jacuzzi session. I can have a relaxing time knowing that the boys are still within my view and reach.
Look who is loving the jacuzzi experience too?
CHILDREN POOL
There is also a water slide at the children pool area.
GLASS INFINITY POOL
Another unique feature of the seahorse swimming pool is the glass infinity pool. It makes an awesome picture spot as we get to take pictures with the 14-storey 280-million-years-old limestone rainforest outcrop right in the heart of the placid flowing lake as backdrop.
Are you up for some water meditation? LoL!
Both the boys love this spot where the pool meets the lake ♥
The swimming pool is open until 10pm hence we get to spend our time swimming even after the sun sets.
RECREATION
There are plenty recreational activities to keep the children occupied here.
If you have been following our blog you'll know that the boys love cycling so this is a must-do here at The Haven Resort Ipoh. Take a slow stroll towards the team-building site and cycle uphill. We could have gone further if only Ayden got a proper bike. They did not have enough small bicycle that day hence Ayden had to use the one with balancing wheels which restricted his cycling experience a little.
OUTDOOR PLAYGROUND
There is an outdoor playground near the pool for the boys to burn off excess energy.
Love the bonding session the boys had here. Children are the happiest when allowed to simply run free.
There is also an indoor playground in the clubhouse but we did not utilise that as the boys prefer the outdoors.
Luckily we have our badminton rackets and shuttlecocks in the car at all times so we get to enjoy a game of badminton here too. Actually the boys enjoyed a game of badminton while I use the gym.
The gym is open 24-hours a day. I love working out here as the vast view of nature is simply mesmerizing. The calm of nature really do wonders for my city brain. I was reluctant to go back to the city after my stay here.
GLORIOUS FOOD
One of Haven's forte is their food. This is Ipoh afterall, a food haven.
Our must have for breakfast every day is the 3/4 boiled free-range chicken eggs. I've never seen free-range eggs so big and delicious. The staffs will go around recommending this to guests during breakfast and I totally understand why. I can still taste the rich and silky egg in my mouth as I am typing this. Drool!
We had our meals here too as the boys simply refused to leave the resort even for a couple of hours.
On our recommendation list is the Haven's Steamed Chicken Rice, Laksas especially Singapore Laksa as well as their pastas.
Steamed free-range chicken sourced from nearby farms and fat bean sprouts served with garlic and special chili sauce is yummy to the tummy that the boys had this the entire time they are here.
Nothing beats sipping fresh coconuts by the lake on a cheerful sunny day.
Western food here is good too and the chefs take pride in dishing out healthy yet delicious MSG-free dishes suitable for the entire family.
Room pricing is seasonal so it is best to check their website for current price and promotion. It is always better to book direct as not only we can get a cheaper price, they even throw in some very good promotions.
We managed to get complimentary spa session during our stay thanks to their limited time (on-going as per time of writing) promotion above. 
Watch our video for a virtual tour of The Haven Resort Hotel, Ipoh where KIDS ARE THE VIPS:
THE HAVEN RESORT HOTEL, IPOH
Address:  Jalan Haven (Persiaran Lembah Perpaduan)
31150, Ipoh, Perak, Malaysia
Website : www.thehavenresorts.com
Tel          :  +605-540-0000
Hotline :  1700-8-1700-0
Fax         :  +605-540-0099
General Enquiries :  [email protected]