Growing Our Own Tomatoes
When we moved into our house slightly over a decade ago, I did not like gardening yet so Darling tiled up the entire car porch. Now after having two kids, I find comfort in growing my own greens BUT I don't have the land anymore for that and has to resort to growing everything in pots. I wasn't even serious when I started my urban garden. I did not purchase any seeds. In fact, my tomato plants grew from the tomatoes I bought from Village Grocer!
We've been buying this grape cherry tomatoes weekly as we super love tomatoes. 
I'll usually halve them so Ayden can eat them on his own.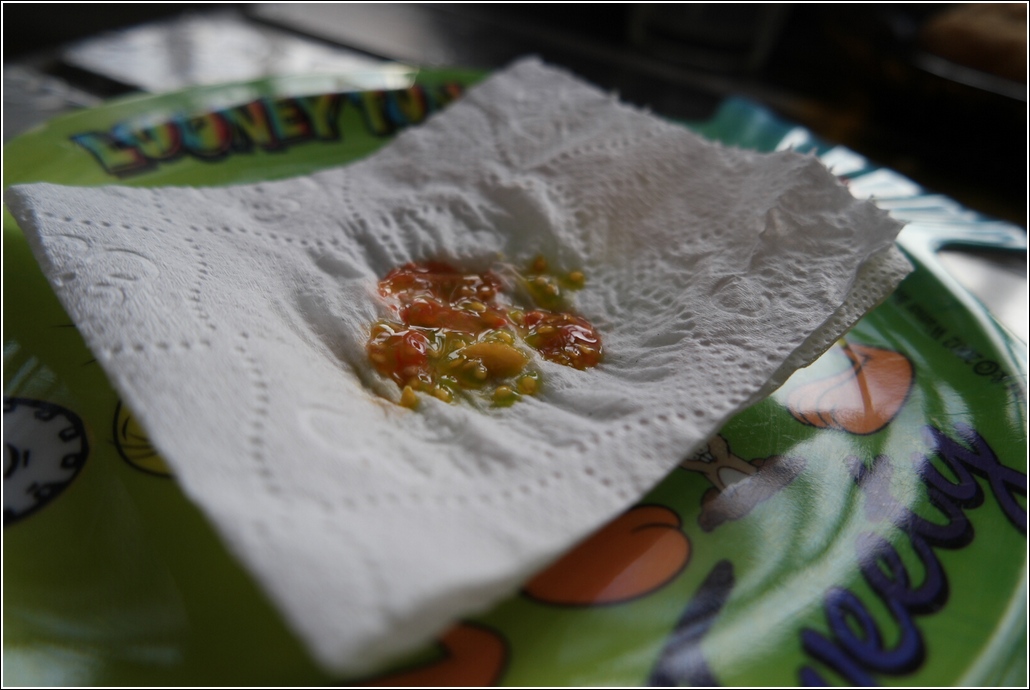 I collect the seeds that he drops on the plate and let them dry. Once dry, I place them in a pot and cover with some soil. After a while, I see little tomato plants growing. 
I transfered them into individual pots and get little Ayden to help me water every morning. At this point, I don't know which tomato seeds that grew – the yellow or the red tomatoes. I'll only find out should the plant bear fruits. 
I started growing tomatoes early June. It is mid August now and I am welcoming my first harvest of totally organic RED grape cherry tomatoes. No words can describe how happy I am when I see little tomatoes growing on my tomato plants. I have 5 plants altogether so I don't need to buy tomatoes again for now ^_^
Ayden helps me care for the plants every day. He'll water them, touch their leaves and monitor the tomatoes all the time, telling me which one has ripen. I harvested my first ripe tomato today and gave Darling the honor to eat it not knowing Ayden has been waiting anxiously for that. When he saw the red tomato is gone, he asked me where is it and when I told him I gave it to Daddy, he said he wants to eat it! Nevermind, tomorrow we'll harvest the second ripe tomato and THAT is specially for Ayden. He is excited when I told him the second tomato will be his. He smiles until kenot see eyes dy ^_^
Can you feel his love for the plants? LoL. He loves sniffing my basil plant and I am glad I caught him in action. I totally LOVE this pic! <3
Update:
Ayden can now have not one, not two but as many tomatoes as he wants :)
Check out the rest of my potted garden success:
//

//

//

//

//

//

//

//

//

//

//

//

//

//

//

//

//

//

//
//

//

//