Dinosaur Alive Water Theme Park @ KSL Hotel & Resort Johor Bahru
During our recent trip down South to Johor, we stayed at KSL Hotel & Resort. 
KSL Hotel & Resort Johor Bahru is the largest integrated resort in Johor. The hotel contains 868 rooms, suites and 20 function rooms. Besides located in the city center and near to Singapore-Johor Bahru causeway (5minutes), the hotel is also connected to a shopping mall.
The fact that it has an astonishing 868 rooms, the 4 elevators can be pretty crowded during peak season. We had to form a long queue just to get into one of these elevators as we were there on a long weekend hence the surge of hotel guests. 
Anyway, the highlight of our stay here is the Dinosaur Alive Water Theme Park on Level 7. 

Dinosaur Alive Water Theme Park
Level 7, KSL Hotel & Resort,
33, Jalan Seladang, Taman Abad,
80250 Johor Bahru,
Johor
Tel: 07-288 2999
Entrance to the theme park is complimentary for hotel room guests otherwise it is RM50 for adults and RM30 for children.
Two giant dinosaur heads serve as the entrance to this so-called theme park.
What they have here are several free forming pools with animatronic dinosaurs that move occasionally. 

The Brachiosaurus takes centrestage at this Dinosaur Alive Water Theme Park.
Standing tall at 85 foot, it also spits water at intermittent intervals. 
The hatching eggs is a good spot for photo opportunity. I mean, how often can we hatch out of a dinosaur egg?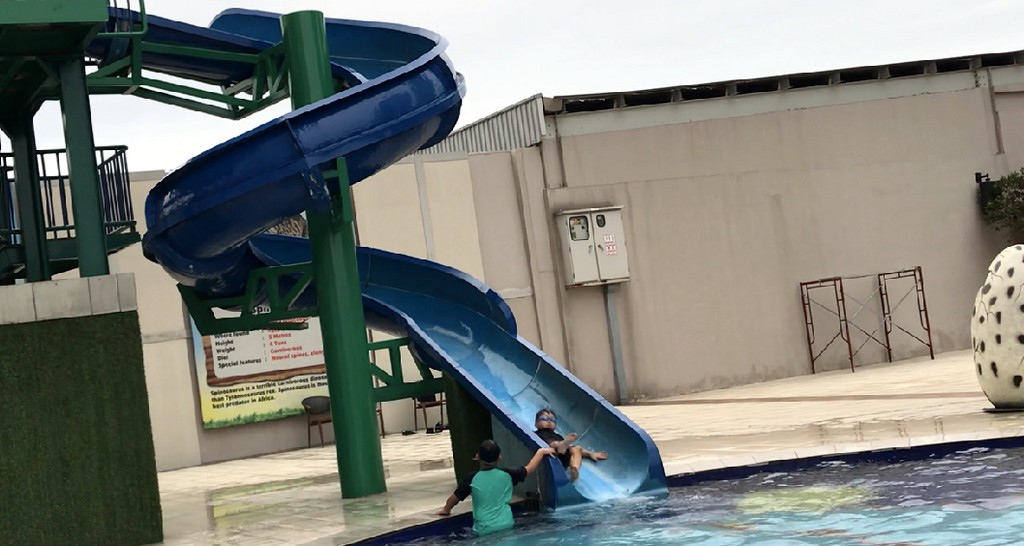 If you are seeking for some thrills in this theme park, the water slide is it. 
Otherwise you can opt to rent this giant float at RM30 for 3 hours. 
Or maybe you can try shooting dinosaurs with the many water guns available. 
One of the pool has many water features in it as shown above.
There is a wide slide, water mist, pail water drops, slides and fountains. 
A giant trampoline is spotted at one corner of the water park. 
Dinosaurs Alive Water Theme Park operation hours:
Mondays to Fridays: 10am – 7pm
Weekends, Public Holidays and School Holidays: 9am – 7pm
Entrance fee:
RM50/adult
RM30/child
COMPLIMENTARY for hotel room guests
Now let's take a look at our room.
The room is clean with a Queen-sized bed and a single bed. It has sufficient space for us to move around. 
TV in the room. 
Complimentary bottled water and tea and coffee making facilities.
The mini refrigerator. Please note that it comes empty. Those are our bottles of juices from the bus trip.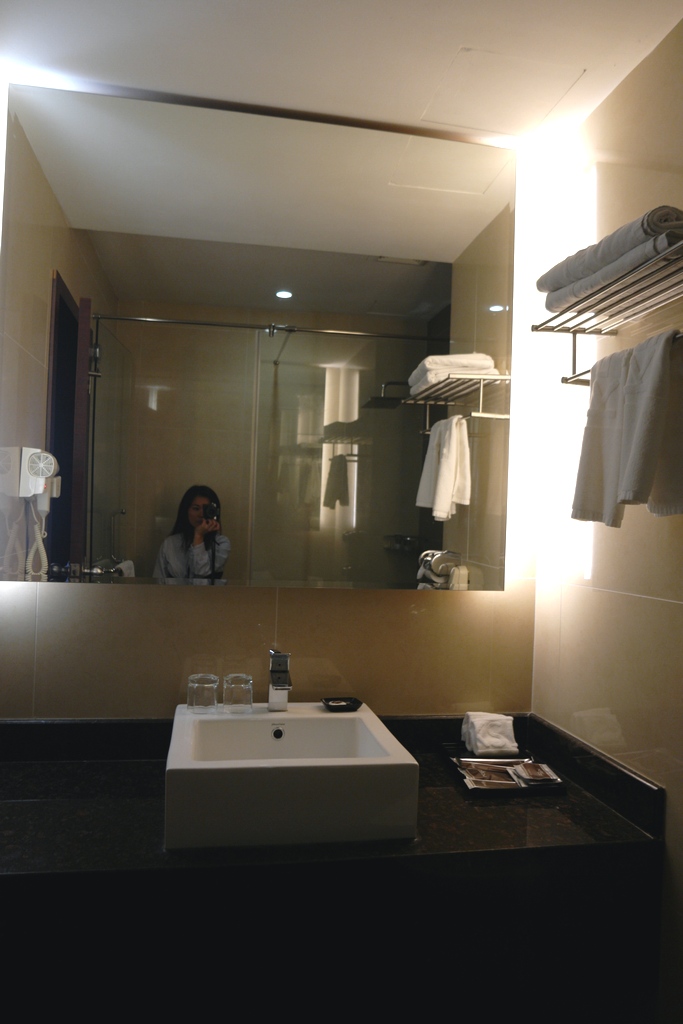 The washroom is sufficiently spaced too with big square mirror and toiletries. 
The room doesn't have a long bath but it does have a rain shower head for a good shower. 
Overall, we had a good stay here at KSL Hotel & Resort. We enjoyed the water park as we get to use it for free since we are the hotel room guests. I won't pay RM50 to enter if I am not a hotel room guest though. 
//

//

//

//

//

//

//

//

//

//