Our Fathers' Day Celebration at Estadia by Hatten
This year we celebrated TWO fathers (Darling and my Dad) on Fathers' Day over at Estadia by Hatten. This place is still brand new having launched just a month ago. I arranged for my parents to stay the night with us too and told them to meet us there. We made our way from KL and met up with my parents at Hatten Hotel car park Level 5. There is a special car park area for hotel guests. Estadia's reception is at Level 3.
Estadia reception area.
Estadia by Hatten
Jalan Merdeka, Bandar Hilir,
75000 Melaka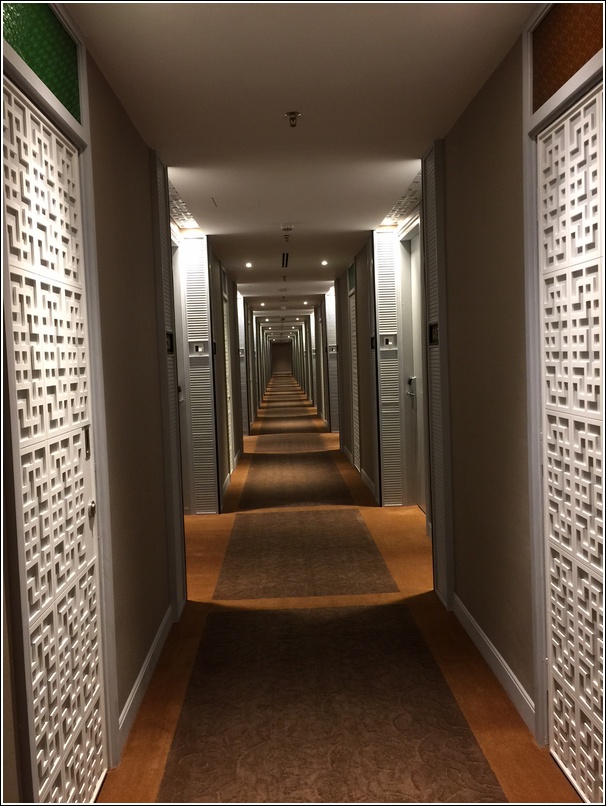 We booked two rooms, an Estadia Suite with 1 Hollywood King & 1 Twin Room and a Deluxe Hollywood Twin Room.
Our rooms are on Level 6. The corridor itself is a beautiful sight. In fact, every inch of Estadia is tastefully decorated that makes very Instagram worthy pictures. Let me show you some of the pictures I took around the hotel.
My mom clad in her lovely Nyonya Kebaya standing in front of a beautiful Peranakan decor display.
Mom and Dad around the reception area.
Even their guest washroom is amazing! Look at those dainty basin. This is for guests to use in general. We have yet to step into our room. I'm still showing pictures around the hotel, outside of our room.
Darling and Ethan at this beautiful spot while waiting for me to check-in at the reception.
Now let's take a look at our rooms.
Our Suite opens to these two rooms. The King on our left and the Twin on our right. Opposite our Suite is my parent's Deluxe Room which is basically similar designed as our suite but with only one room instead of two.
There is an LED Television in each room. Kids being kids, the first thing they do is to switch on the TV.
Estadia Suite King Bed. This is our room. Cosy, spacious and very beautifully decorated.
And this are my parents and the boys taking over our bed :P
Super love the yellow wall in our room.
Our rooms also comes with this lovely vanity table cum workstation. We get complimentary internet connection here.
Each room comes with their own attached bathroom.
With complete toiletries – Shaver, Cotton Bud, Shower Cap, Tooth Brush, Tooth Paste, Sewing Kit and more.
The best of all – RAIN shower! The kids can't get enough of this! :)
Now this is the kids' twin room. The blue wall is very pretty and pleasing to the eyes.
Coffee/Tea making facilities.
I quickly changed into my Nyonya Kebaya and dressed the kids up to catch Nyonya Memoirs at Dahtaran Pahlawan Mall (same level as Estadia reception) which is just about 3 minutes walk away. It is the first 360° environmental theatre show in Malaysia.
Our beautifully dressed family :P
With the entire cast of Nyonya Memoirs. Can you spot us? We blended in perfectly, don't we? :)
Read more on Nyonya Memoirs by clicking the link below as there are just too many amazing pictures to share about them. 
http://www.submerryn.com/2015/06/nyonya-memoirs.html
 After the show, we took a short walk back to Estadia for dinner at Makan Nyonya.
Makan Nyonya Restaurant
Look at those uniformly arranged tiffin carriers!
Our dinner starts with this Nyonya appetiser.
Nyonya Ikan Bilis
The best things in life comes in the simplest form. This mouth-watering Nyonya appetiser is one of it. It is ikan bilis (anchovies) with onions and sweet and sour sauce to whet your appetite for more. Let me warn you though that this is very spicy!
That's where refreshing drinks are most welcomed!
So we ordered this refreshing Settlement Mango Mix (RM12), a Malacca's Heritage Signature especially if you are around the Portugese Settlement area. A combination of raw and ripe mango juice plus sour plum mix together to create the perfect thirst quencher or in our case 'tongue cooler'. Haha.
For soup, we had this Fish Maw Soup with Chicken Meatball (RM20). Otherwise known as Hu Pio Soup (Fish Belly soup), this is freshly boiled chicken soup with minced chicken meatball and fish maw. Other ingredients include carrot, cabbage and black fungus. A delicious and highly nutritious soup, it is suitable for both the kids and us adults.
We had quite a lot of food for our main course. Let's take a look at them.
Nyonya Fish Head Curry (Half RM38 / Full RM69)
We had this red snapper head cooked in assam curry broth and served with selected vegetables and bean curd. What we had was the half fish head about 700gm that is good for 3 pax but it is good enough for us as we had a whole lot of other dishes too that evening.
The curry broth is thick and packs with spices. It is so good to be eaten with our steamed rice. Yums!
Sambal Petai Prawns (RM26.90)
My favourite stir-fried twisted cluster beans with prawns in sambal sauce is very nice and is surprisingly very affordably priced. I remember eating somewhere else not too long ago and paying RM40 for a small serving of this dish!
Even my mom who cooks the best sambal approves of their sambal here :)
Sambal Bendi (RM15.90)
One of my favourite authentic Peranakan dishes is this Blanched Lady's Finger served with sambal sauce topping.
Spicy Chicken Tomato (RM23.90)
Don't let the name scare you as this dish is not spicy for us. Maybe it is mildly spicy for others though :P
Wok-fried chicken in generous tomato sauce with selected vegetables. The chicken is very tender and moist and is easily Ethan's favourite.
Omelette specially for the kids. The omelettes here are one of their best-seller. They have two types of omelettes – Oyster omelette and Cincaluk omelette. What we had here though is a special request for a plain omelette for the kids.
We also had this Belacan Chicken (RM17.90) specially for the kids. 5 pieces of Chef's special deep-fried chicken wings marinated in delicious prawn paste.
We had all of the above scrumptious dishes with a choice of these 3 varieties of rice:
Steamed White rice (RM2.30)
Yellow Rice (Kunyit rice) RM2.90
Coconut Pandan Rice (RM2.90)
We ended our dinner with this signature Nyonya dessert, cendol.
Nyonya Cendol (RM12.90)
Shaved ice with green jelly, kidney beans, attap seed served with freshly squeezed coconut milk and fragrant gula melaka. 
Here in Melaka, Peranakan restaurants are aplenty but not all serve good and authentic Nyonya dishes. I am glad to say that the food here is one of the better ones around. We requested to meet the chef and Chef Jimmy Bong came out to greet us. We just wanted to thank him for staying true and keeping the dishes as authentic as he possibly can.
My parents enjoyed their dinner. My mom said it is a nice change to sit down and have someone to cook for her Peranakan dishes instead :) I love the setting of this restaurant and the fact that we get to see what goes on in the kitchen is really comforting. 
Estadia by Hatten and this Makan Place may be new, having just launched last month but what I've seen is highly promising. I hope they maintain their standard and keep up the good work as they already have a great theme to work with especially in our historically rich Melaka town.
//

//

//

//

//

//

//

//

//

//

//

//

//

//

//