Mom's Homecooked Peranakan Nyonya Dishes
My mom's the best. I was back in Melaka last weekend. Not long before that, I mentioned to her that I will be coming home for the weekend and I've invited a dear friend to join us for lunch at home. Not that I'm cooking though. And just like that, she cooked up a storm and prepared a feast for us. 
She cooked all these:

My mom taught me how to cook this dish and I've shared the recipe and video of Ayden cooking the chicken version of this dish last year.
Of course, we can't do it as well as my mom but at least we know how to cook this dish lah and hope to perfect it over the years.
Itik Tim
Best taken when warm. I haven't master the art of cooking this appetising salted vegetable duck soup. I don't know how to buy ducks so I don't think I will be able to cook this anytime soon hence I really appreciate when my mother cooks this. This is one of her must-have dish during Chinese New Year.
Pongteh
My mom used both pork and chicken for this dish. Bak (pork) pongteh always tastes better than just chicken pongteh.
My boys love this dish very much that I make it a point to learn how to cook it. Both Ethan and Ayden can cook this dish now.
Here's the tutorial video to cook Ayam Ponteh using pressure cooker with Ayden: 
And here is another tutorial to cook Ayam Pongteh the conventional way on stove by Ethan:
The next dish is my mom's specialty dish – Cili Garam.
Udang Cili Garam
She cooks the best cili garam around and unfortunately no, I haven't learn to cook this dish. Mummy usually cooks ikan cili garam but on special occasions, she'll take it a notch higher and dish out udang cili garam. Simply the BEST!
Kerabu Timun Sambal Belacan
This one very sedap, very refreshing. Mummy says very easy to dish out but for me very susah. She says as long got sambal belacan can already but for me that is the problem lah. I don't know how to make sambal belacan. Sambal belacan is a MUST HAVE in any Nyonya kitchen at all time except mine. I only have sambal belacan when my mom gives me some to bring home 

Angkuak chah
This turnip dish is similar to those you eat popiah with except we eat it with raw vegetable. We'll place it on a slice of lettuce, wrap and eat it. So delicious, you won't be able to stop at one.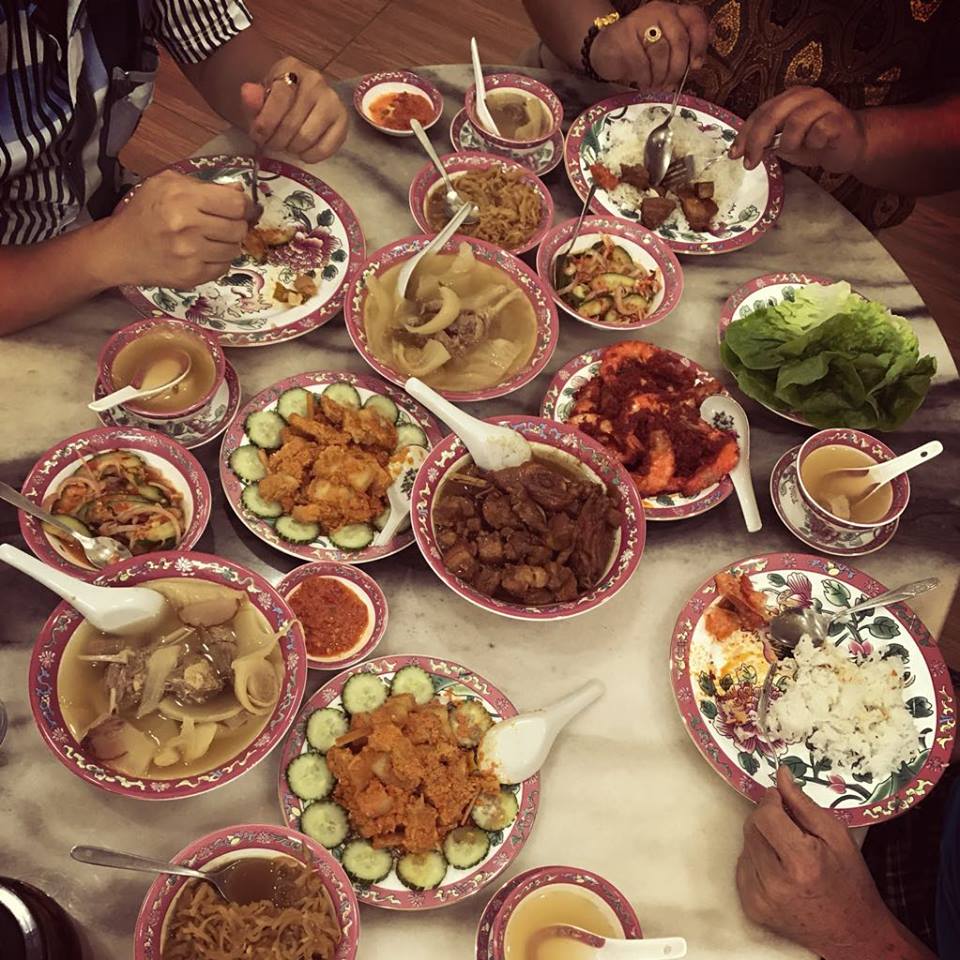 We had a truly Peranakan feast that afternoon with my Dad joining us at the table too. It reminds me of Chinese New Year as these are the dishes my mother always cook on CNY eve. 
Thien, Mummy, Dato Chris Murray, me and Daddy
Thank you Mummy and Daddy for hosting us. We had a great time catching up over a great lunch. 
Related Posts