Novotel Melaka : New dining promotions
With a blink of an eye, we are approaching the final quarter of 2017. To me, that means work is 3/4 done and it is time to plan for a holiday to reward ourselves after a year of hard work.
I rarely travel far since having children. We Cuti-Cuti Malaysia a lot to give us short little breaks to keep us refreshed and relax. We recently took a weekend staycation with a couple of friends and their family in my hometown, Melaka.
A UNESCO World Heritage site, Melaka showcases a rich cultural history from its time under Portuguese, Dutch and British rule. We stayed at Novotel Melaka, a walking distance from major attractions and shopping malls in the heart of the city centre.
It is our second time staying here, the first being in March last year when they newly opened.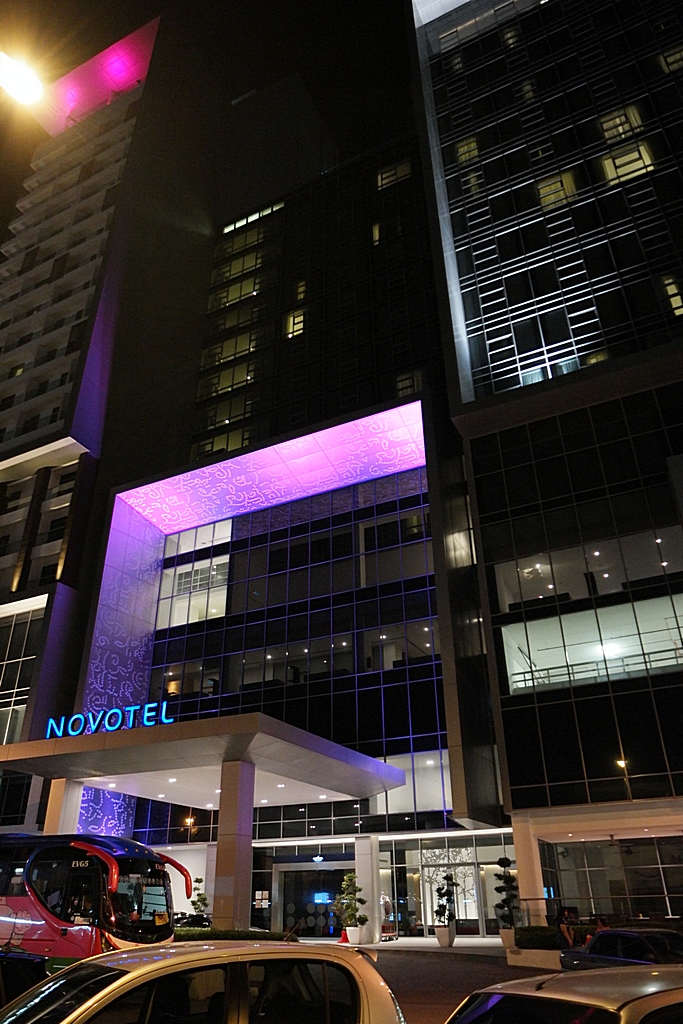 Novotel Melaka
Jalan Melaka Raya 2, 75000 Melaka.
Tel: +606-2898222
Clean, spacious lobby with a swift check-in.
The children played at the dedicated Kid's Room next to the lobby while I get the check-in done.
We stayed in the Executive Room on the Premier floor this time around.
Located on the higher floors – level 18 hence we get to enjoy the beautiful scenery of the city or the Straits of Melaka.
Premier Lounge
Our room is on the same floor as the Lounge so we can have complimentary snacks and drinks here.
The boys enjoyed having a cup of warm milk at the lounge before going back to their room for the night.
The daddy and I enjoyed their cocktail hours at 5pm to 7.30pm daily where we just chill and relax with some snacks and wines before jumping into the pool at Level 5.
Swimming Pool
The swimming pool is awesome with many deckchairs .
There is an adult pool and a kids pool with attached playground.
Ayden loves the playground by the pool. It has a slide that goes down into the kid's pool.
Kids simply love this playground by the pool. They can't stop sliding into the pool..
After a splashing good time at the pool, we were all famish and quickly headed down to the now HALAL certified The Square All-Day-Dining for their BBQ buffet dinner feast.
Chef's Kitchen BBQ Buffet Dinner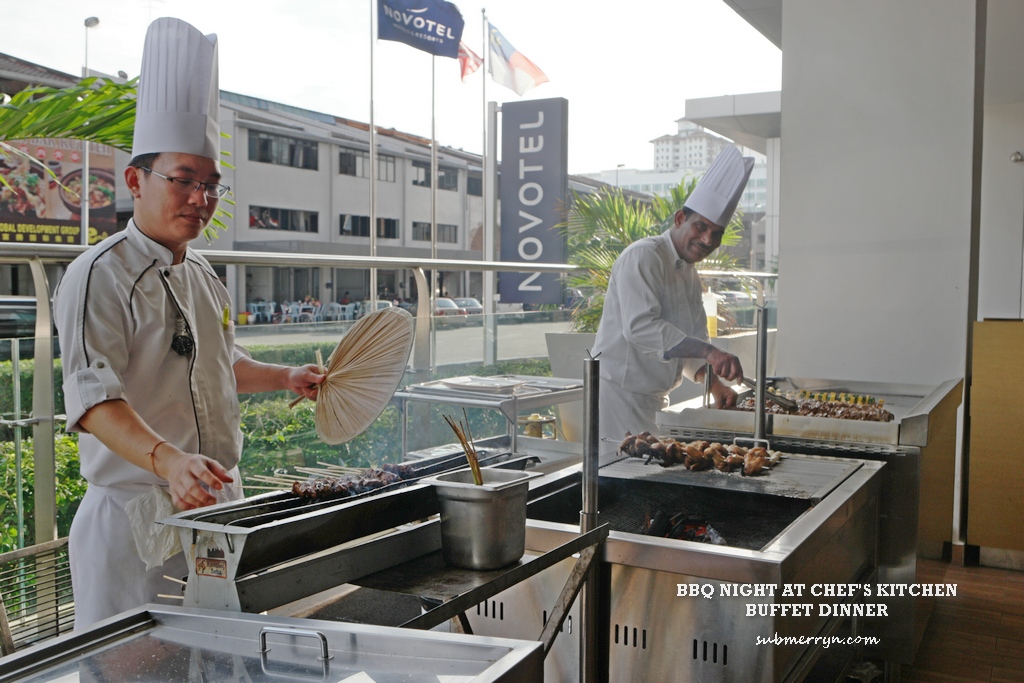 We get to enjoy the food from Chef's Kitchen with a selection of more than 40 delectable favourites with an emphasis of mostly grilled and barbequed meat and seafood from 6.00pm to 10.00pm at The Square, Ground Floor.
Comprising of local and international specials, Chef's Kitchen Buffet Dinner is available at RM59 nett per person with unlimited servings of appetizers, soups, main courses, rice and noodle dishes as well as desserts. Children below 12 and senior citizens enjoy a 50% off.
Each dish is meticulously prepared by Chef Ricky Teoh and his outstanding culinary team.
The interior seating at The Square is colour divided into red and blue.

We can choose to seat on the right with the red chairs or …
On the left with the blues. They are equally comfortable and only aesthetically different though; just a matter of colour preferences 
Diners can also choose to dine al-fresco by the BBQ station.
BBQ is so much fun when we are not the one doing the BBQ-ing 
We love the BBQ prawns and kept making our way here to refill our plate.
Black pepper beef and lamb in herb spices will definitely hit the right note with meat lovers.
Seafood lovers will love the cajun local mackerel, bbq prawns as well as the turmeric squid.
Marinated squid turmeric, chicken wings and bratwurst sausage in jalapeno honey glaze.
Chicken and beef satay with condiments are also available at the Terrace Barbeque station.
At the LIVE noodle station is the must-try Nyonya Laksa.
Nyonya Laksa with lots of chili paste for that perfect bowl of goodness.
My boys are die-hard fans of pasta and the carbonara is their favourite.
Our meal also comes with complimentary lemon infused drinking water.
I also enjoy their local delicacy especially the terung masak pedas and assam pedas.
You come to Melaka, you must eat Assam Pedas and the one we had here did not disappoint.
The dessert station was very pretty. The sweet tooth in me was highly satiated.
New à la carte menu
Besides the amazing BBQ Night, chef Ricky Teoh and his fabulous team has also come out with new à la carte menu available for lunch and dinner at The Square. My friends and I get to sample some of chef's recommended dishes.
Starting with appetizers, we had the Rolled Gado-Gado Salad with Peanut Dipping.
Rolled Gado-Gado Salad with Peanut Dipping RM13
A comforting Indonesian salad served with an incredibly delicious peanut sauce.
Premier Club Sandwich RM19
For sandwiches, we sampled the Premier Club Sandwich that is made of a combination of cheese, chicken, beef streaks and egg. 
"Square" Signature Burger RM24
We also tried the "Square" Signature Burger that consists of 3 meats: grilled chicken, beef and fish with mushroom and melted cheese. 
Quarter Chicken RM39
Oven baked with rosemary leaves and served with mesclun salad, potatoes and black pepper sauce. 
Norwegian Salmon Parsley Crust RM68
Pan-fried marinated salmon with cereal crumbs served with sundried tomatoes and refreshing pineapple salsa. 
Jumbo Prawn Pasta RM55
Grilled jumbo prawns in shell on a bed of fettuccini pasta tossed with creamy cheesy pesto sauce. 
Nyonya Curry Laksa RM18
Noodle is mildly spicy coconut broth topped with chicken, prawns, mussels and vegetables. 
Nasi Goreng Aneka RM22
Fried rice with chicken, shrimps, long beans, onions and egg with homemade chili paste …
served with chicken boxing, spring rolls, pickles and salted egg. 
For desserts, we had tiramisu, crème brûlée and cheesecake. 
Italian Classic Tiramisu RM18
A decadent Italian dessert of mascarpone cheese cake.
Banana Crème Brulee RM18
The banana gives the traditional crème brûlée a tropical flavor.
Blueberry Cheesecake RM18
Fresh blueberry puree in the filling as well as over the finished cheesecake gives a berrylicious flavor to this cake. 
We had a great time chilling out at Novotel Melaka while playing tourist in the heart of Melaka.
Do check out my post on Places of Interest Within Walking Distance (from Novotel Melaka) in Melaka. 
For more information on Novotel Melaka and their current promotions:
Website: www.novotel-melaka.com
Facebook: www.facebook.com/NovotelMelaka