Bali with Kids: Holiday Inn Resort Bali Benoa

After my sharing of our self-customised Bali itinerary (with price included), many readers have messaged me asking where we stayed. We stayed in two places; the first in a hotel where we spent minimal time as we were out all day sight-seeing and the second at a lovely resort where we hardly leave as it was the kids' turn to enjoy the holidays.
We chose to stay at Nusa Dua area as it is nearby the airport and also because we were told most families prefer to stay here as it is more kid friendly. True enough as during one of our cycling exploration, we discovered that there is a shopping-complex nearby.
The resort of our choice is the beautiful Holiday Inn Resort Bali Benoa. A refreshingly new resort in Nusa Dua, it is just over a year old having started operation in April 2015. Kids eat for free here so that is also a huge factor in deciding our place to stay.
Holiday Inn Resort Bali Benoa
Jalan Pratama No.86, Tanjung Benoa, Kuta Selatan, Kabupaten Badung, Bali 80363, Indonesia
If you are traveling with kids and have more cash to spare, then the extra spacious Tanjung Family Adventure Suite as well as Tanjung Kids Adventure Suite that comes with a PS4 gaming console will be a great choice.
As for us, we stayed in Tanjung Family Connecting Rooms, one of the more affordable range of family rooms here that is more than enough for our family of four. What we get is 2 rooms connecting into one larger space with one of the room prepared specially for the kids.
A rabbit towel with a little note awaits the kids upon arrival. Little Ayden got pretty excited seeing it.
While the kids were happily checking out their rabbit towel, we (the parents) were greeted with a plate of fruits in our room.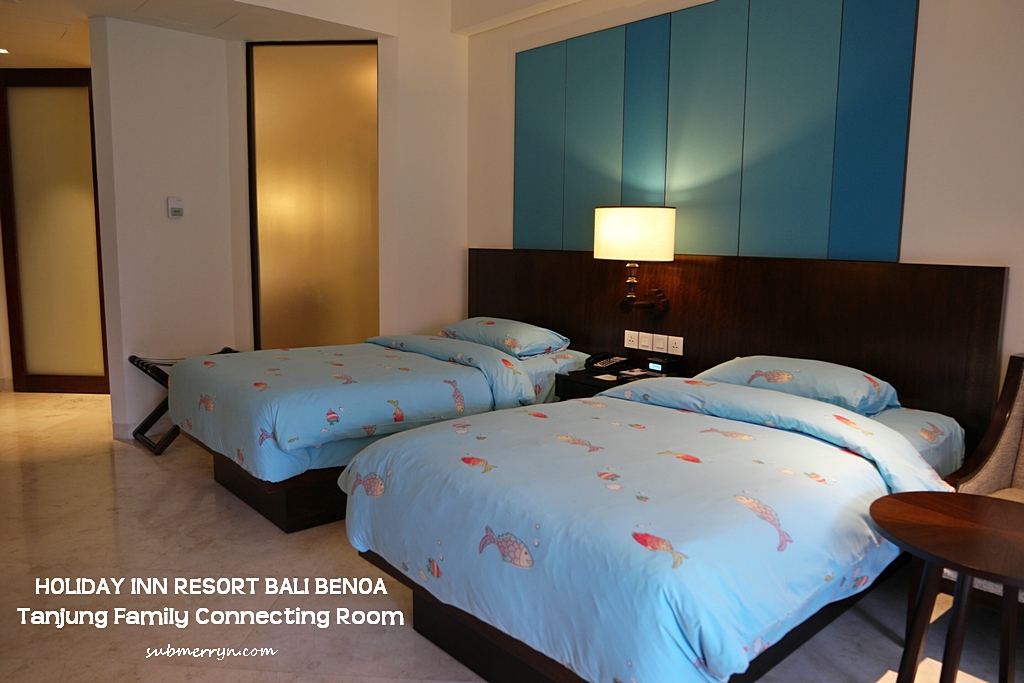 This is the kids' room with the bed made up to the theme of the sea as we are after all staying by the beach.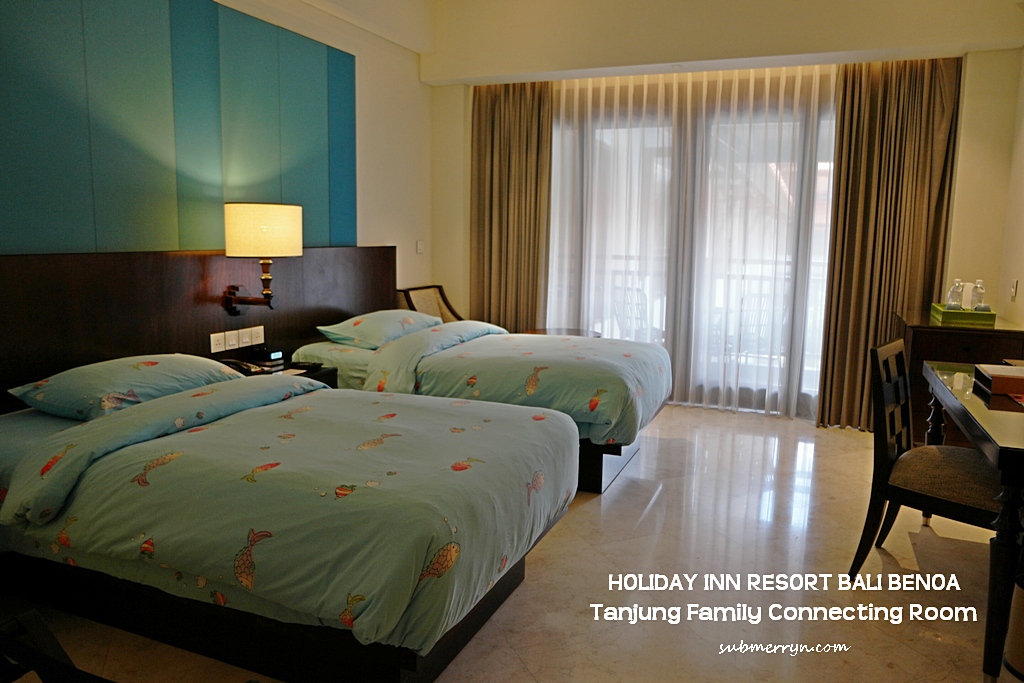 The room is generously spacious for the boys to run around.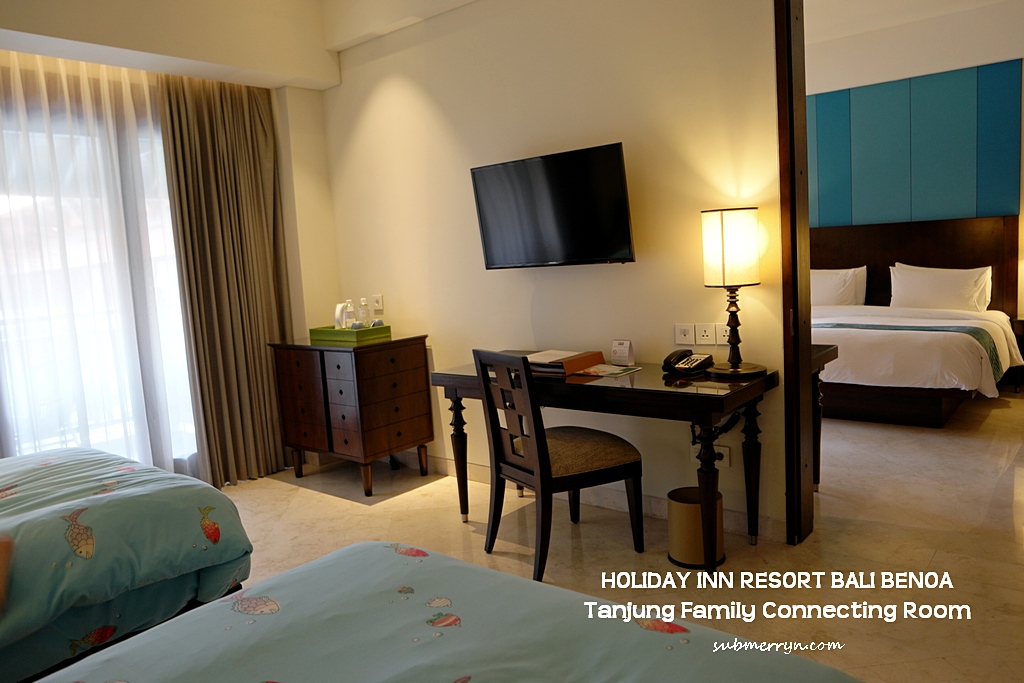 The kids' room is connected to our room via a shared door.
This is our room. Each room has its own walk-in shower.
The only difference is the kids' bathroom has toiletries specially catered for children.
Johnson's baby top-to-toe wash and baby lotion are provided for the little ones.
There is also rain-shower with strong water pressure.
Detachable hair-dryer so I can choose to dry my hair in the shower or in the room while watching tv.
Talking about television, the TV here is a 39" LED TV with extensive TV channels and DVD Player.
We did not make use of the DVD player though as the TV channels is more than enough to keep the boys occupied.
Holiday Inn's trademark SOFT and FIRM pillows. I keep coming back to Holiday Inn each time we travelled mainly because of these pillows and also because KIDS are VIPS here. I'll talk about that later.
The in-room safe.
Ironing facilities that I don't even utilise. We are on a beach holiday. I don't need to iron my bikini 
They even provided mozzie vapes in each room. On our first evening here, I noticed fogging activities in the resort compound. I proceeded to inquire if this is normal and the staff told us that they fogs the resort twice a week as being a tropical beach, this is just a preventive measure.
We did not encounter problems with pesty mosquitoes though during our stay.
This is the view from our room. There are four swimming pools here in Holiday Inn Resort Bali Benoa and this is one of them – a pool with a swim-up bar.
These are the rest of the pools. There are two Jacuzzis here. One in the pool by the beach and another in the pool that our room is facing.
This is the infinity pool with sun loungers IN THE POOL!
The kids' pool is simply amazing; with a slide, fountains and a bucket splash that the boys love so much.
This awesome huge pillow float is provided by the resort for their guests.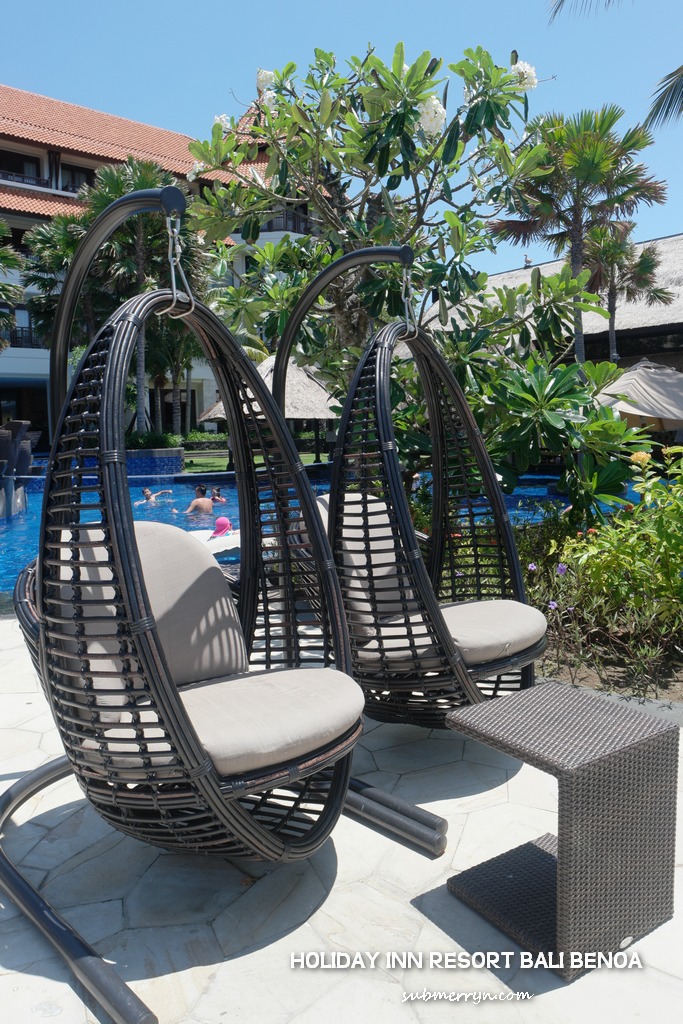 KIDS CLUB
Besides the pool, the boys' favourite hang out place is the circus themed KIDS CLUB. Here is where pint-sized guests have super-sized fun while Mummy and Daddy go out to play. We can leave the boys here with a peace of mind as there is always a caretaker minding the kids. The door is always locked and the kids are only to be released to the person who registered them in.
BALLPIT with a slide
Imagine sliding down to a pit full of colourful balls. The boys can do this repeatedly the entire day.
CLIMBING WALL
Elder brother Ethan worked out some muscles scaling this wall.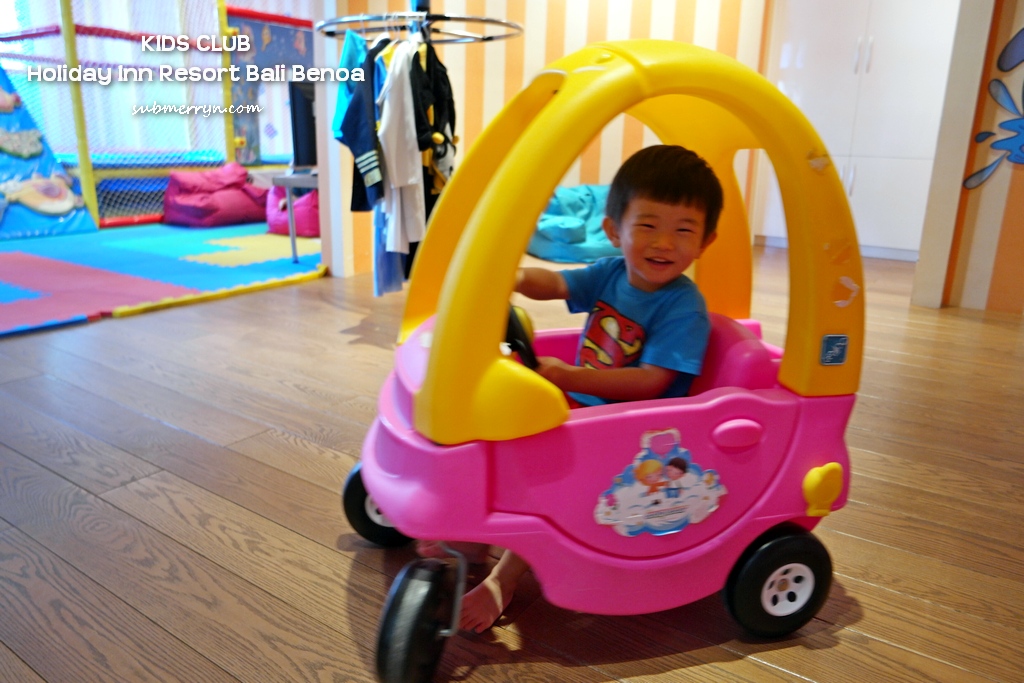 PEDAL CAR
It is back to the Flinstone age where they have to pedal to get around 
TRAMPOLINE
The trampoline is easily the favourite among the kids here as there is always someone jumping inside whenever we drop by to pick the boys up.
GAME AREA
Here is where the kids play video games or watch DVDs.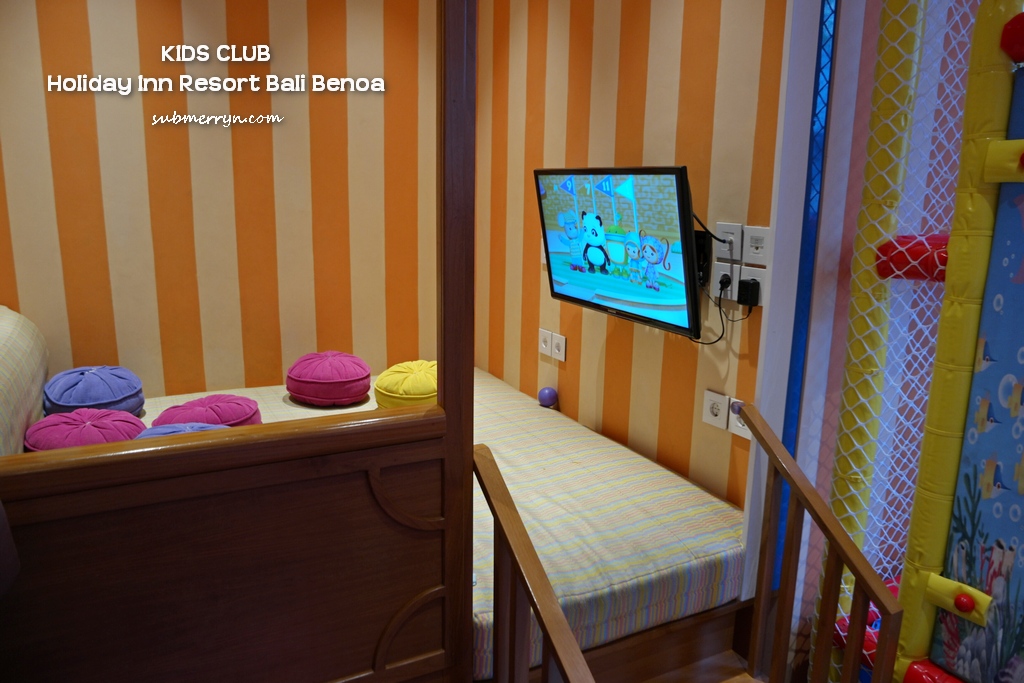 TV area
A cosy corner for the kids to watch TV.
READING CORNER
This is the quiet reading corner that the boys never utilise. They don't read books during a holiday 
DRESS UP
The children here can play dress up and take photos for a fun memory to take home.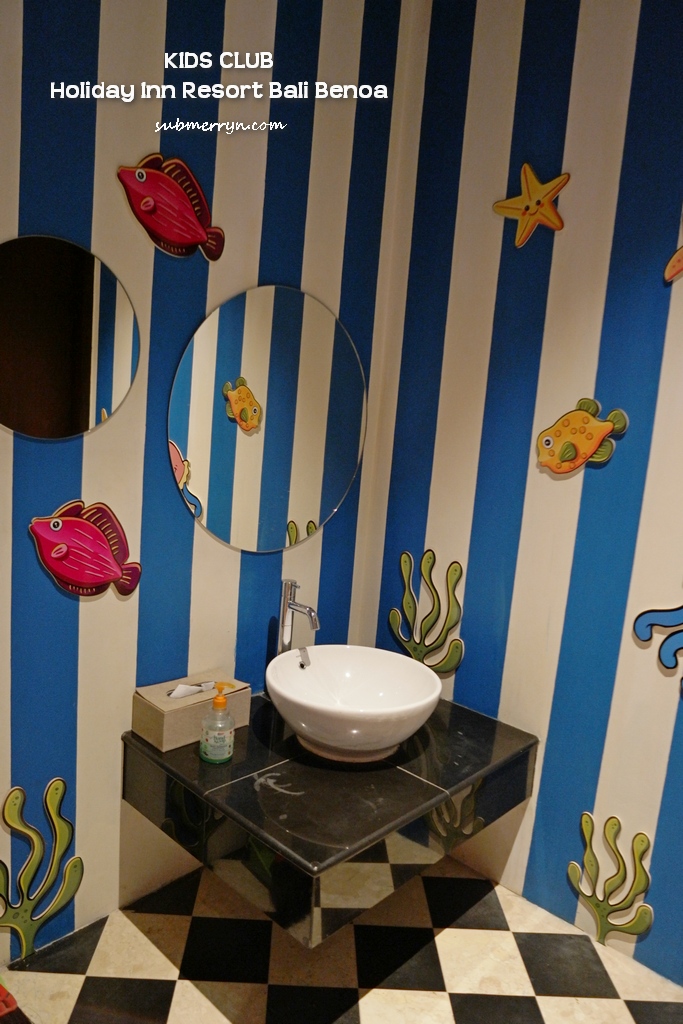 Even the washroom is pint-sized so little children can easily utilize them.
Watch this video to see more of the Kids Club:

ACTIVITIES FOR KIDS AT KIDS CLUB
Here at the Kids Club, there are endless activities catered for the children. Most of them are complimentary while some of them comes with a little fee.
I signed the kids up for several of the activities here and one of them is the complimentary Balinese Dress Up and Temple Visit.
No charges for this Balinese Dress Up. The staffs here will help dress our kid in the traditional Balinese attire and escort them to the temple for a short visit.
Ethan looking dashingly handsome as a Balinese 
I lost it when I saw the girls in their Balinese costume. Too CUTE! The little boy next to Ethan is equally cute. Ayden did not want to participate in this though. I bet he'll look just as cute :(
Watch this Balinese Dress Up and Temple Visit video:

CRAB HUNTING
Another complementary activity I signed the boys for is CRAB HUNTING. They got pretty excited for this and woke up early in the morning, grabbed some breakfast and quickly run to the Kids Club to join the rest to go crab hunting.
The kids ready and eager to go crab hunting.
Checking out the one and only crab caught.
It wasn't easy to catch crab though. Check out this video of them trying to catch a crab.
POTTERY PAINTING
This pottery painting comes with a small fee of IDR50,000.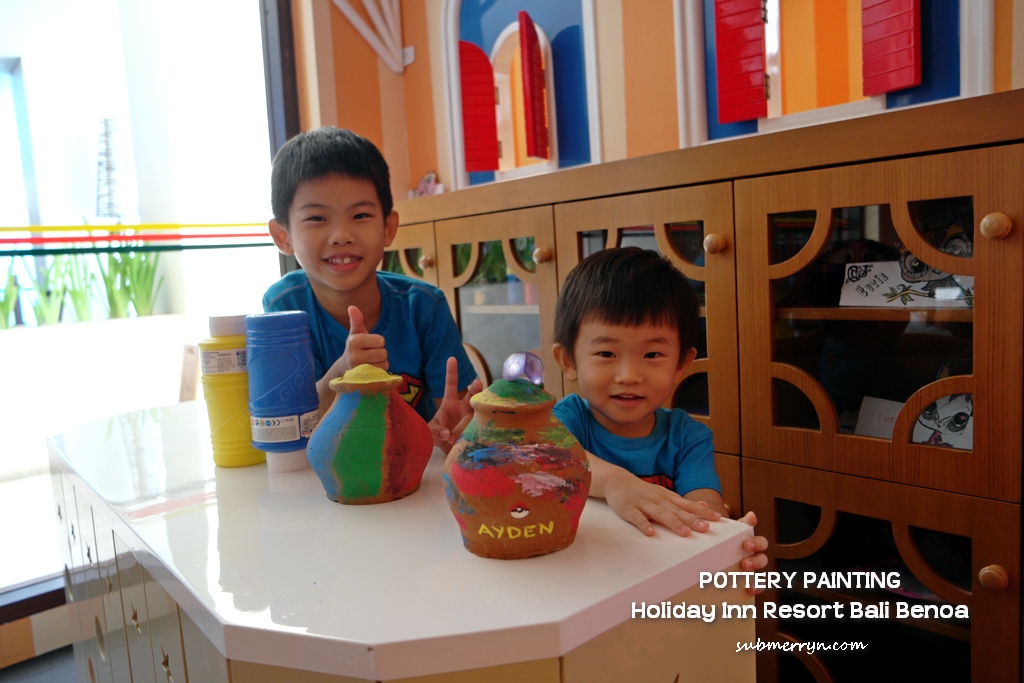 They get to bring home the clay coinbox that they painted. We hand carry them into the aircraft 
Here's a video of them painting their coinbox. Yes, I took many videos during our holidays as the boys love watching these videos. It is also a nice keepsake for us.

CYCLING TOUR
We also took the opportunity to explore Nusa Dua on bicycle. We booked the Cycling Tour Package from the resort that comes with a guide.
| | | |
| --- | --- | --- |
| Bicycle Rental | With Guide | Without Guide |
| Adult | IDR 75,000 (RM24) | IDR 50,000 (RM16) |
| Children | IDR 50,000 (RM16) | IDR 30,000 (RM9) |
We cycled along the beautiful stretch of beach along Nusa Dua.
It was a wonderful leisurely ride. Our guide brought us to Water Blow, the number 4 must-visit place in Bali according to TripAdvisor.
The best part about Water Blow is it is FREE! No entrance fee whatsoever so anybody can just come here and if you are lucky, you'll get to witness the giant splash. We were not as lucky though as it was low tide when we were there.
Our guide took good care of us and our safety. He also helped to take these candid shots of us.
WaterBlow is a scenic location for beautiful pictures. I'd love to come here again one day.
A pic of Ethan at WaterBlow :)
That is about all the activities we did here at the resort. The rest of the time are spent in the pool or by the beach.
KIDS EAT FOR FREE
Wonderful panoramic view of Nudi Beach Club
We had most of our meals here at Nudi Beach Club overlooking the pool and the sea. 
Earlier in this post, I mentioned that Kids Eat For FREE so let's take a look at the Kids Menu.
With every main meal purchased by the adult, a kid gets to choose one meal from the above menu.
Out of the many meals, the boys' favourite from the Kids Menu is the burger. Made of 100% lean beef with cheese and lots of fresh greens, they ordered this quite a number of times during our stay here.
The pizza from the Kids Menu is also nice. It is enough to be shared among the two of them.
The boys did not really fancy the sushi and spaghetti from the Kids Menu but they really enjoyed the fruit popsicles especially on a hot, humid day. 
Refreshing fruit popsicles made of fresh fruits for the boys. 
Now let's take a look at the main meals we ordered. Do take note that for each meal the Daddy and I ordered, our two boys get a free meal each from the Kids Menu hence it is affordable to dine here in the resort.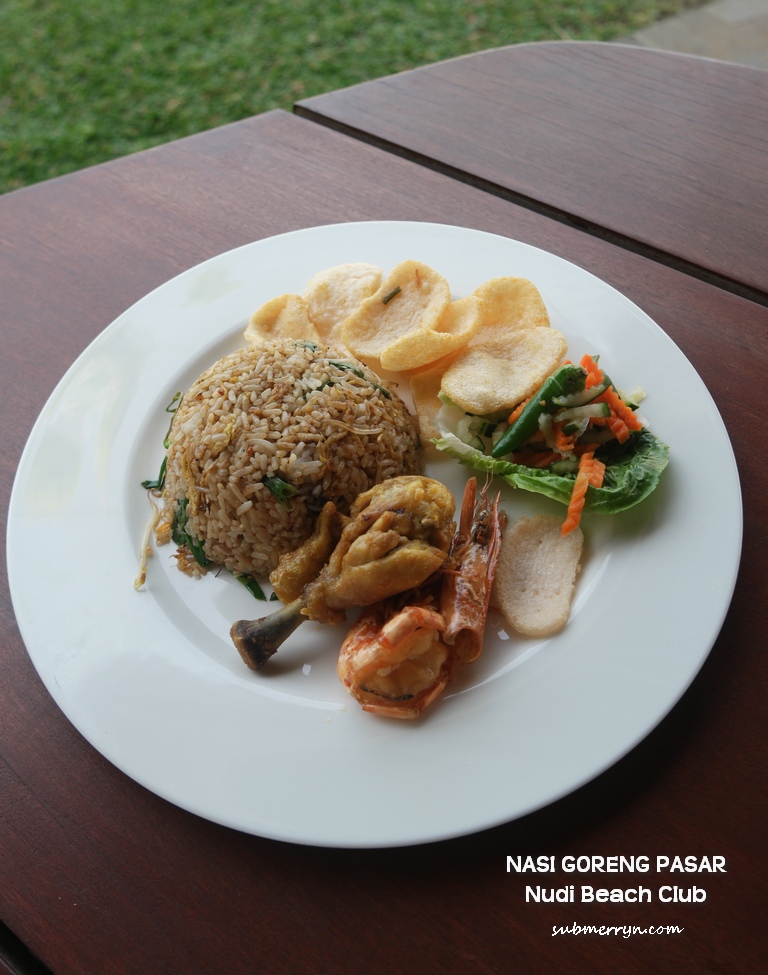 Nasi Goreng Pasar IDK90,000 (RM28)
This fried rice is my favourite. It is fried with beansprout and tastes like our local char koey teow which I find very amusing. Served with fried chicken and king prawn, it is very interesting to eat this. I love it so much!
The price for this rice is RM28 and that means for RM28, I get my meal plus a KIDS MEAL for one of the boys without having to leave the resort. 
Bebek Bertutu IDR125,000 (RM39)
It was in my must-eat list even before I stepped foot in Bali to try their Bebek Bertutu, a slow-roasted banana leaf wrapped local duck that is very flavourful as they are often marinated overnight. The meat is so tender that I don't even need a knife to pull it off the bones. I just used the fork to eat this duck.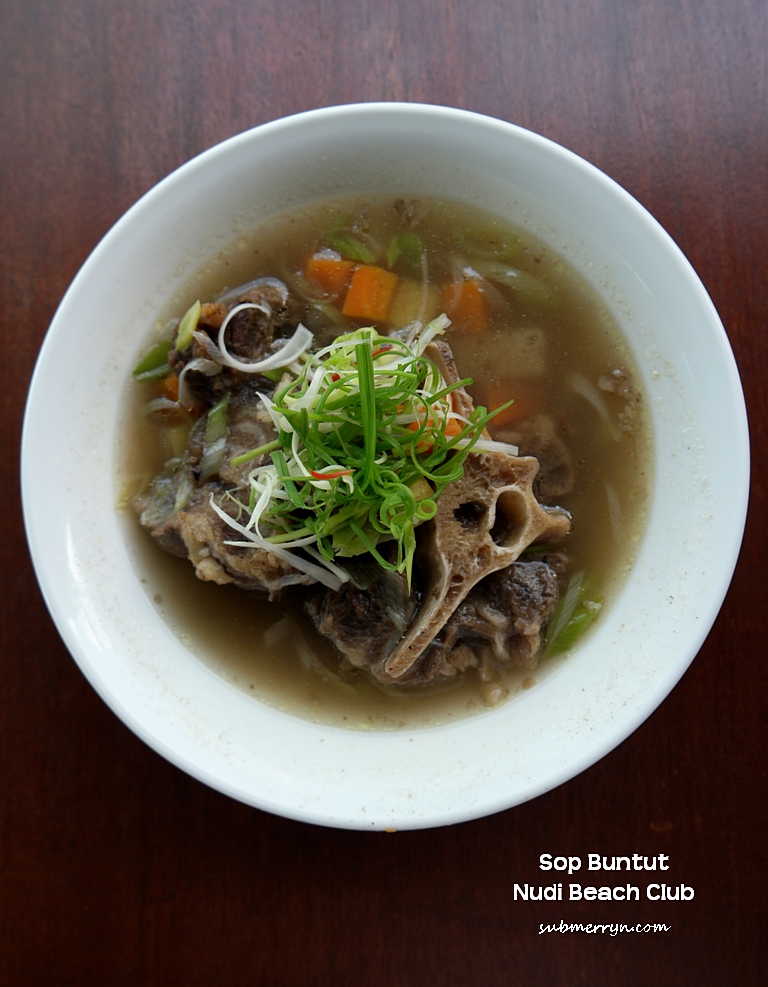 Sup Buntut IDR115,000 (RM36)
Ox-tail beef tail soup with potato, carrots and tomatoes is my favourite. It is done exactly how I like it to be, full of flavour, rich and robust. It is also high in collagen! I polished it all myself.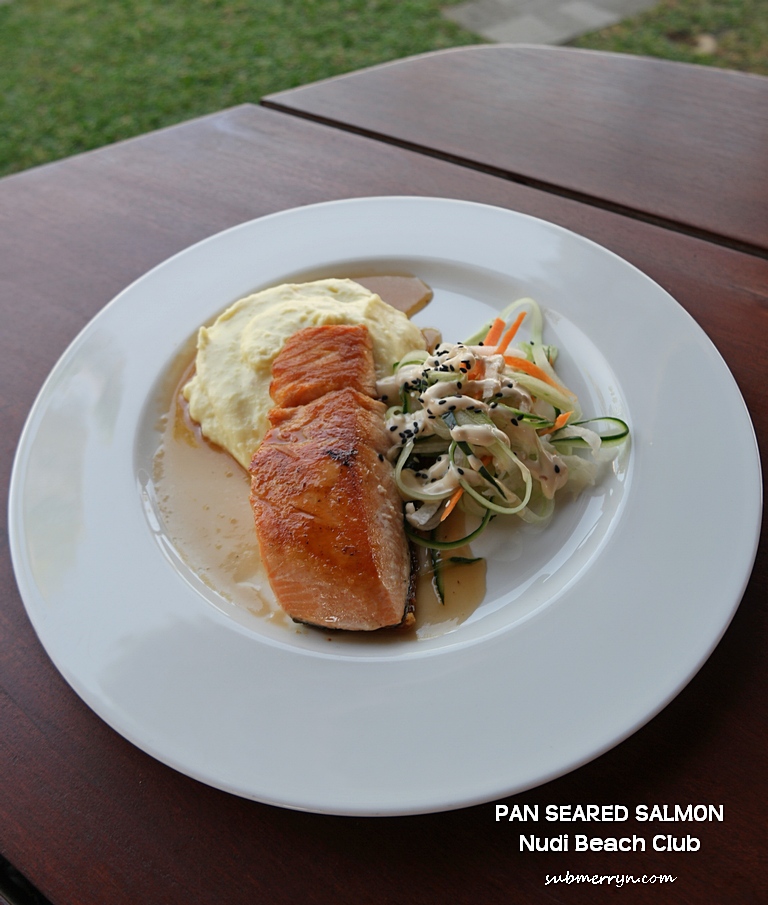 Pan-Seared Salmon IDR175,000 (RM55)
My 'westernized' hubby however prefers to eat western over local Indonesian food here in Bali. I really don't understand why as the local food here is simply amazing, I just can't have enough of them! 
But I have to agree that the salmon is delicious too. He enjoyed it so much that he ordered this on both days we were here.
Fish & Chips IDR120,000 (RM38)
Looking back at the pictures of our meal, I realized the Daddy only ordered fish throughout his stay here. 
Fisherman's Basket IDR150,000 (RM47)
I can't stand this fisherman's basket. It is overdosed with fried stuffs. Everything in there is fried except the tartar sauce 
 The Daddy and the boys enjoyed this a lot though. Boys will forever be boys..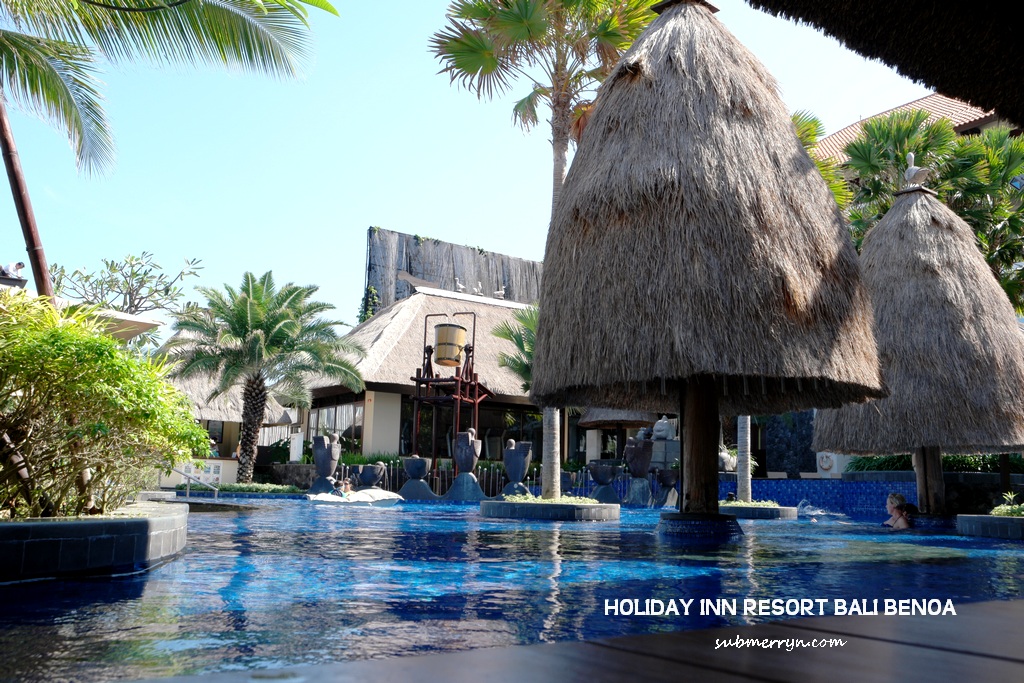 This is our view throughout our meal. This and also the beach…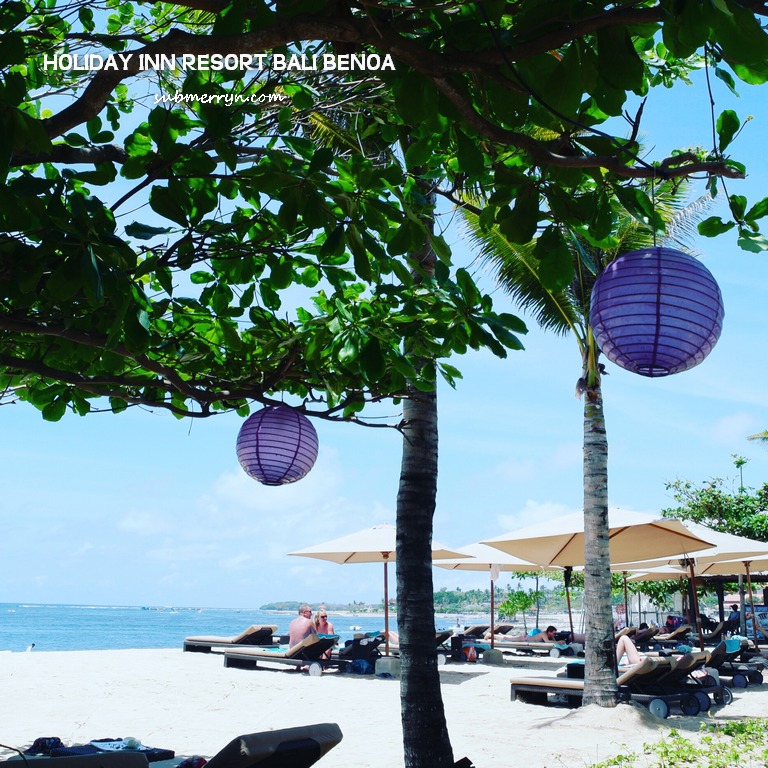 Yes, this is our view. I can so live like this everyday… Sigh, I miss our holidays here already. 
Oh, do also check out our Guide On Places To Visit In Bali For First Timers.
I posted details on these places of interests:
Bedugul (2 – 2/12 hours drive from Holiday Inn Resort Bali Benoa)
Tanah Lot (1 hour drive from Holiday Inn Resort Bali Benoa)
Uluwatu (40 minutes drive from Holiday Inn Resort Bali Benoa)
And not forgetting the MUST WATCH Devdan Show (7 minutes drive from Holiday Inn Resort Bali Benoa).
Check out our complete post on Devdan show here -> Devdan Show Bali