Sanrio Hello Kitty Town, Nusajaya Johor
During our Theme Park Exploration trip down south last month, we dropped by Sanrio Hello Kitty Town in Nusajaya Johor to check what the hype is all about. 
The entrance fee is quite expensive for such a small place.
Both adults and children are charged the same rate which I think is a bit ridiculous. They should have a fee structure according to age just like Kidzania where the adult's fee is cheaper than the kid's as all we (adults) do is escort and wait while the activities are mostly for kids in here. 
At the entrance of Sanrio Hello Kitty Town. 
This is the interior view of Sanrio Hello Kitty Town from the entrance. Yes, just one level of it and you can see the end from here. That is why I said this place is small. 
We arrived just in time to catch the Hello Kitty LIVE show.
Hello Kitty in Oz. We went inside to check it out.
There is a Friendship Land in Hello Kitty in Oz. 
I think we are supposed to put balls into the green bin and it will shoot the balls out through the flower but nothing happened. It was not working. There wasn't any staff in here for us to check with. 
So the boys ended up throwing balls to each other. 
Nothing much to do, so take picture lah.  
The only ride in here is the Hello Kitty and Dear Daniel teacup ride. 
A Hello Kitty mascot made an appearance at the Dream Photo Garden but when I asked a staff if she would be kind enough to help us take a family picture using my camera, she coldly replied, "Sorry we cannot touch visitor's gadgets". ALAMAK why like that? We just got back from Universal Studio Singapore where the staffs happily helped us take family pictures with their mascots using our camera!
So our dream photo garden ended up without the Daddy because nobody wanted to help us take a family picture. Nope, this is definitely NOT my dream photo!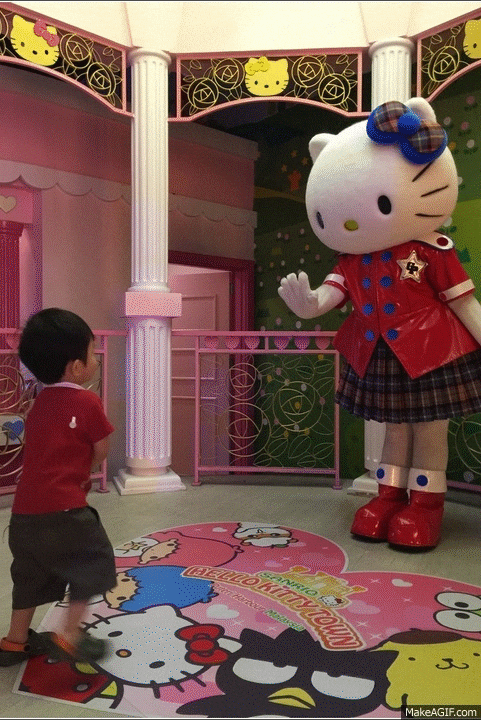 Ayden was attracted to Hello Kitty though. 
Anyway, the doors in their washroom is nice. 
We left soon after because there was really nothing much to do in here. I wish the staffs are friendlier as none actually volunteered to explain further when I asked around regarding the activities here and more. 
Seriously for die hard fans of Hello Kitty only.