Swiss-Garden Beach Resort Damai Laut | What to DO | Where to EAT
"The goal of life is to make your heartbeat match the beat of the universe, to match your nature with Nature" – Joseph Campbell
And we found just the perfect match for our heartbeats right here at Swiss-Garden Beach Resort Damai Laut.
A hidden gem; secluded but not difficult to find, we were greeted with lush greenery upon arrival.
We took advantage of the Ramadan room promo where rooms are selling from as low as RM188/night and took two connecting rooms.
Clean and comfortable, our rooms come with modern refurbished bathrooms complete with rain shower head.
This is not our first time here at Swiss-Garden Beach Resort Damai Laut. We were here a couple of years ago and decided to revisit as they now have a new water park.
NEW WATER PARK
Guests staying at the resort are entitled to complimentary access to the water park.
We know the boys will love the water park a lot so we quickly packed our luggage and made our way here right after big brother Ethan's mid term exam is over.
The water park comes with not one, not two but FOUR tipping buckets in ONE pool. How awesome is that?
Water guns are aplenty around the pool so you are sure to get wet even if you don't get into the pool.
Ayden loves the waterfall and will stand under it to enjoy the therapeutic shoulder massage.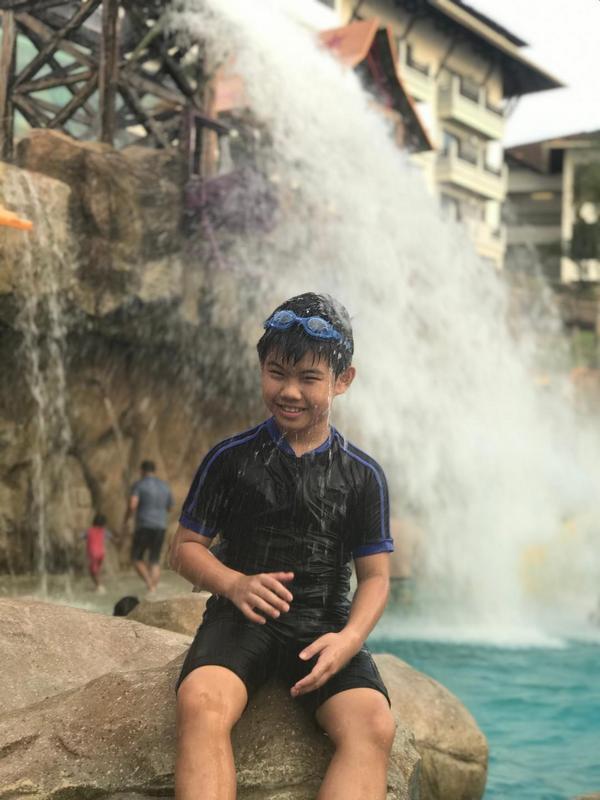 Both the boys love the many aqua slides around the pool and will go on them on repeats until we had to peel them away for dinner.
Big brother Ethan spent most of his time on these two exciting slides shown above. These slides are popular with older children.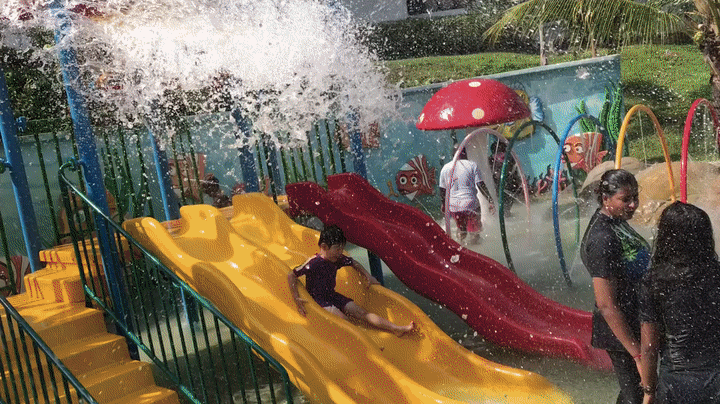 Younger children such as Ayden has even more slides to enjoy. Ayden's favourite slide is the one with a tipping bucket. He'll time his slide to coincide with the water gushing down from the bucket.
Just look at him enjoying his ride down the various slides in the pool. It's no wonder they refused to leave the water park eventhough it is already meal time.
JACUZZI
The jacuzzi here is set strategically with the beautiful ocean as the backdrop.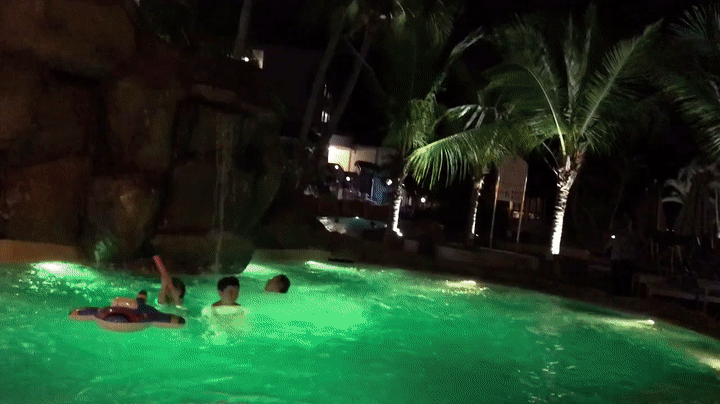 It gets better at night with the the jacuzzi pool changing into various colours.
The pools here stay open till 9pm so it's perfect for people like us who love night swimming.
FUN-FILLED ACTIVITIES FOR THE ENTIRE FAMILY
Fun Twister – Outdoor playground
There is never a dull moment here as to encourage children to have more outdoor fun, the recreation team behind Swiss-Garden Beach Resort Damai Laut has thoughtfully worked out an endless list of fun-filled activities that suits the entire family. These are a mixture of complementary and paid activities. You just need to check with the Recreation Team and register for those that you are keen to participate in.
NATURE WALK
I registered our family for the complementary Guided Nature Walk. This is one of the best activities here as not only it is adventurous, it is also highly educational for us.
Nature walk starts here
Our guide En Rosli taught us to recognise the various plants we encounter during our walk in the woods.
The boys are taught to be careful and to not simply grab any tree branches during our hike as some of these trees are thorny as can be seen in the picture above.
We also saw many wildboar trails along our walk from their activities the night before. Do you know wildboars are active at nights and eat worms?
It gives me the chills initially knowing we are walking on wildboars' foot trails but after learning more about them from En Rosli, we learned to respect these creatures and realised that it is not them that is trespassing our path but it is us human that often destroy their habitats.
Our Nature Walk opened our eyes wide towards the flora and fauna surrounding us and I am glad the team behind Swiss-Garden Beach Resort Damai Laut do their best to preserve Mother Nature and also to educate guests by this simple yet meaningful guided Nature Walk.
We also came across a Tongkat Ali plant. Big brother Ethan was very excited to see it with his own eyes as he recently learned from school that the Tongkat Ali plant is getting scarce these days.
We stumbled upon this wooden hut during our walk. It is no longer functional but still makes a good spot for a picture.
You can watch our Nature Walk video to learn more about this activity. I highly recommend this activity as we came in with full ignorance towards nature but emerged with pocketful of knowledge and a sense of responsibility to do our best to preserve it.
VIDEO
EXPLORE THE ENTIRE RESORT
FUN FAMILY TRAM
The resort also provides fun family tram rides to explore the entire resort. With a fee of RM7/adult and RM5/child, we get to go on tour to check out the entire resort. We were also driven past their golf course. We also visited the lighthouse at the old jetty when people has to take boats to access this resort back in the old days before proper roads were built.
We went on the Fun Family Tram during our stay here a couple of years ago (pic above) and since we already know the route, we decided to explore the resort on the FAT BIKE this time around.
It is a good workout to explore the resort on the FAT BIKE. I'm sure we burned more than enough calories cycling our way up and down again.
It was exhausting but totally worth the experience.
The view we got along the way is simply breathtaking.
REFLEXOLOGY FOOT PATH
We walked on the smooth river rocks reflexology foot path after our bicycle ride to sooth our tired feet.
ARAPAIMA FEEDING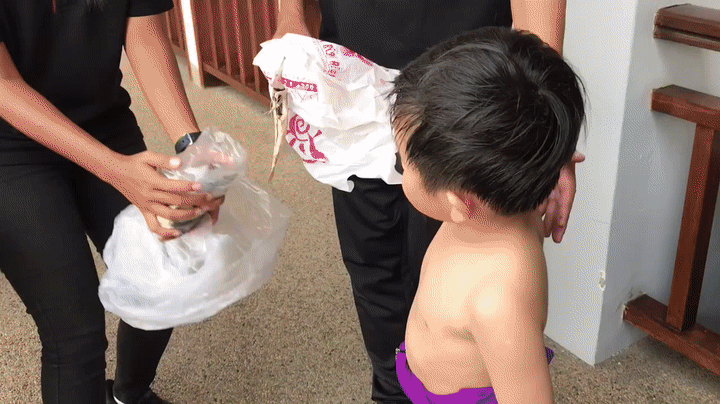 The boys get to experience feeding arapaima here.
We paid RM20 for several kembong fish which were used to feed the arapaima. It was an unforgettable experience to see those huge arapaima gobbling the fish away. We'd definitely want to do this again.
SIPUT REMIS DIGGING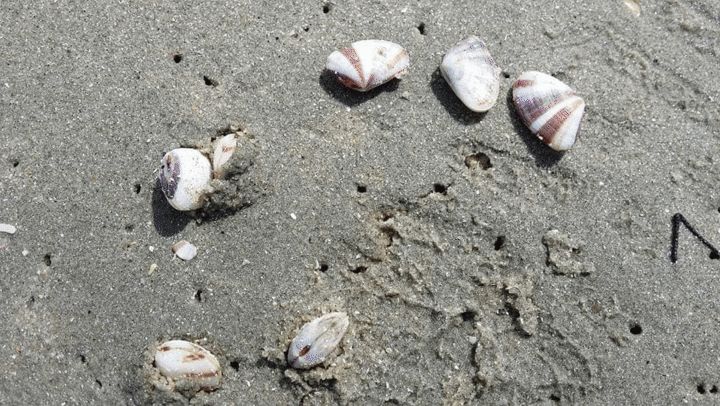 In the morning when the tide is low, the boys went digging for siput remis (shellfish). Low tide is the best time too dig Siput Remis at Swiss Garden Beach Resort Damai Laut.
ISLAND HOPPING & SNORKELING
One of the highlight of our trip this time is going island hopping and snorkeling.
We brought Ethan snorkeling back when he was about 4 years old but he had totally forgotten all about it now. Ayden has never done it so we decided it is a good opportunity to introduce the boys to this fun water activity here as the rates are quite cheap.
For RM90/adult and RM55/child, it is a good deal as we had about 3 hours of fun in the sea and had fishes eating right out of our hands.
We boarded the speed boat from the beach at the resort. It took us to places such as Coral Beach, Teluk Nipah and Monkey Bay.
We also saw many amazing rock formations along the way.


Can you see a snake head from this outcrop? The eyes look incredibly realistic.
An open palm outcrop. Can you see those fingers?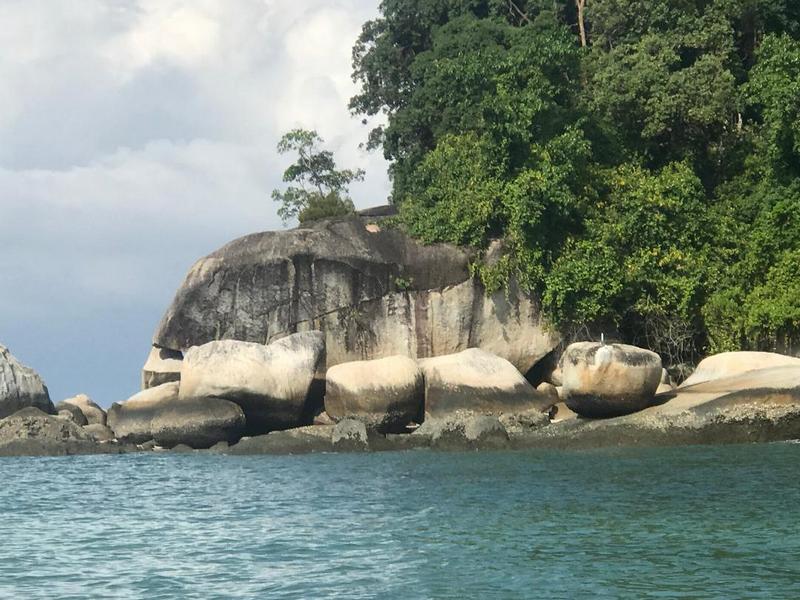 What about this whale outcrop? That little tree on it is the water spout.
Besides all of the above, we also saw a turtle and crocodile outcrop. It is simply amazing what nature can do.
Watch this video to see more of our island hopping and snorkeling experience:
VIDEO
WATER SPORTS ACTIVITIES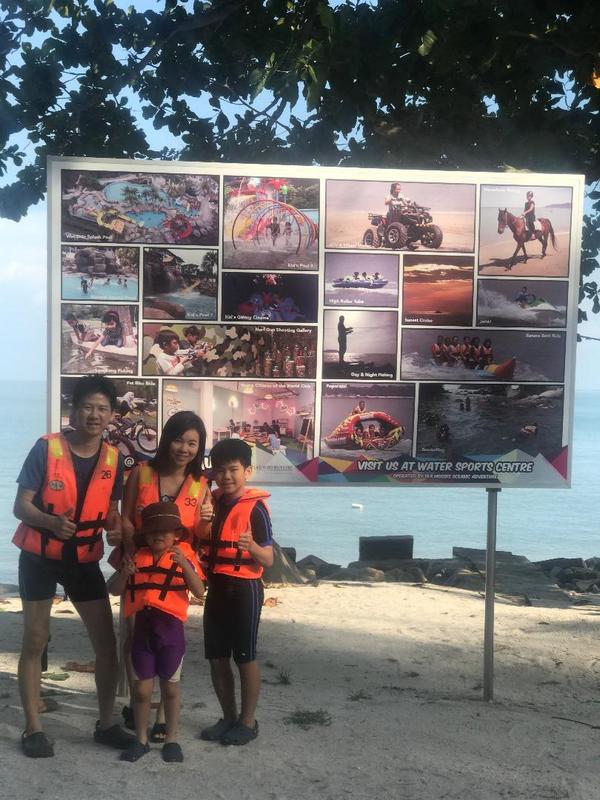 After snorkeling and back at Swiss-Garden Beach Resort Damai Laut, we went on more water sports activities.
POPARAZZI
We decided to try the fairly new Poparazzi ride and oh boy, we are glad we did as it is easily one of the best rides on a tube we had ever been on!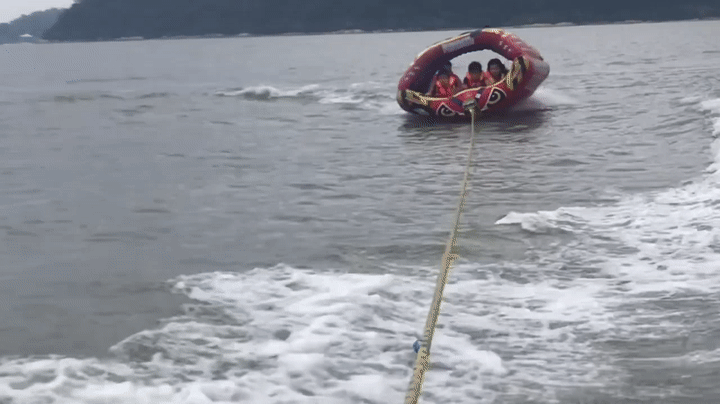 Just look at us gliding on the water; catching the waves on the Poparrazi tube as the speedboat pulled us across the sea. I can't believe lil' Ayden did this with us. Woo hoo! What an incredible experience!
BANANA BOAT
After our adrenaline rush Poparazzi ride, we continued our exhilarating adventure on the Banana Boat ride but of course I requested for the boat operator to not flip us over as lil' Ayden went on this ride with us too.
BEACH FISHING
I remember when we were here two years ago, we did beach fishing and the boys loved it very much so we decided to do it again.
If you haven't try beach fishing, you should try it at least once and I'm sure you'll get hooked to it. Nothing is as soothing and satisfying as catching our own fish right out of the waves.
Here is the video of our beach fishing experience a couple of years ago. Watch to see how fast and easy to pull fish out of the water. The water here is so healthy, there are abundance of fish everywhere.
VIDEO
HORSEBACK RIDING
The boys also went for a relaxing horseback riding along the beach.
ATV RIDE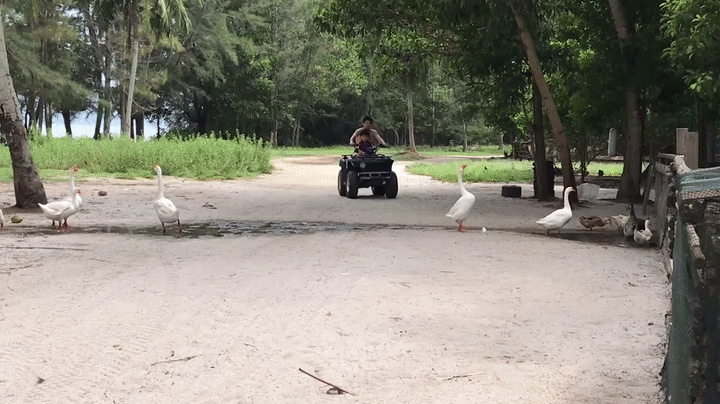 Not to be missed is the ATV ride here as the ATV track leads riders along the Damai Farm with free roaming animals. This is one of the best way to explore the surrounding of the farm and teach the boys to identify these farm animals.
LONGKANG FISHING
When we were little, we spent our free time catching guppies in the stream. Urban kids these days don't usually get to do the same so it is nice to know that longkang fishing is available here.
It is not an easy task to catch these little fishes as they move rather quickly. To catch them requires team work and agility.
The boys just refused to give up eventhough they were unable to catch anything during the first 10 minutes. After trying for the millionth time, both the boys managed to catch some fish much to their satisfaction.
The boys and their catch for the day. This is a catch and release activity so they released the fish back into the drain once they are done fishing. Not only it is so much fun, this activity also teaches our children responsibility and love for animals.
ARCHERY
Unleash the inner Robin Hood in you. Here, you can rent the bow and arrows and play repeatedly for a period of time. Unlike most places where you pay per game, here you can go on and on until the time runs out.
COOKING CLASS
Our Little Chef Ayden always try to take cooking lessons from the hotel/resort chefs during his travels. He learned to cook Asam Pedas during his trip here to Swiss-Garden Beach Resort Damai Laut a couple of years ago and this time around, he learned to make Kerabu Mangga.
YOUNG CITIZENS OF THE WORLD CLUB
Besides the endless outdoor activities to keep the entire family occupied, there is also a new kids club at the resort. Young Citizens of The World Club is an indoor venue where children can swim in the huge ball pit, watch movie and work out some sweats over fun games.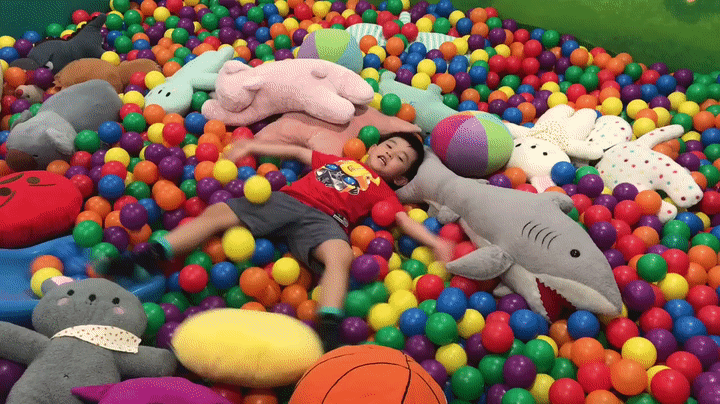 Swim with the sharks in this huge ball pit.
Catch a movie in this cosy movie room with bean bags
Unleash your creative juices at this larger than life chalk board.
Work out some sweat with this wall bat ball game
This is supposed to be a Nerf Gun Target shooting area but we saw many children using the balls from the ball pit instead. Ayden immediately joined them with the balls. Nerf gun or not, whatever makes them happy…
SUNSET
I've never met a sunset I didn't like and I especially love the one here with a clear full view of the sun setting.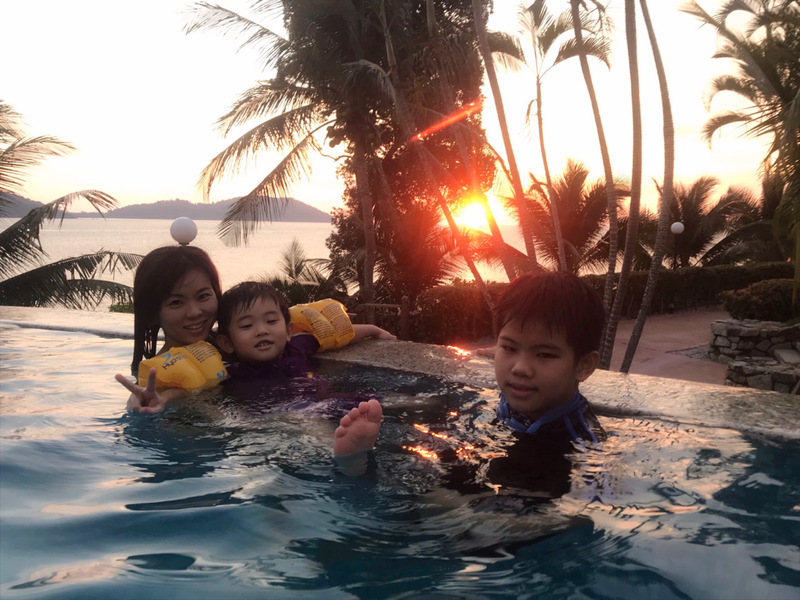 We can catch the beautiful sunset from both the resort's infinity pool or by the beach.
We do not remember days, we remember MOMENTS especially beautiful ones like this ♥
DAMAI LAUT GOLF & COUNTRY CLUB
We managed to squeeze in a tour at Damai Laut Golf & Country Club this time around.
Damai Laut Golf & Country is a par-72 championship buggy-tracked course located within the Swiss-Garden Beach Resort Damai Laut in Perak.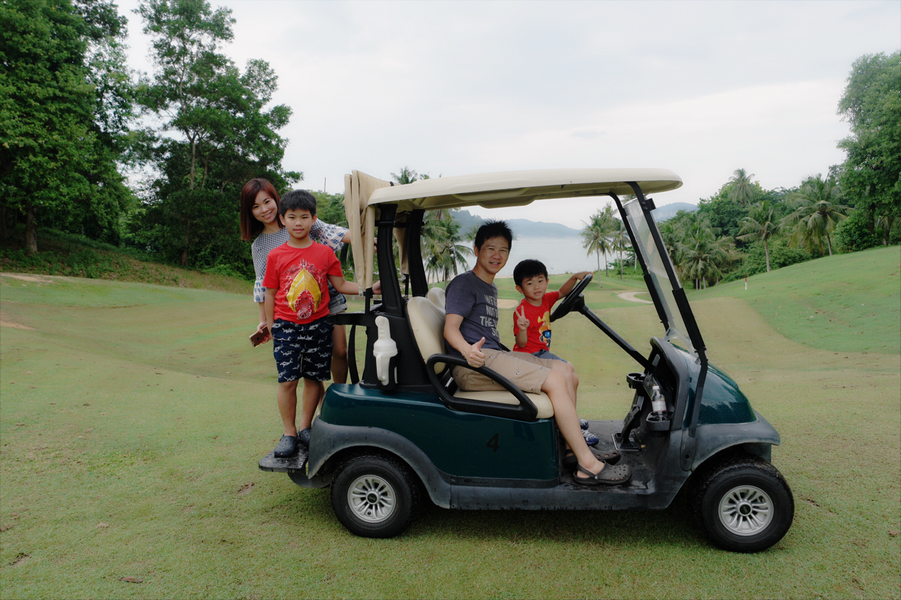 Offering breathtaking views of the sea and lush greenery, the Ronald Fream-designed layout is routed through a tropical landscape with nine holes overlooking the Straits of Malacca and the other nine the estuaries of the Dinding River.
Luscious with no buildings in sight, this is one of the nicest golf course we've ever seen.
We also ate their signature Mee Rebus at the golf club. This noodle in sweet potato-based gravy goes well for the young and old.
WHERE AND WHAT TO EAT
Throughout our stay here, we dined at Garden Terrace, Thai Taste and Swiss Deli.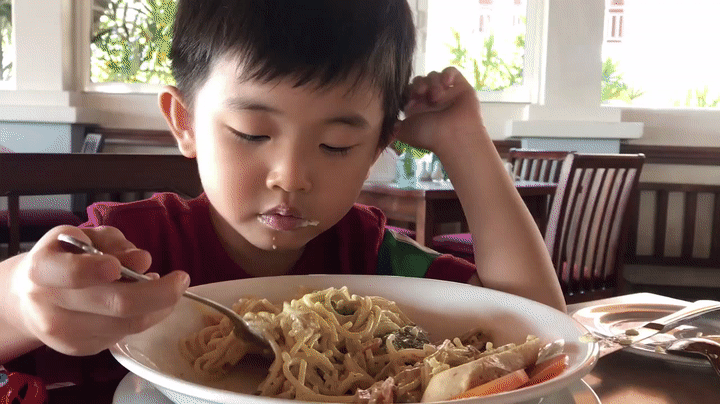 Garden Terrace serves buffet for breakfast and dinner and ala carte for lunch.
Dishes that I'd recommend from Garden Terrace are pastas and pizzas.
Anytime is a good time for pizza here.
We did not get to try their famous BBQ buffet dinner though as the resort is having Ramadan buffet dinner throughout the entire fasting month.
Thai Taste serves delicious Thai cuisine.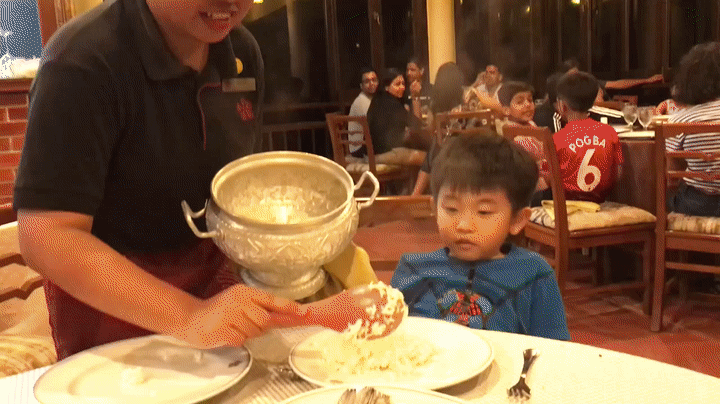 The food here never disappoints so it can be a little crowded during peak period. Reservation is highly recommended and if possible, order your food in advance too to reduce waiting time.
Swiss Deli is a cozy little corner at the lobby for coffee, cakes and ice-creams. There are many mouth-watering cakes here but my favourite is the red velvet cake that hit just the right notes with my palate.
SEASCAPE GYM
After all the glorious food, we can burn calories at this awesome gym with vast seaview.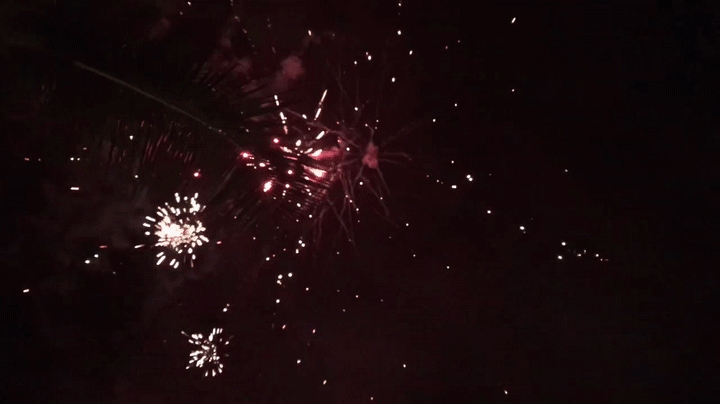 Guests at this resort will get to enjoy a colourful fireworks display every Saturday at 8.30pm (if weather permits)
One night is never enough. If you are planning a retreat here, it is best to stay a minimum of 3 days to enjoy these endless activities. The resort is currently running a Ramadan promotion with rooms from as low as RM188/night
VIDEO
Before we end our post, let's watch our video with the entire activities and places to eat. 
Swiss-Garden Beach Resort Damai Laut
Persiaran Swiss-Garden, Jalan Damai Laut,
Off Jalan Teluk Senangin (100.28 mi)
Lumut 32200
05-684 3333
Related Posts
//

//

//

//

//
//
//
//
//

//