The TWO Ultimate Experiences You Must Not Miss at Bukit Gambang Safari Park
We just got back from an incredible adventure in Bukit Gambang Resort City. Bukit Gambang Resort City (BGRC) is an integrated resort city sprawling across 727 acres of secondary jungle. It took us about a little over 2 hours drive from KL to BGRC.
Bukit Gambang Resort City boasts of their multiple attractions in one location so we did some research before heading there in order to maximise our visit. Our initial plan was to stay for only 2D/1N but after working on the itinerary, we discovered that we may need an additional day to include the Water Park too.
The above is our itinerary and we are proud to say that we managed to complete all that we had planned to do.
First thing to decide when we are planning our trip here is where to stay. At the moment, we can choose to stay at either Arabian Bay Resort or Caribbean Bay Resort. We chose to stay at Arabian Bay Resort. I'll blog about our room and meals in a separate post.
Once lodging is confirmed, we have to decide on the activities. There are 3 major attractions here that are suitable for families at BGRC and they are Bukit Gambang Safari Park, Bukit Gambang Water Park and Active Academy.
Today's post will touch on TWO significant activities we did during our stay here. It was our first time experiencing them so we are excited to share with you our story.
The first activity I'm sharing with you is Wild Savannah – Tram Drive through Zone
This is THE ultimate experience you must not miss at all in Bukit Gambang Safari Park!
Only accessible via their tram, we were driven through the rainforest by their park ranger and guided by their Park Ambassador to be upclose with their free-roaming animals (including PREDATOR animals) in various zones.
Their fully air-conditioned trams come in beautiful animal prints namely zebra and cheetah. Ayden got so excited to board these animal print trams.
The first animal we came across was this hippo.
We were also driven into areas where predator animals roam free. These areas are guided by double electric gates. Getting through these gates gives us the feeling of being in a Jurassic Park. Being our first time in a safari drive zone, we are obviously anxious.
These are the gates to the tigers.
It was a surreal experience being on a reverse side – watching the tigers roam free while we are confined in the tram. Seen in the picture above is also the white vehicle of the park ranger. The park ranger makes his rounds to check on the animals regularly.
Look at those beauties.
Our hearts were palpitating like crazy as this tiger was so close to us. It walked pass our tram to rest under the shady tree.
The tram stopped from time to time at various zones to let us enjoy watching these animals upclose.
The lions were more laidback that evening. They just had their meals so they were sleeping.
A sleeping lion.
The cheetahs were also relaxing.
Simply beautiful.
I think this is a buffalo. We had to stop as it was blocking our tram.
Do you see what I see? LoL. Cute ostrich head peeping inside!
Ostriches are very curious animals so they'll come close each time they see us.
Oh hello! They'll come pecking our windows too.
We also came very close to the zebras and many other wild animals here in the safari park.
The trip into the driving zone to be upclose with wild animals and predators was extremely exhilirating. The boys got very excited too. We thought we have had the BEST experience of our lifetime here but there is another adventure await us as the next day, we were introduced to ATV Safari where we can ride the ATV ourselves into the safari park! 
That brings us to the second activity I would like to share with you – ATV Safari Adventure & Tour
If the day before we were driven into the safari park, today, we got the opportunity to ride the ATV there. It is the first and only ATV Ride Through Safari in Malaysia!
I have never rode on an ATV before. Darling and Ethan yes but not me. I was quite nervous at first as I also learned that I will need to carry Ethan as my pillion rider. 
They assured me that this ATV Safari Adventure and Tour is suitable for inexperienced rider such as me. That made me game enough to try.
Ethan happily hopped onto the back as my pillion rider not knowing how 'kancheong' I was. LoL. 
Darling had a tougher challenge though. He had to bring Ayden along.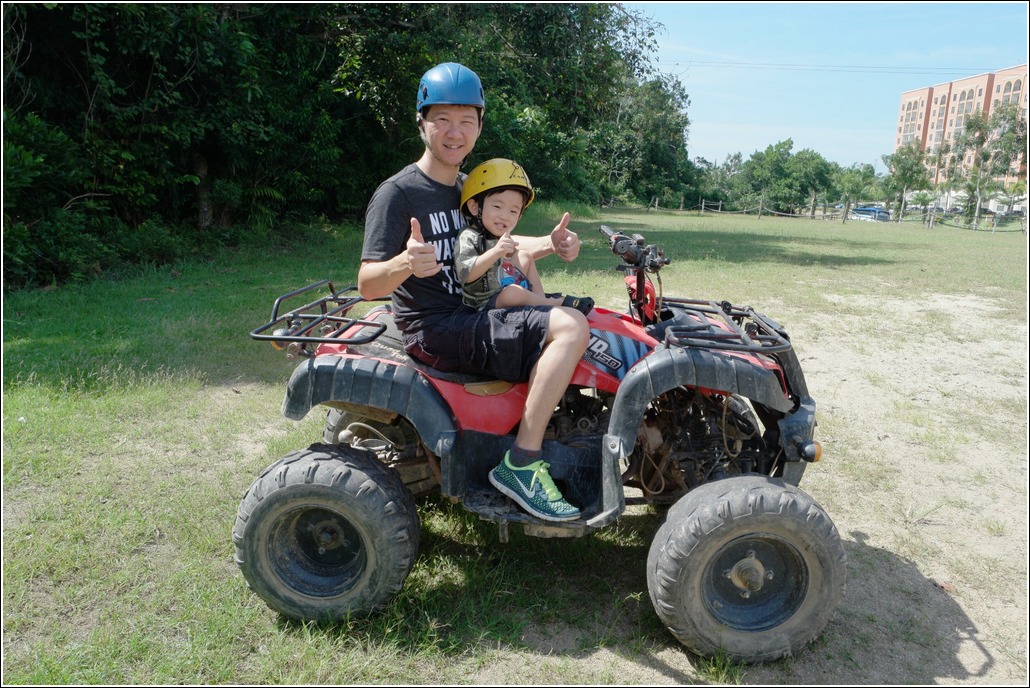 Darling had to make sure Ayden held on tight or at times handled the ATV with only one hand as the other hand was holding onto Ayden. 
Before we proceed to the safari park, we were given a briefing and a test riding at Active Academy Centre. My heart almost dropped when I had to maneuver over a steep slope. I did not turn turtle and survived the test so we all move on to the Safari Park.
The journey took us on road as well as off road. We went up and down hill trails. 
This is Darling riding into one of the animal enclosures. I rode behind Darling and Ayden at all times. 
This is what we get from the ATV Safari Park Adventure and Tour. We get to be upclose with the roaming animals in the safari freely. 
Darling and our leader riding through the area with bulls. I needed to catch up. Must not get strayed away. 
These are llamas. They are in the camel family but they do not have humps like camels do. There are 6 types of camels in the world and Bukit Gambang Safari Park has 4 types of them. 
If yesterday we were extremely thrilled to see the animals upclose from the tram, today, the feeling is even more electrifying as here we are, watching them in the open without being confined to anything!
At the crocodile enclosure.
With Gemsbok (Oryx gazelle) at the African Savannah. We call it James Bond! Haha!
The Gemsbok is the most 'handsome' among the antelope family. It is a large antelope who has adapted to live in hot, dry areas where most large mammals cannot.
Riding past the elephant enclosure. By now I was riding like a champion already. Going up and down hill trails does not bother me anymore :D
Our guide stopped us before proceeding into the ostrich and zebra zone. He advised us to ride on straight without stopping for photograph as the ostriches can get a little excited seeing us and may follow us.
And just as we were listening to our guide's instructions, he told us to look on our left only for us to see THIS! 
Hyenas watching us!
Ethan got so nervous he pestered me to ride on because during our Drive Zone with the Tram the day before, our Park Ambassador mentioned that hyenas leave nothing when they feast. They eat everything from the flesh to the bones leaving only blood stains behind. Our Park Ambassador also mentioned that hyenas are able to bite through iron gates! So you can imagine how anxious Ethan was sitting there on the ATV behind me looking at these hyenas watching us. Haha. No word can describe how we felt that moment. 
Anyway, we zoomed through the ostriches and zebras. Our guide took care of the ostriches very well until Darling and I are safely on the other side. 
We also rode pass the tiger zone. Can you see the double electric gates? Of course we did not enter. Only trams are allowed to enter predator animals zones. 
Our entire ATV Safari Tour takes around 45 minutes. For a person who doesnt drive a car, I rode the ATV like a champion with Ethan as my pillion rider covering over 6km exploring the safari to see the animals upclose.
Both the Wild Savannah – Tram Drive through Zone and the first and only ATV Ride through Safari Adventure in Malaysia are a MUST-DO when you are here in Bukit Gambang Safari Park. It is a precious experience that you've got to experience yourself to understand what I meant. This is something the boys and I will remember for a very long time. 
Oh besides these two activity, there is another activity you MUST experience when you are at Bukit Gambang Resort City. You MUST dine with the white lions at Simba Hill Gourmet Hall. 
Dining with white Lions in Malaysia is only available in Bukit Gambang Safari Park
Imagine the experience of looking at the white lion and lioness eye to eye just standing in front of us while savoring our favourite western meal. 
Related posts on Bukit Gambang Resort City:
1) Two Ways to Experience the Safari Park
2) Camel Ride
3) Active Academy Centre
4) Animal Feeding
Our ATV Safari Ride is featured in Sin Chew newspaper on the 29 January 2016 :D