5 Reasons to visit Koosh Koffeez @ Publika Shopping Gallery
There is this new coffee place in Publika Shopping Gallery opened barely a month ago (at the time of writing) that you must visit at least once and I bet you'll get hooked to it soon after as it has a really lovely interior, great coffee and surprisingly very good food.
We kept coming back until we have eaten almost everything on their menu. Today's post is a compilation of everything that we have eaten here.  Follow me as I unveil one by one their food of epitome goodness.
Koosh Koffeez is located along the row of the Thai boat noodles in Publika.

Koosh Koffeez @ Publika Shopping Gallery
D5-G3-03 Solaris Dutamas, Jalan Dutamas 1,
50480 Kuala Lumpur, Malaysia
Telephone: 03-62111586
Email: [email protected]
Facebook: https://www.facebook.com/kooshkoffeez
You won't miss it as their signature plush purple chair in front will definitely make you stop for a second look.
THIS huge purple chair. Ayden grew an immediate bond with this bright purple chair (and rug) and refused to part with it >_<
It is so huge, it can majestically fit my entire family of four :D
This purple chair is extremely famous in social medias especially Instagram. I see it everywhere in my Insta feed!
Now let's take a look at the interior.
The interior spells comfort as all their chairs are padded with soft cushion and where we were seated, even the walls are padded.
They have nice chandelliers to illuminate the interior beautifully.
How about hanging around at this corner to get some work done with 'her' staring at you? 'Koosh like my toosh' is my favourite piece in here. Haha.
Koosh Koffeez pays a lot of details into their coffee, using Arabica beans from their main business, Arabica Estate. They serve some really original stuffs here. One of them being the Baller Koffee.
Baller Koffee – RM16 
Two shots of espresso with their special creamer served with a ball of ice, a whiskeyball. Invented by avid scotch-whiskey drinkers, The Whiskey Ball has more volume and less surface area than a traditional ice cube – so they melt slower. Even the creamer is served with the ice in a separate compartment so as to not dilute it.
My Baller Koffee with one shot of espresso and creamer.
I guess I am not the only one loving the Baller Koffee. Look who is taking a sip of it too?
No, don't worry. Ethan did not gulp down two shots of espresso. He had this Milk & Honey – RM11.
For a coffee place, they serve surprisingly really good food.
STARTERS
Bruschetta Trio – RM25
Double trilogy of foie gras terrine, smoked salmon & dill and tomato & basil for starters.
My favourite among these 3 is the rich and buttery yet very delicate foie gras. Foie gras is a luxury food made of the liver of a duck or goose that has been specially fattened.
The Mandarin – RM18
Smoked duck on a goma-dressed mesclun salad, tossed with roasted tomatoes, almonds and tangy orange segments. It makes a very appetising starter.
Siren's Salad – RM23
This squid ink pasta salad with blanched prawns and squid, tossed in a shrimp roe Caesar dressing is simply gorgeous and equally delicious. It is easily one of my favourite starter. I will definitely come back for this.
Escargots à l'ail gratiné – RM23
Naked escargots, oven-baked in a white garlic confit and sharp parmesan sauce.
Eat it with their fresh bread is simply heavenly.
Pumpkin Soup Ravioli – RM13
Roasted pumpkin flesh, blended with rich cream and vegetable stock, served with poached cheese ravioli.
This is how you drink your pumpkin soup, just pour it into your mouth. Just kidding, the spoon bowl is too huge for you to even do that :P
I am very impressed with what we've had up to this point and looking forward for the rest of the dishes. The above are just starters. We have not even touch the main dishes!
MEDITERRANEAN MEALS
If you are in for a Mediterranean treat, these may tickle your fancy. You can choose to have either the grilled chicken with mushrooms or lamb with tomatoes.
Grilled Chicken & Mushroom – RM19
Authentic Turkish pide bread served with grilled chicken, sauteed shimeji and white button mushrooms, sun-dried tomatoes, hummus, garlic aioli, sour cream and salsa.
Lamb & Sun Dried Tomatoes – RM21
Authentic Turkish pide bread served with sauteed spiced lamb mince, sauteed shimeji and white button mushrooms, sun-dried tomatoes, hummus, garlic aioli, sour cream and salsa.
PASTAS
The boys and I are more of a pasta person so we had fun indulging in their pastas served in many unique and very original varieties.
King Krab – RM33
Whole soft-shelled crab karaage atop a hill of roasted sesame spaghetti.
Beneath the soft-shelled crab lies bountiful treasures of squid and prawns.
Smoked Duck in Tomato-caper Cream – RM25
Thick slices of smoked duck breast swirled in a creamy tomato-capers sauce.
Cinnamon Bolognese – RM23
This has got to be one of the most original pasta I've had as I have never eaten anything like this before. A sensational bolognese of minced lamb, sun-dried tomatoes with a touch of cinnamon and nutmeg.
Karbonara – RM23
This is my favourite pasta here. It is to die for. Beef and duck bacon swirled in signature Karbonara cream enriched with sharp parmesan and topped with an onsen egg.
Look at the yolk oozing out. Mix it well with the rest, it is just PERFECT! I can never have enough of this. My top favourite of all time.
PIZZAS
Kasablanca – RM25
This is a Morrocan favourite of cumin-fried minced lamb, with sour cream, capsicums, onions and jalapenos on crispy tomato-infused dough.
Tahiti – RM25
Grilled chicken, barbeque sauce, pineapple and onions on a crispy tomato-infused dough.
MEATS
The carnivore in you will love their meat offerings.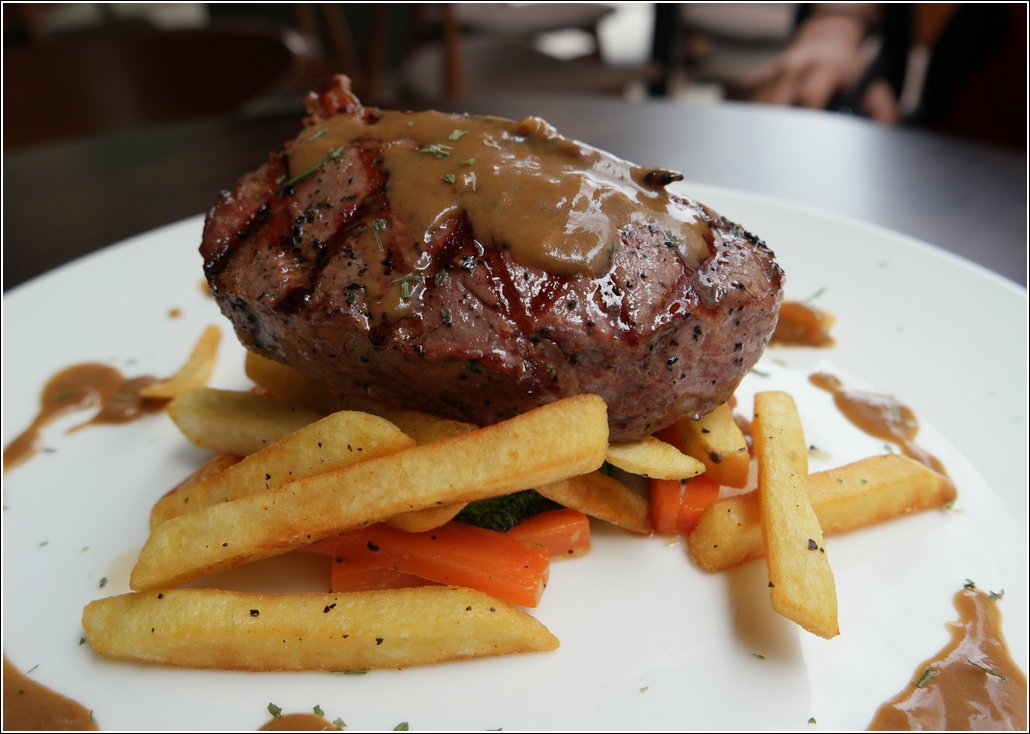 Peppercorn Steak – RM38
200g of thick prime sirloin, grilled to perfection with a rich peppercorn gravy, dripping juices on a bed of fries and buttered vegetables.
It is my all-time favourite sauce for steak. Pepper adds the perfect hit of heat to this tender steak.
Made medium rare just as how I like my steak to be. This humongous dish alone is enough to make me skip dinner.
Lamb Shank in Coffee Stew – RM45
This is the bomb. It is cooked until they are fall-apart tender. The lamb shank is basted in a stew of coffee, carrots and onions, then drizzled with a special espresso glaze on chunky mashed potatoes.
Darling who is not a fan of lamb is in love with this, can you imagine that?
Grilled Chicken & Capers – RM28
Tender and juicy grilled chicken fillet lavished with thyme and caper sauce, served on fries and buttered vegetables. The capers add a much needed change of pace to the typical grilled chicken recipe turning this into the ultimate grilled chicken.
HANDCRAFTED GOURMET WAFFLES
James' Brownie – RM18
Sensational chocolate waffle riddled with brownie pieces, topped with toasted marshmallows and almonds, chocolate covered strawberries, chocolate syrup, whipped cream and vanilla ice cream.
Tiramisu – RM18
Espresso infused waffle topped with mascarpone, dark chocolate shavings, strawberries, whipped cream, vanilla ice cream and espresso dipped ladyfingers with a dusting of arabica powders. 
Wonderberry – RM17
Rose-infused waffle with torched meringue, topped with blueberries and strawberries, toasted nuts, a loveletter, whipped cream and vanilla ice cream, drizzled with strawberry coulis.
Phew! There, I'm finally done with all the glorious food! I'm going to end this post with 5 Reasons to visit Koosh Koffeez @ Publika Shopping Gallery
Relax, sit back and dine in their super comfortable and fun setting. It's so comfy you might doze off on a super tired day!

Indulge in their top-notch food and beverages with affordable prices.

Coffee is excellent. 

Friendly service staffs that take pride in their gorgeous bling bling uniform (which I forgotten to photograph hence I can't share it with you here. You have just got to go there and see for yourself)

Because you just GOT to take a picture of yourself on that majestic purple throne. 
Related Posts
//

//

//

//

//

//

//

//

//

//

//

//

//

//

//

//

//