Bmon Cafe @ Kota Damansara
You know I always hang around at The Strand right? It's either there or 1U so when the foodie gang called for a night out to check out Bmon Cafe at The Strand Kota Damansara, I am ever so ready.
We just got back from Penang and were disappointed that we did not get to take pictures of their famous murals at Armenian Street there but guess what? There is even cuter murals here at Bmon! Ethan immediately made a pose for me :D
From our chit chat with Travis, the owner of this cosy cafe, we found out that Bmon is a character created by his brother, Roy. All the drawings, comic and design showcased here at the cafe is by Roy himself.  Doraemon is Roy's favourite cartoon character hence he created this character called Bmon. Bmon in chinese is (必梦), meaning everyone must have dream(s) to chase with and achieve it.. Fuh, so deep!
I find the decor here very cute and cosy but Ayden obviously was not very please to be the lightbulb to that lovely couple :P
The children love this basket swing and kept hogging this area.
This is also the place where Darling fed Ayden because, unfortunately, they don't have a baby chair at this cafe. Maybe they are so used to having youngsters here that they did not see the need for a baby chair. But maybe after our visit, they might want to consider getting at least one or two baby chairs in case a family with toddlers were to pay them a visit. After all, it is such a lovely place, I am sure I'll come back here again.
We got to enjoy our meals peacefully because the kids were kept occupied throughout the night with the many board games available here. It was nice to see that the kids did not even request for their electronic gadgets.
The many games to choose from. Ethan learned to play UNO that evening. Samantha's daddy sat together with the kids to teach and guide them on the game.
Now let's take a look at the food we had that evening. There were 7 adults, 3 kids and 1 toddler that evening so be prepared to see lots and lots of food :)
Ethan had this Honey Milk which he loves so much. It was his first time drinking milk with honey and he's totally sold.
I know he loves it lots because I did not even need to interrupt him from his game to get him to drink the milk. He'll voluntarily take a break from the game to come to our table to drink his milk and continue playing and taking a break again until he finished the entire mug of milk.

I know it was evening when we were there but Travis was so kind to specially prepare this All Day Breakfast Set (RM16.90) for us knowing that we are always in the area and are scouting for good breakfasts to enjoy over the lazy weekend mornings.
For dinner, it is always good to start with a healthy Fruit Salad (RM10.90).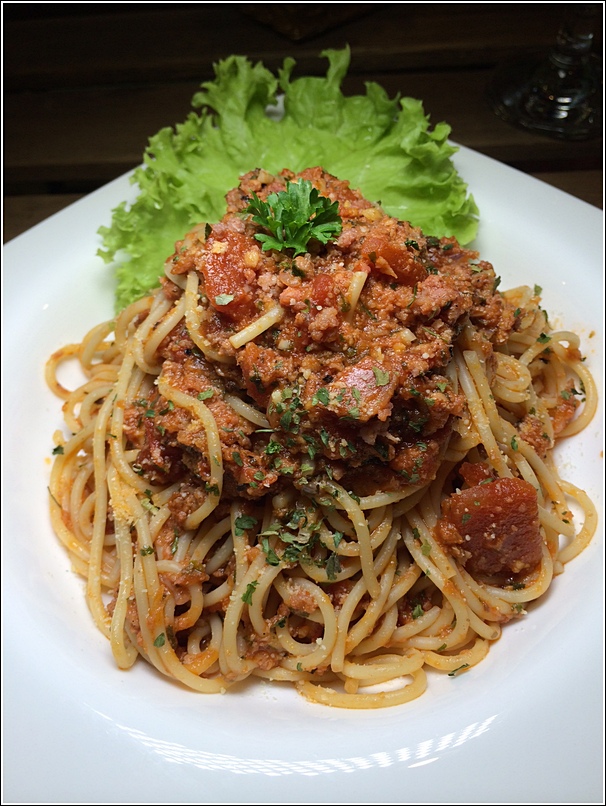 Beef bolognese (RM13.90)
As usual, whenever we dine out with Ethan, you'll see pasta. The beef/chicken bolognese here is huge in portion with generous topping. It's good for both Ethan and I to share.
Chicken Mushroom Carbonara (RM13.90)
If you are not into red sauce but still love pasta, you may want to try this chicken mushroom carbonara as the rest of the foodies where raving about it the entire evening.
They also serve pizzas here using tortilla wraps as the base. If you like thin based pizza, this will suit you well.
Hawaiian Pizza (RM13.90)
Mushroom Pizza (RM13.90)
After having 'pizza wraps' we had 'wrap wraps' :P
Tuna Mayo Wrap served with Fries (RM12.90)
Mushroom Wrap served with Fries (RM12.90)
A combination of button mushroom, golden mushroom, oyster mushroom, shitake mushroom and portobello mushroom in this lovely wrap.
My favourite has got to be their sandwiches as I am a sandwich kind of girl. I can have sandwich for breakfast, lunch, dinner AND supper without getting bored!
Tuna Mayo Croissant served with Fries (RM13.90)
Turkey Ham Croissant served with Fries (RM14.90)
Last but not least, we had the Hippo in the Pond.
Hippo in the Pond (RM14.90)
Mashed potato shaped into one fat hippo, coated with breadcrumbs, deep fried and topped with corn, sausages, crab sticks, shredded chicken and hard boiled eggs. There is only 5 pieces of this available everyday so you really got to thank your lucky stars if you are able to get hold of this.
We made sure every single drop of that sinfully delicious cheese sauce is poured into the pond, good to the very last drop.
After that hearty meal, it's time to chill with their beautifully decorated desserts.
 Waffle with Ice-Cream and Fruits (RM12.90)
Though their waffle is good, my favourite is still this Chocolate Mud Cake with Ice-Cream (RM10.00)
Warm chocolate cake that melts in the mouth coupled with the constrasting freezing cold ice-cream is just perfect.
We had a fun time dining here. Everything was so laid back and comfortable, I'm sure we'll come here again. It's a little hidden though as it is tucked on the first floor but if you know where OCBC Bank is then you'll be able to find this place easily as it is just across the road from OCBC.
All prices are nett. No 10% plus 6%. Students get 10% off.
Bmon Cafe
No 8-1, Jalan PJU 5/20B
Kota Damansara 47810
Petaling Jaya, Malaysia
Tel: 03-6158 9993
GPS: 3.1543085,101.592626
//

//

//

//

//

//

//

//

//
//