Chinese Zodiac Snake Angbao decor
Chinese New Year is around the corner (seriously?) and this year we'll be ushering the slithering SNAKE! Let's make a cute little snake today shall we? 

DIY Ang Pow SNAKE
Cut open an angpow. Remove excess edges to form a clean square. 
Fold both ends into the middle and fold again. 
Fold the flip down, open and fold the other one up. This is just to create the crease. 
You'll get these lines as shown above. Fold along the lines. 
Fold as shown above again.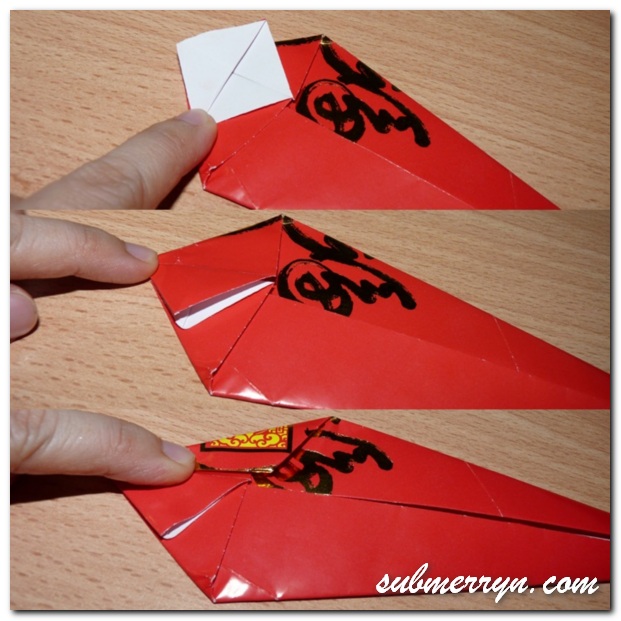 Fold the flip up. Then fold it down. Take the top right corner and fold into the middle. Repeat on the left side. 
Fold the white section into the middle and open. Repeat on the other side. 
Fold your snake into two. Then fold a flip down. Followed by another flip. 
Press down the head. 
Accordion fold the body and your Angpow Snake is done! 
If you think this snake is a bit too tough, you may want to try this simpler snake. 
Check out the rest of our Chinese New Year decor collections: 
2) Red Packet Ancient Coin Lantern
5) Red Packet Toilet Paper Roll Fire Cracker
7) Fortune Cookie Fridge Magnet
8 ) Red Packet Sea Shell Tree Ornament
10) Red Packet Fan Tree Ornament
11) Red Packet Fish Tree Ornament
12) Fingerprint Cherry Blossom
15) Angry Bird Ang Pow Wheel of Fortune
16) Ang Pow Koi Fish
17) Personalised Ang Pow Packet
18) Ang pow Snake
//
//
//
//
//
//
//
//
//
//