Mooncake Preview: The Westin Kuala Lumpur
Mid-Autumn Festival is the festive season where families, friends and loved ones gather to celebrate the moments of unity and happiness. The Westin Kuala Lumpur presents a range of whimsical mooncakes under the theme of YUÈ this celebrative season, transporting individuals back to the old world charm of lunar worship and the end of summer harvesting celebration.
We were privileged to be invited to sample the Westin mooncakes recently.

Five Sen5es (Level 1)
THE WESTIN KUALA LUMPUR
199, Jalan Bukit Bintang,
55100 Kuala Lumpur,
Malaysia
thewestinkualalumpur.com
We were serenaded to the lovely melody of Guzheng as we sampled the varieties of traditional baked skin mooncakes and the special Mini Snow Skin Pure Musang King.
Featuring 7 delightful varieties of traditional baked skin mooncakes, guests can satisfy their sweet tooth with all-time favorites such as Lotus Pandan, Pearl of Prosperity, Signature Supreme Mixed Nuts and Red Bean Paste.
LOW SUGAR WHITE LOTUS PASTE
LOW SUGAR WHITE LOTUS PASTE SINGLE YOLK
For the health-conscious, light and delicious Low Sugar Plain White Lotus Paste, Low Sugar Plain White Lotus with Single Yolk and Charcoal Precious Black are included in the list to liven up the selection of Westin mooncakes.
PANDAN LOTUS
PEARL OF PROSPERITY
PURE RED BEAN PASTE
FIVE SEN5ES SUPREME MIXED NUTS
It is strange how as a young kid, I stayed away from mixed nuts mooncakes but as I aged, I find it to be one of my favourites. These days, I love the rich and earthy flavor of mixed nuts mooncakes and the ones here at Westin is simple outstanding.
IMPERIAL BLACK
With charcoal black pastry and a delicious longan core, this is one of the best of the Westin mooncakes in my humble opinion.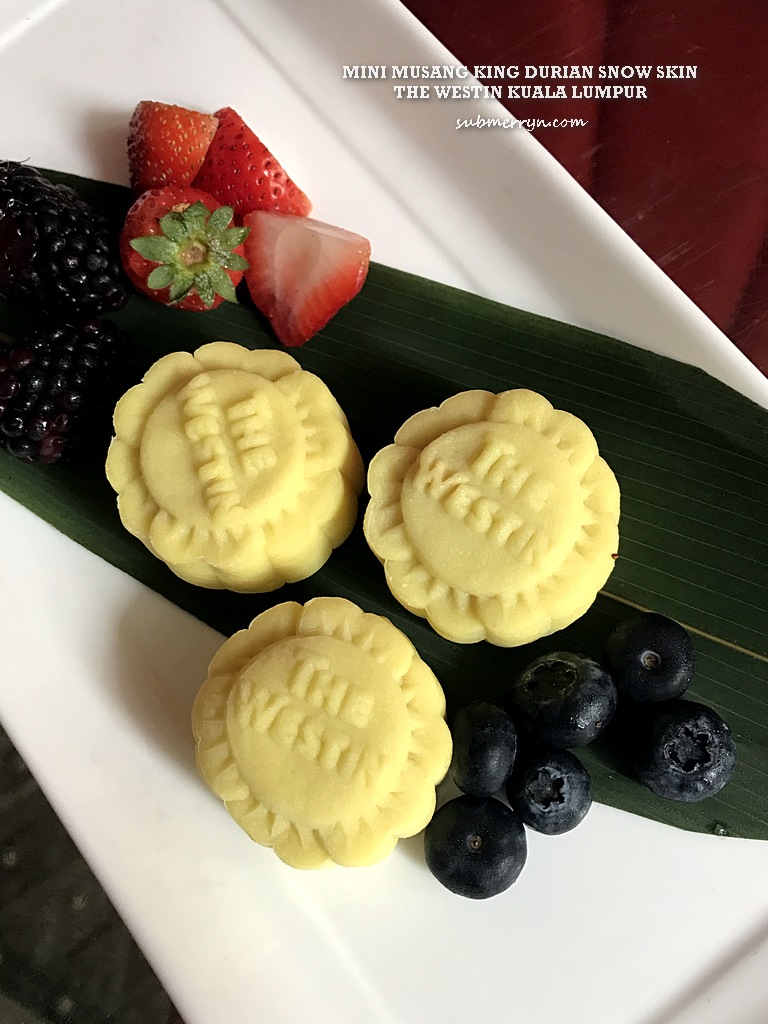 Of course THE BEST has got to be the MINI MUSANG KING DURIAN SNOW SKIN.
Bold-flavored Mini Snow Skin Pure Musang King specially curated for durian lovers. Made of premium grade durian pulp and eaten cold, every bite of this 100% Musang King brings such huge satisfaction.
悦乐赏月 YUÈ MOONCAKE GIFT BOX
Westin Mooncakes are packaged in unique and bespoke gift boxes.
Designed with the concept of reminiscing old times, the elegant YUÈ Mooncake gift box is presented in 2 distinctive traditional outlooks with a modern twist. Regardless of the genre one prefers, music always work wonder as a therapeutic time machine and bring sweet memories back.
YUÈ refers to the phonetic symbols for delight, music and moon. This multi-functional gift box comes incorporated with a set of Bluetooth speaker, allowing diners to play their preferred tracks as they relish on the exquisite Westin mooncakes.
We were in for a big treat as the people of Westin demonstrated how the treasure box doubles up as a bluetooth speaker.
We were treated to an informal lesson of playing the Chinese yo-yo while enjoying the music being played through the bluetooth speaker.
Ayden did not want to try it initially as he thought he was too little but surprisingly, he did well.
Ethan was awesome too. He managed to toss the yo-yo in the air and catch it again.
Tossing the yo-yo…
and catching it back again.
Kids are such fast learner. I tried yet I found it difficult 
Here is the video of the Westin mooncake treasure box with bluetooth speakers as well as the kids trying their hand on Chinese yo-yo. 
Westin Mooncakes are available for order from 01 August till 04 October 2017. 
YUÈ Mooncake Gift Box
| | |
| --- | --- |
| Baked Skin Flavours | RM168nett per set of 4 |
| Mini Snow Skin Pure Musang King | RM240nett per set of 4 |
Westin Mooncakes can be picked up from Five Sen5es (Level 1) from 01 September 2017 onwards between 10.00am to 10.00pm daily.
Enticing Discounts
Starwood Preferred Guests (SPG) and Beyond Dining members receive 10% discount for YUÈ Mooncake gift box and 15% for Westin Collectibles BLOOM Mooncake gift box during the promotional period.

Free delivery for purchases of 30 boxes and above to one destination within the Klang Valley area.

Bulk purchasers for Westin Collectibles BLOOM Mooncake gift box enjoy:

10% savings for purchasing 25 to 50 boxes

15% savings for purchasing 51 to 100 boxes

20% savings for purchasing 101 to 150 boxes

25% savings for purchasing 151 to 200 boxes

30% savings for purchasing above 201 boxes
*Prices are inclusive of 6% GST and discounts are not accumulative, higher value of discount will be accorded if two or more discounts are applicable.
To book your mooncake gift boxes or for further enquiries, call 03-2773 8338 or email westindining@westin.com