A play date and a birthday pool party
So the school holidays and long weekend has finally come to an end… not. Haha. What supposed to be a long weekend became a longer one with the additional Monday OFF! 
What have we been doing? We did not travel anywhere this time but stayed home and rot thanks to the constant rain in the evening 
The Daddy dropped Ethan off at one of his classmate's house one day for a play date. Ayden and I tagged along.

What do boys do on a play date? They play network games with several other classmates online. Ayden stood there quietly watching them. 
After a while, it was time to get offline and work out some sweat. 
The boys played football, skipped rope, hide and seek and more while Ayden went around on the swayer. 
That was half a day well spent. 
Yesterday, Ethan attended a schoolmate's birthday pool party at The Club, Bandar Utama. 
It was a double celebration as both brothers shared the same birth month. 
The party goodie bags.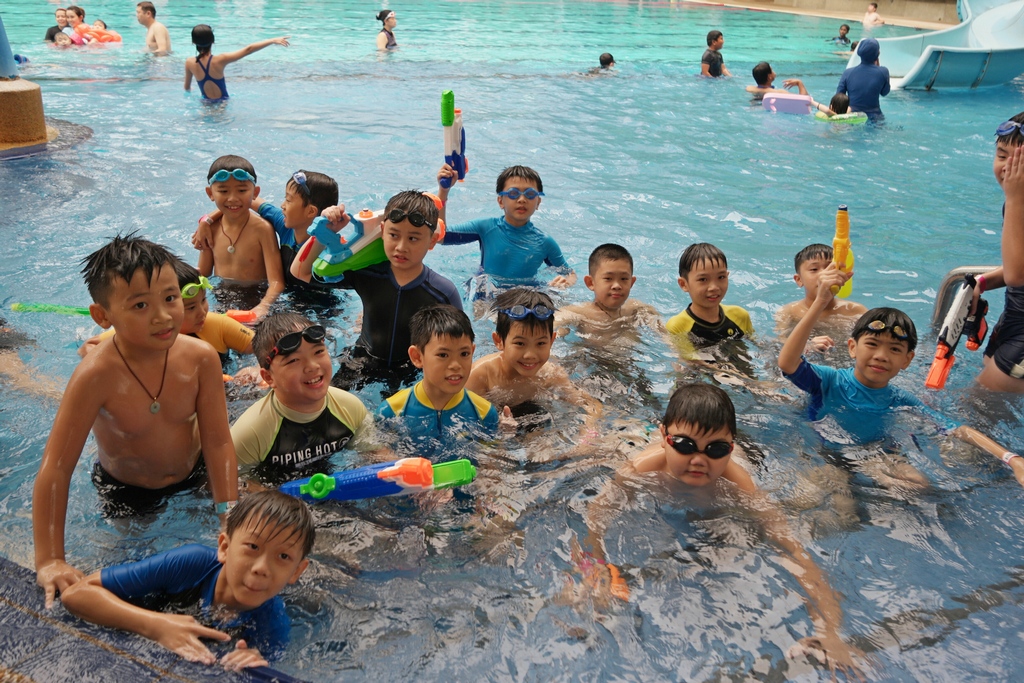 The boys were everywhere but Darling managed to gather them for a photo op. 
Boys dabbing. 
The pool here is pretty cool with lots of equipment. In the picture above is a rotating swing that the boys enjoyed a lot besides the slide. 
Ayden got into the pool too. 
It was drizzling but that did not bother the children at all. They had so much fun in the pool it was tough to get them out for dinner. 
Ethan sat with his friends while we chose to sit outside with Ayden and my cousin.
Yes, my cousin's son is in the same school as Ethan. They are both in Primary 4 but are not in the same class. Ethan doesn't even know he has a cousin studying in the same school as him until we met during one of our cousin's wedding recently 
Ayden was so fascinated with the red egg that he kept asking for them. I felt so guilty la you know coz for their birthdays, I always just boiled eggs for them without colouring them red 
Anyway, it was a great birthday party with lots of good food. The buffet spread was extensive. The boys enjoyed the splash time as well as the games after dinner. It was obvious that a lot of thought and effort has been put into this party. 
The handsome birthday boys. The parents are so going to have a headache when these two grows up into fine young chaps. Such good looking boys will surely attract tonnes of screaming girl fans in the near future 
Related Posts