How to get rid of all that BULUs?
How to remove tissue paper from clothing that was wash together in the washing machine?
Chinese New Year is just around the corner and like as if I'm not busy enough, this had to happen to me! Darling don't normally put his own laundry into the washing machine. The most he'll do is to place them in the laundry basket. But today, the super rajin dude placed his working clothes INSIDE the washing machine. I took it for granted that there are only clothes in the machine and nothing more. I added several more of MY laundry and start the machine…
This must be my worst laundry disaster ever!

When I wanted to hang dry my laundry I found bits of paper all over the clothes! It came from the pocket of Darling's working shirt. First reaction was, 'PANIC!' I said, "Dai! Darling will KILL me!" But then I remembered that it wasn't ME who put his clothes in the machine. It was HIM! Hah!
See my washing area full of paper! I asked Darling what was in his pocket and he said, "No idea!" Let's just hope there wasn't any cheque in there!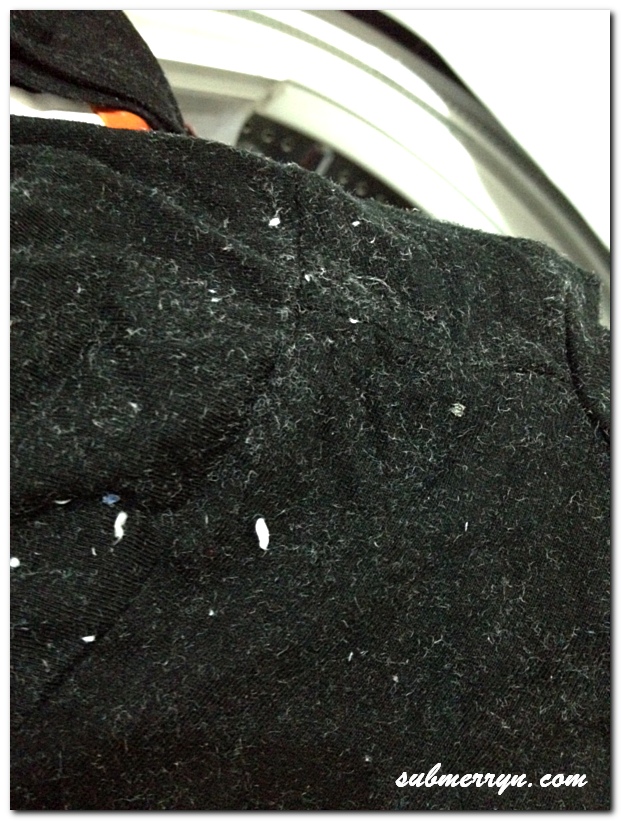 My angriest moment was when my black Angry Bird tee became like that! Remember that Angry Boobs tee he got me recently? Read about it here if you don't :P Darn! Ruin to the max! Where can wear dy? That is only ONE of my ruined apparels. I don't care Darling, you are so gonna replace my wardrobe! >_<
Anyway, Googled for "How to remove tissue paper from clothing that was washed together in the machine" and got some answers:
1) Use a steam iron
2) u can shower off the tissue while the clothes is stil wet. it does the trick without any traces of tissue.
3) Use lint removers, the same that we used to get rid of pets' fur
I tell you ONE thing. I tried all of the above. Nothing works. My black tee is considered a goner.. that's it. Faith has it that I'm too old to be wearing an Angry Bird tee anyway so…
Related Posts
//
//
//
//
//
//
//
//
//
//
//
//
//
//
//
//
//