SnoWalk @ i-City
Living in a tropical climate country, we always longed for winter as that is one thing we can't get here. Due to the boys' desire to experience snow, we brought them to SnoWalk @ i-City recently.

SnoWalk @ i-City
Ticket Counter
Operation Hours: 11am-1am
 

          Before 6 pm

 

 

Adult
Child
Malaysia MyKad

25

20

Non-MyKad

35

30

 

     After 6 pm

 

Malaysia MyKad

35

30

Non-MyKad

40

35
The entrance of SnoWalk.
We were given jackets before entering SnoWalk. Boots and gloves were not provided though. It is recommended to bring your own gloves as it can be really cold in here.
Ayden got a cute little jacket just right for his size.
SnoWalk is literally snow walk. We walked on carpeted walkway to admire the snow displays by our sides. But it gets better as the further we walked in, the carpet disappears and we get to walk on ice.
The ice sculptures can be very slippery though (because they are made of ICE, duh… Merryn can you be a little more intelligent?) so be very careful while posing for photographs. I almost slip onto the camel when I put my foot on the ice sculpture in the above picture. Lesson learnt – do not step on ice sculpture 
Wait, what? Camel? In a winter wonderland? LoL. YES! We were in River Nile that features the great story of Egypt and Pharaoh. Over the Nile River, we can see ice sculptures with the storyline of Egyptians and the kingdom in the arctic winter instead of scorching hot sun. 
It is really cold in here, below 8 degrees Celsius. Without gloves and winter hats, the boys started to get frozen.
It is a good idea to keep warm in the igloo.
Ice slide.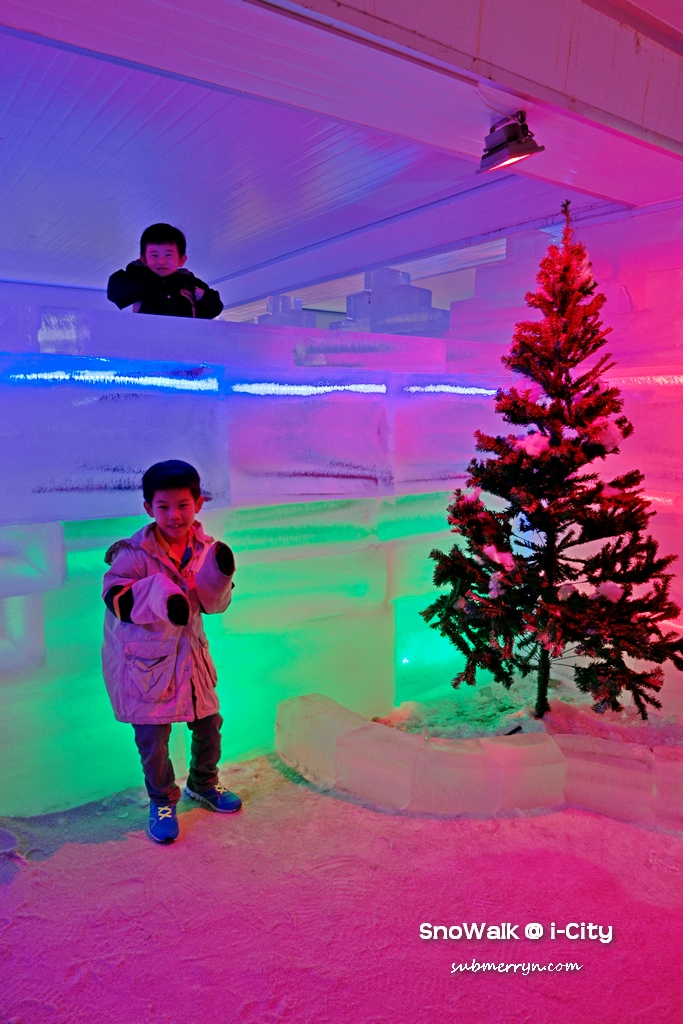 More ice sculptures.
Egypt and Pharaoh
How in the world did these turtles survive this extreme freezing temperature?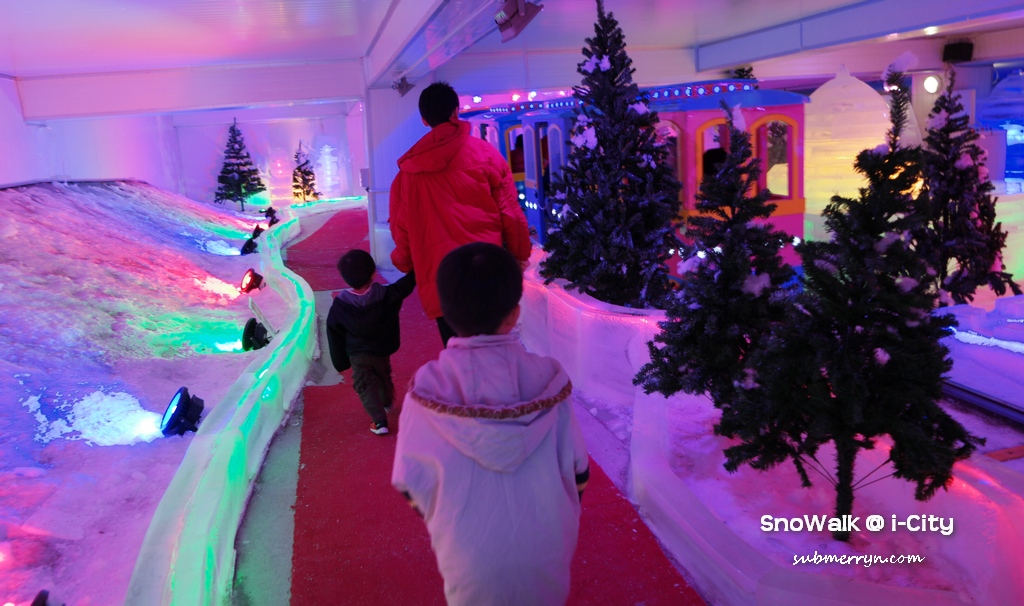 And we are back on the carpeted walkway to board the Polar Express.
Waiting to ride the Polar Express. The Polar Express brought us to a journey to the Arctic to see Eskimos fishing and playing with polar bears.
The boys were intrigue by this man who was building something. They stood there for a while watching him at work but then they got really cold hence we quickly find our way out.
Unlike the Snow World in Genting that has a 40-minutes limit per session, there is no time limit for visitors here in SnoWalk. You can take your time as long as you wish but my little family were in there for less than half an hour as the boys can't stand the cold. It would be great if they could provide gloves and boots just like Snow World Genting. It would make it more bearable in the cold. 
//

//

//

//

//

//

//

//

//

//

//