A Day in I-City
The last time we stepped foot in i-City Shah Alam was in 2012 on the first day opening of their Water World. You can read about our I-City Water World experience here. A month ago, we dropped by i-City again after visiting a friend in Klang and oh boy, the place is so different now.

We are finally here at Red Carpet, Malaysia's first all-stars interactive wax museum.
No, we did not enter as I am afraid of wax figurines. I find them creepy that's why I have not enter any Madame Tussauds wax museum.
Ouch! Why oh why Ethan must you kick Kung Fu Panda down there? That's attacking below the belt weh… 
I like the art here. They magically come to life through our camera lens. 
Ethan mimicking that monkey. Sebiji serupa! Haha!
The above picture is taken outside of the i-City Trick Art Museum.
I saw people walking pass this wall like nothing. Even Darling and Ethan did not notice this until I stopped them and get them to view this 2D painting from the camera. Suddenly all the knives pop out like 3D. 
There's also a new attraction, Itsy Bitsy.
Am extremely colourful place for the kids.
Cute photo ops.
I also noticed a big ferris wheel here in i-City.
I guess it is new too coz it wasn't there the last time I came. 
The rest I guess are same old, same old. I dunno about this dinosaur. I don't think it's new?
Giraffe? Old? New?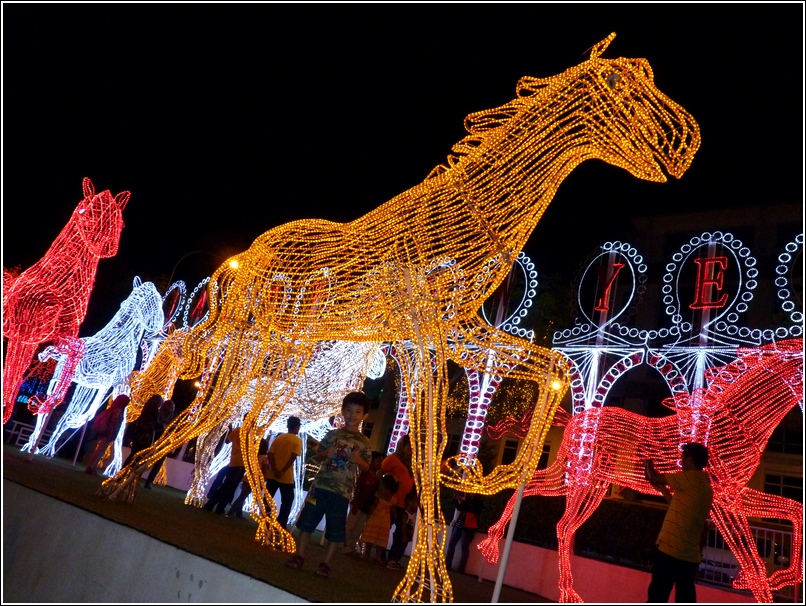 Horses from this year's Chinese New Year.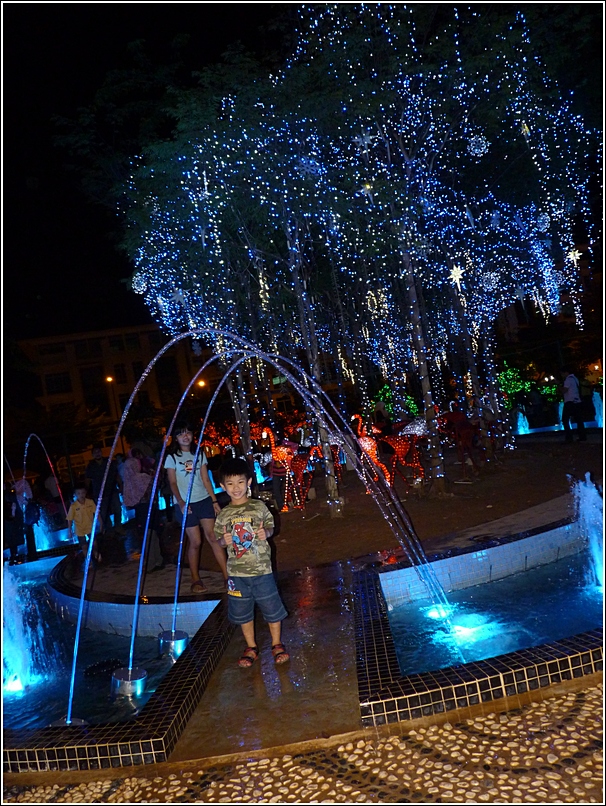 Water fountain is new I think?
Sunflower garden.
Dunno lah new or old. 
Christmas is all year long here in i-City.
These snowmen wont melt :P
Chiak! Say hi to Ayden :D
Do you noticed that there isn't any picture of me? Well, that's because I was busy taking pictures. And then when I get Darling to take a picture of me, this is what happens… 
Tah-dah! Seriously I don't know what happened! Ethan wasn't ready and don't even ask me why I was like that >_<
Like that lah our day in i-City. So many tourist bus parked outside. Am so thankful we live nearby that we don't have to take a tour bus to come here. I haven't been to the i-City Snowalk. Any of you been there? Any good? 
Related Posts