Water World @ i-City
We spent our day off today at the NEW Water World @ i-City.

Water World @i-City admission fee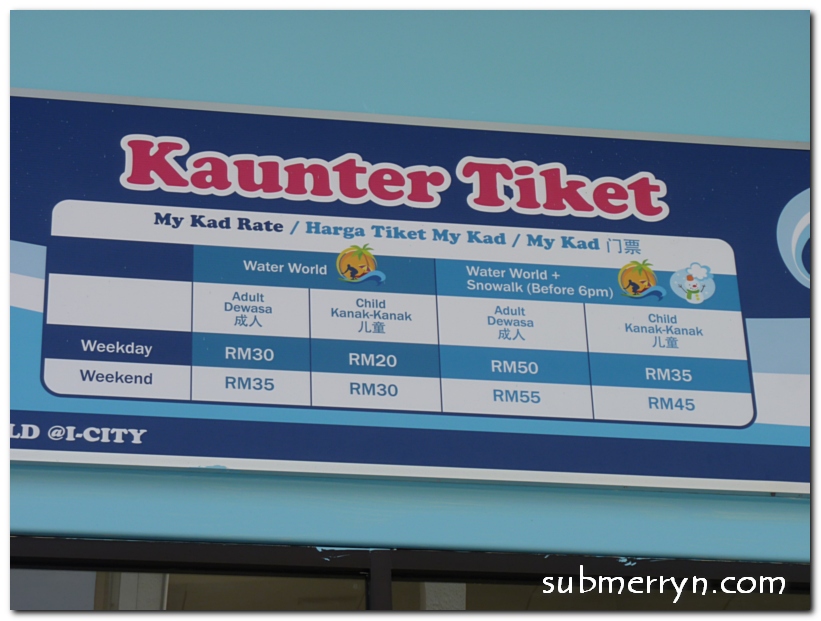 Water World @i-City admission fee for MyKad holders.
First thing first, MUST apply sunblock. Even though it rained in the morning, it was darn hot when we were there in the afternoon.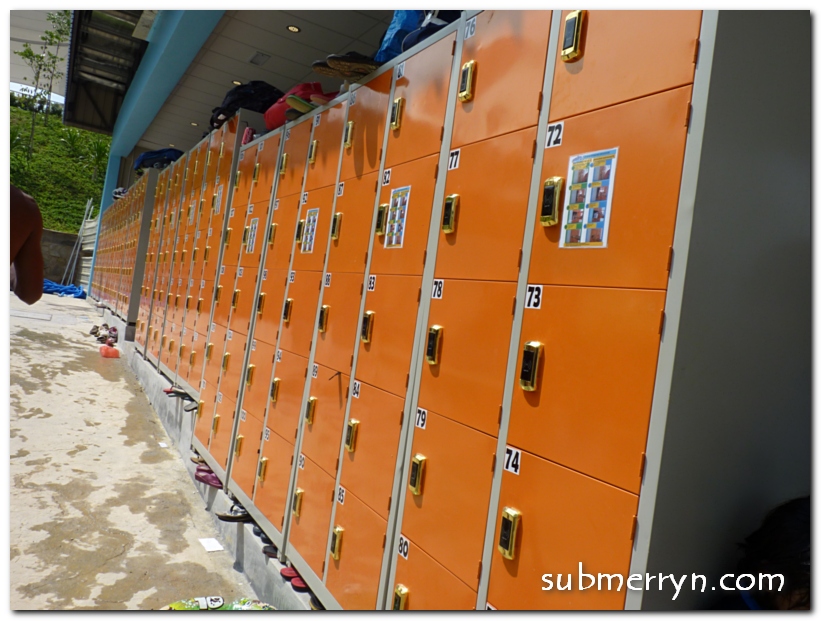 The locker charges here is quite pricey at RM15 that many opt to bring their bags around and dump them by the poolside creating quite a messy scene.
The map of Water World
The attraction here at Water World i-City has got to be the Tornado as it is South East Asia's FIRST Tornado that oscillates 7-storeys down with 28 seconds of adrenaline excitement.
Just look at that man! We can go so HIGH up…
Then down, down, down until we are gobbled up by the water…
The Tornado is the most popular ride here. You have to have 4 pax before you can ride that. So plan your visit properly to make sure you have 3 other crazy friends who'd go for this ride with you!
Ethan's favourite spot in Water World i-City is this Aladdin in Children's Adventure.
He spent most of his time here.
And here..
And here..
He went down this slide countless times..
Before I managed to drag him into the wave pool with me :D
After the wave pool we went to the River Adventure.
Rainbow Racer Slide
There's also a giant jacuzzi and spiral slides that I did not take picture of but basically that's it.
Since this is their FIRST DAY in operation, there are still several flaws that needs polishing such as:
Uneven slide joining
The slides here have uneven joining that if you slide down in your swim wear you'll feel a lil tinge on your bottom. It's okay if you are wearing long pants but for those of us who wore swimwear and shorts, it's a bit uncomfortable. It's not up to the stage that it will cause injuries but I still think that they should fix this before it became a problem.
Dirty water
Because most of the walking surface is cement and this being their first day in operation, the cement and dust have somehow made their way into the water in the pools.
I felt so reluctant to enter the River Adventure when I saw how murky the water is but Ethan insisted so we made a quick trip and out in a jiffy.
The water in Children's Adventure sure did not look good when we were there late afternoon till evening.
Changing Rooms
The changing rooms do not look so nice either. They look rather disgusting even.
They have not even fix the lighting in the powder area and we were forced to wash and powder our face in the dark.
I won't be so critical of them since this is their first day in operation anyway but I do hope they'll look into these matters and work to improve further.
WaterWorld is open from 10.00am-7.00pm on weekdays and 9.00am – 7.00pm on weekends.
By the way, here's the video of the Tornado. If there's one thing, this is the one worth riding!
I'll definitely drop by again some time later to see if they've ironed out the Opening Day hick-ups. 
Check out my post below on other attractions in I-City (click to read more)
Click – Attractions in i-City
//
//
//

//

//

//

//
//
//
//
//
//
//
//
//
//
//
//
//
//
//
//
//

//

//

//

//
//

//

//
//
//
//
//
//