Le Pont Boulangerie @ Bedford Business Park
I am not a very active Instagram user but when I do have the extra time, I like to spend a minute or two browsing through the beautiful, almost picture perfect feed. Lately, I've been seeing a lot of pictures of Le Pont Boulangerie, one of Old Klang Road's new F&B landmarks. Most of them are very artistic. I'm not good in taking artistic pictures hence my infrequent updates on Instagram but there is something about this place that makes me want to explore further. The name itself (that I can't even pronounce correctly) is already very intriguing.
I decided to pay this place a visit but because I'm not a hipster and might find myself 'lost' here, I decided to get my cafe hopping friends Soo Yin and Evelyn to come with me. The pictures you see in this post might look a little different from my usual style as I was trying to 'blend in' with my Insta famous friends >_<

I did my homework before coming here and noticed many Instagrammers posting their selfies with this wall as their backdrop so the first thing I did was to take an OOTD shot of my boys at the exact backdrop :D

The ground floor of Le Pont Boulangerie is where the Bakery is. The moment we entered, the aroma of freshly baked bread teases our sense of smell, at the same time activating our sense of taste and pleases our sense of sight.
The bread and pastries are worth checking out as they are quite unique but I did not get to try any that day as we headed straight upstairs to have dinner. Wanted to get some after dinner but was already too full by then. I did not want to buy and bring home for breakfast the next day as I like my bread to be fresh from the oven so maybe I'll drop by again next time just for the breads.
Coffee is one of Le Pont's forte having 3quartercup coffee bar moved in comfortably with them but since I don't take coffee I decided to order their tea instead.
Mogambo (RM8)
A sip of this tea gives a tangy juicy aroma of the passion fruit and finished with a delightful fruity sensation of the apple.
Fresh Milk (RM7.50)
Ethan and Ayden shared this cup of fresh milk.
Apple Juice (RM12)
Darling was a little under the weather that evening so he ordered apple juice to soothe his throat.
Aioli with Vegetables (RM 9.90)
This is a traditional French way to enjoy seasonal vegetables. Comes with house made pickles and served with Provençal sauce made of garlic, olive oil, egg yolks and seasonings.
Le Pont Mushroom Soup (RM9.90)
Chunky mushroom soup served with their very own house special mushroom toast. The boys enjoyed this rustic, chunky soup full of earthy mushroom flavours.
Tuna Egg Sandwich (RM14.90)
Served with marinated seaweed and farm tomato and garden salad. The fries here comes with a muscular aroma of truffles that you detect from a feet away :D
Fish of the Day (RM26)
Seasonal fish with shellfish stock, rice crisp, spices and vegetable ragout. I forgotten to ask what fish was served that day neither did I get a taste of this as Ethan had this all to himself. He is a fish person just like me but I had spaghetti instead on this particular day. 
Chicken Cordon Bleu (RM31.90)
What could be better then chicken stuffed with ham and melted cheese? A classic French dish though Darling found the chicken to be a little dry for his liking.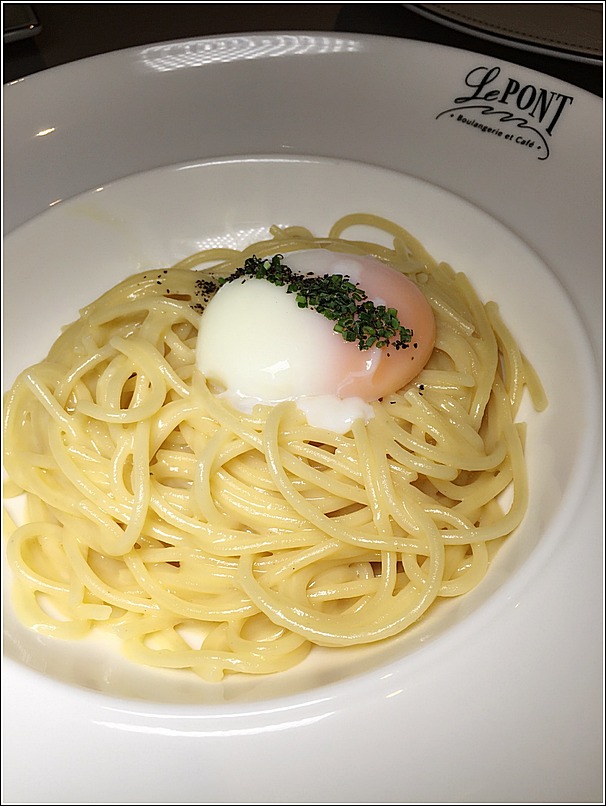 Spaghetti in Parmesan Sauce and Egg Confit (RM17)
Pasta with a cheesy twist. THIS is what got me so excited that evening. If you like your spaghetti to be al dente (cooked to be firm to the bite) for this dish, you'll have to give a special request and they'll inform you of the 15 minutes waiting time but because I'm a mother to two kids, I'm used to eating my pasta soft as the kids doesnt like it to be al dente. I usually cook it for an additional minute or two so it's not too firm but not soggy either and this spaghetti is just how the boys and I like it to be. 
The perfect egg confit sitting on top of the spaghetti drives me crazy.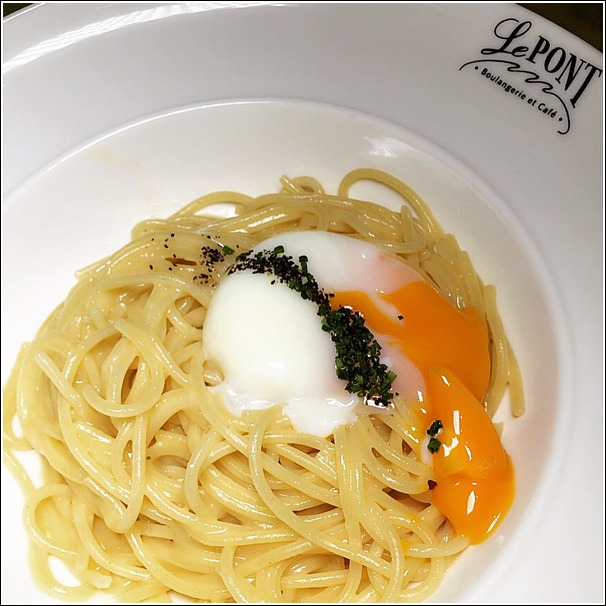 Look at that deliciously gooey, lip smacking bright yellow yolk. Comfort food at its best. All I needed to do was to mix well before consumption.
We shared this Mango Salmono (RM33.80). 
This deeply colored and richly flavored salmon is an excellent match for the tangy and refreshing mango salsa. 
We also shared this Dijon Chicken (RM33.80). 
A new addition to the menu, this dish will be served with sweet potato puree instead of the potato puree we had that evening. Le Pont is new and is still fine tuning their menu. What I like about them is they actually welcome constructive feedbacks to better themselves.
Waffles (RM9.90)
Our dessert is this waffles served with ice-cream, home-made whipped cream, chocolate sauce and mixed berries marmalade. The kids, Darling and I enjoyed the waffle with ice-cream, chocolate sauce and mixed berries marmalade. We did not even touch the whipped cream. I don't know why, I just feel that the whipped cream is not a really necessary addition to this dessert. I really don't mind if they actually omit it altogether. 
Affogato (RM12)
Remember earlier I said I am not a coffee person? Well seriously I am not but for espresso to meet gelato, I readily make an exemption. The affogato here is so good that sharing is not recommended. Premium inhouse made vanilla gelato using fresh vanilla pods soaked with double shots of espresso. 
In fact, I'll come here again just for this and this alone. Okay I bluff. I'll come back here for the affogato AND also the spaghetti with egg confit. These two kept me awake the entire night thinking about them. Maybe it was the caffeine that kept me awake but what the heck, it's really worth a shout out. 
It was empty when we first arrived.
But was running on a full house when we were done with our dinner.
Le Pont Boulangerie & Cafe 
//
//
//
//
//
//
//
//
//