Xenri D'River View Chinese New Year Lou Sang
Remember we had dinner at Xenri not too long ago? We saw that their Yee Sang set will be up soon so I quickly gathered my best pals to try it out. The thing about Lou Sang is the more the merrier and merry we were that fine afternoon as there were 10 of us excited to try out their luxurious Yee Sang.
A row of beautiful bamboos outside Xenri. If you ever have trouble finding a parking spot, just drive over here and they'll open up their private parking area for you.
Xenri D'River View
19, Lorong 4/137c
Bedford Business Park, Kuala Lumpur, Wilayah Persekutuan Kuala Lumpur
03-7783 8118
Yee Sang is an essential dish during Chinese New Year as it symbolises Prosperity, Luck and Wealth. At Xenri, they have not one, not two but THREE types of Yee Sang to choose from.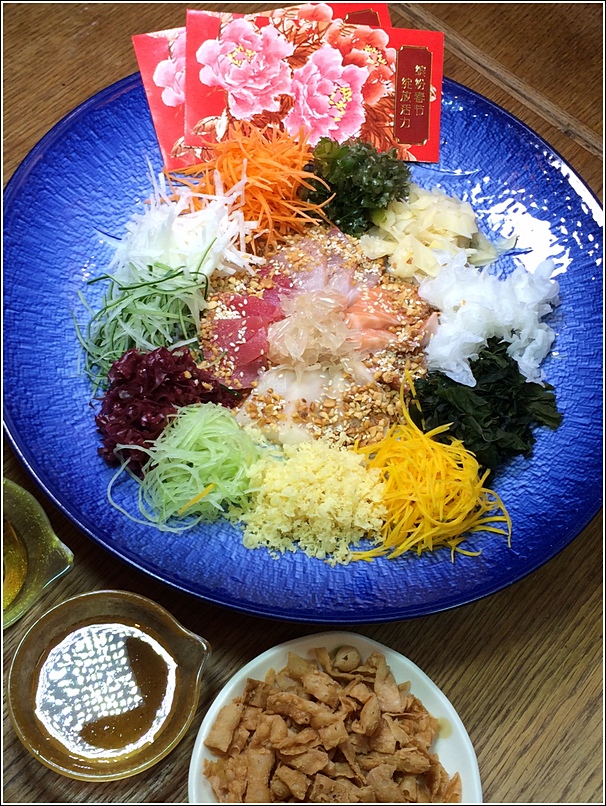 Xenri Premium Yee Sang (RM128)
This is THE yee sang to go for if you want to impress your future in-laws. Yeah, you read me right. Future in-laws. Current in-laws no need to impress already :P Just kidding okay?
Assembled from only the best of ingredients, there are 5 types of fish in this premium yee sang – salmon, butter fish, red tuna, amberjack and jellyfish.
The main ingredients in this luxurious yee sang are the generous servings of 5 fish combo – salmon, butter fish, red tuna, amberjack and jellyfish with a doll-up of pomelo on top. There are at least 3 types of seaweed in the mix of ingredients and that itself makes the yee sang here stands out from the ordinary yee sangs you get from Chinese restaurants.
Okay so maybe you are done impressing your future in-laws and they are now your current in-law. You don't feel like splurging too much on them but you still need to show that YOU are THE best son-in-law. What do you do? You treat them to this Jelly fish and Salmon Yee Sang.
Jelly Fish and Salmon Yee Sang (RM98)
I was very happy to see the fresh and thick slices of salmon and jelly fish gracing the yee sang plate. Most of the ingredients in their yee sang comes from the restaurant's kitchen meaning you get only the best and freshest ingredients and not those pre-packaged stuffs.
Both the Premium and the Jelly Fish & Salmon Yee Sang comes with the Chef's delicious special plum sauce.
Organic Apple Yee Sang (RM68)
Now, what if your future or current in-laws are vegetarian? How do you impress them then? Fret not for Xenri has this special Organic Apply Yee Sang priced at only RM68. A concoction of organic apples, seaweed, carrot, cucumber and more; served with the Chef's special Organic Apply sauce will definitely leave your guests wanting for more.
They say Yee Sang or Lou Sang or Prosperity Toss is a symbol of abundance. The higher you toss, the more abundance of wealth, health and prosperity coming your way for that year. We tossed to 3 types of Yee Sang at one go! I hope we'll be blessed with lots of health and wealth in this year of the Goat :D
Unlike Chinese restaurants where a Lou Sang meal usually comes with a special CNY menu, here at Xenri we order individual meals from their menu.
As usual, when there is Ethan, there is Unagi. Ethan's favourite Unajyu – Grilled Eel in Rice Box (RM42)
I had this Shake Minute Steak To Agedashi Doufu Teishoku or in English, Salmon Minute Steak with Deep-Fried Bean Curd Set at RM34 only. This is definitely very worth it. For just RM34, I get:
Two thick slices of salmon steak.
A delicious cup of silky chawanmushi.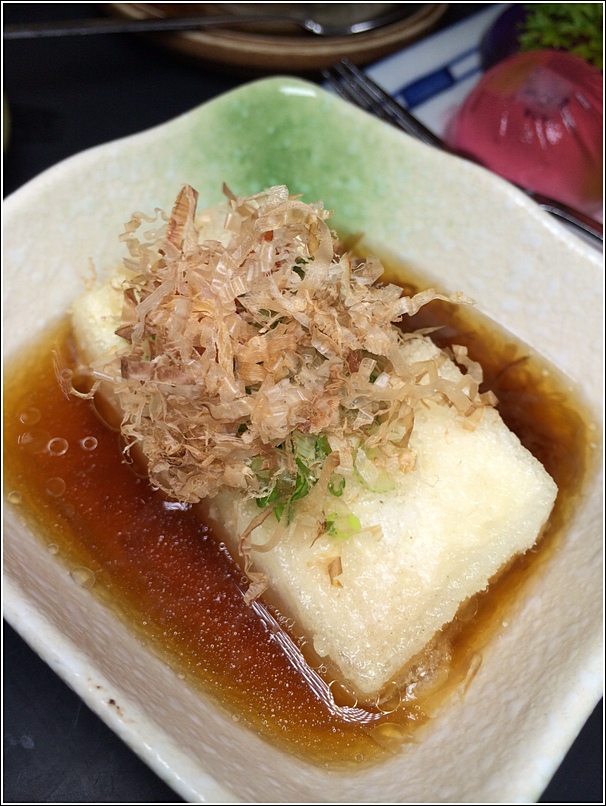 Two slabs of Agedashi Doufu that is steeped in sweet fish sauce that is so yummy.
Miso Soup.
Dessert and not forgetting that bowl of rice.
All those for RM34 only!
Darling had the Teppanyaki Teishoku set at RM34 only too.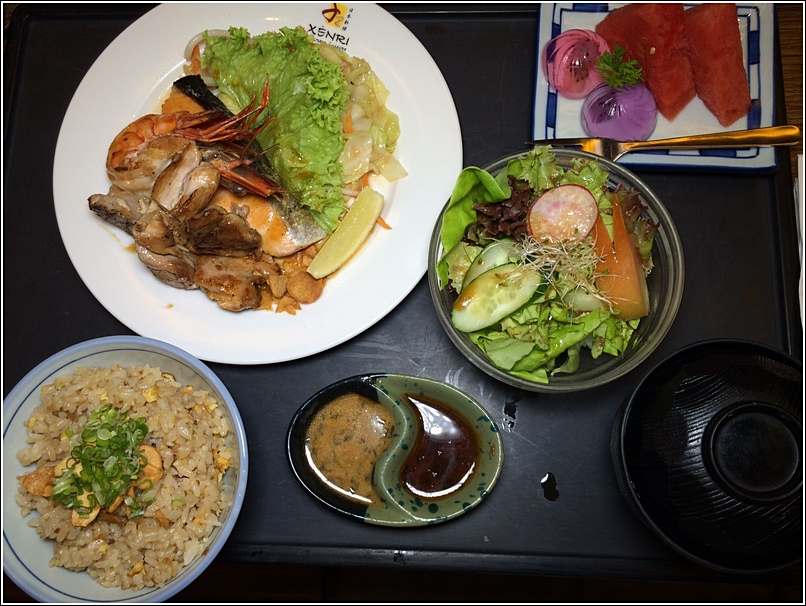 Seafood Teppanyaki (RM34)
An assortment of salmon steak, prawn and also chicken on that plate.
That comes with this bowl of very fragrant and delicious garlic rice.
We also ordered some rolls to share with the rest.
Dragon Maki (RM35)
Sweet barbequed unagi with avocado thrown in to give it that smooth buttery texture making this the perfect combination.
Hawaiian Maki (RM35)
Dynamite breaded giant prawn and mango roll. Your taste buds are sure to explode by this tantalising combination of ocean fresh prawns and fresh juicy mangoes.
What I had next was simply breathtaking, it left me speechless. We ordered this Chef's recommendation Sashimi Platter and this appeared right in front of us.
Meticulously selected to our delight. We were lucky as it was on a Tuesday and these had just flown in an hour earlier. Let's take a look at what we had:
Sayori. The Japanese half beak is a very popular fish in Japan as sashimi or sushi for its clean look. I took a bite of it and it gave me a clean and delightful feel. The flesh was densely packed and firm. Such a pleasure to indulge.
A combo of Hirame (Flounder), Amberjack (kanpachi), Salmon, Shima aji (Striped Horsemackerel).
Can you see how translucent these are? They are so fresh that I refused to share them with the rest. 
Mini Uni. Uni is the edible part of the sea urchin. It is the part of urchin that produces the milt or roe. It was my first time eating this and I did not know what to expect.  I took a piece of this rich gold uni and oh my, it was deliciously creamy and sweet. Darling who is not a fan of sashimi was intrigued to know what I was eating and when I told him he MUST try this, he obliged. Thank goodness he did as he loves it too!
It was definitely a rare treat as Uni is a seasonal item and I guess we were lucky that day to get this at its freshest. 
Akagai. Also known as red clam. It is high in hemoglobin hence the red flesh. Akagai has a deep flavour. It has a nice chewy texture but is soft enough even for diners with dentures. 
With that, we have come to the end of our marvelous lunch. It is always a satisfying experience dining at Xenri. 
They also have pairing option with every purchase of any yee sang. You may choose to pair your yee sang with Queen Adelaide Sparkling Brut or for the non-alcoholic, the 100% natural 1688 Grand Rose will make a good choice.
Related Posts