Tatsu Japanese Cuisine Buffet Dinner
There is a new option available for authentic Japanese dinner on a Saturday night as from 6 August to 26 November 2016, diners will get to indulge in Japanese buffet at InterContinental Kuala Lumpur hotel's award-winning signature restaurant Tatsu Japanese Cuisine. 
Tatsu Japanese Cuisine is a recipient of the Certificate of Excellence award by TripAdvisor and listed by Malaysia Tatler as one of Malaysia's Best Restaurant for exceptional cuisine and service in 2015.

Available every Saturday for dinner until 26 November 2016, the highlight of the buffet is the live teppanyaki cooking with fresh selections of seafood and salmon air-flown twice weekly from Japan, alongside scrumptious medleys such as chicken, prawns and rib eye beef.
Fresh ingredients for the live station teppanyaki.
Just take your pick and the chef will prepare your teppanyaki in minutes.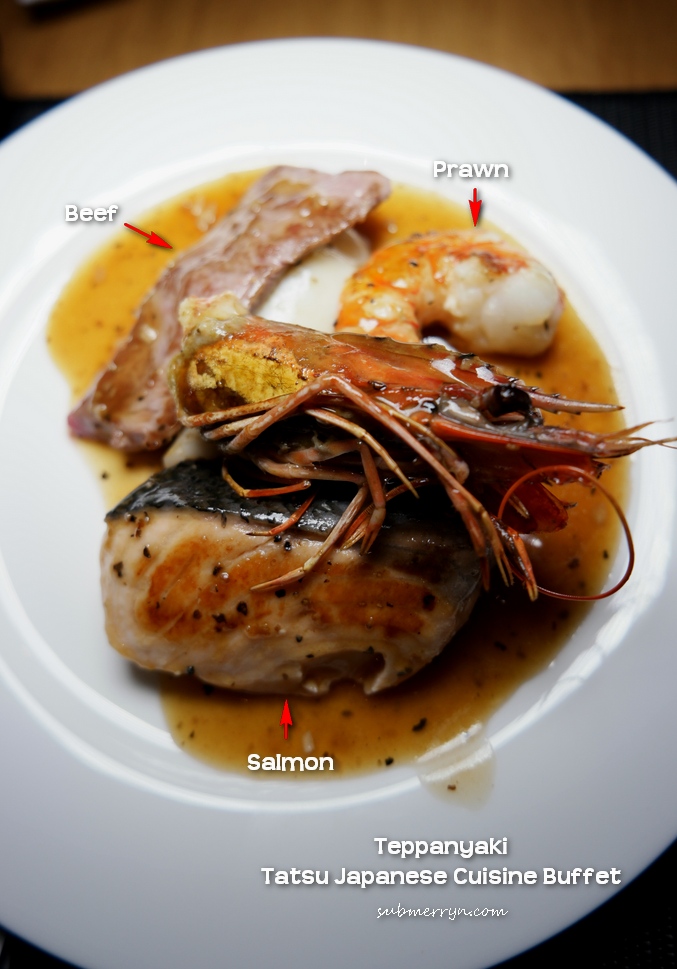 The salmon, prawn and beef are my favourite items from the live teppanyaki station. I had multiple servings of them as they are cooked just the way I like it with the thinly sliced beef steak really brings out the flavour of the meat and is really easy to eat.
Featuring selections personally concocted by Assistant Japanese Chef Tommy Kuan, the enriching gastronomic affair encompass over 75 mouth-watering items and is made up by 7 main selections – appetizer, sashimi, maki, hot items, salad, live station teppanyaki and dessert as well as main course choices cooked fresh to order from the a la minute menu.
Ala minute menu
Handroll from the ala minute menu
Appetizer Selections
Let's start with appetizer selections. There are Chuka Wakame, Chuka Kurage, Chuka Hotate, Chuka Idako, Kiriboshi Daikon, Horenso Ohitashi, Nasu Age (with Goma dressing), Kinoko Ponzu and Hijiki served in individual plates.

Chuka Idako
Seasoned baby octopus is always my favourite and the ones here proves to be just perfect. Seasoned with sweet and rich teriyaki sauce, I just can't have enough of these.
Chuka Kurage
I had multiple servings of this seasoned jellyfish before entering my main course.
Chuka Hotate
The chewy sesame scallop skirt is also in my favourite list of their appetizers.
Assorted sushi
They offer a wide variety of sushi and maki to our delight as these are the boys' main meal whenever we dine Japanese.
Fish roe sushi proves to be everyone's favourite that evening as the Chef works hard to replenish it throughout the night.
Maki selections: Vegetarian maki, california maki, ebi tempura mayo maki, chicken katsu maki and oshinko maki
Sashimi Selections
Fresh selection of assorted sashimi selections: Tuna, Salmon and Butter Fish flown twice weekly from Japan.
As for Salad Selections, there are potato salad, kani mayo, onsen tamago, tofu okaka and green salad to choose from.
My jaw literally dropped onto the table when I saw this onsen tamago salad. These poached eggs are just too perfect, I went crazy! No prize for guessing who ate the most eggs that evening 
Hot Item Selections
Edamame is also a hit with diners.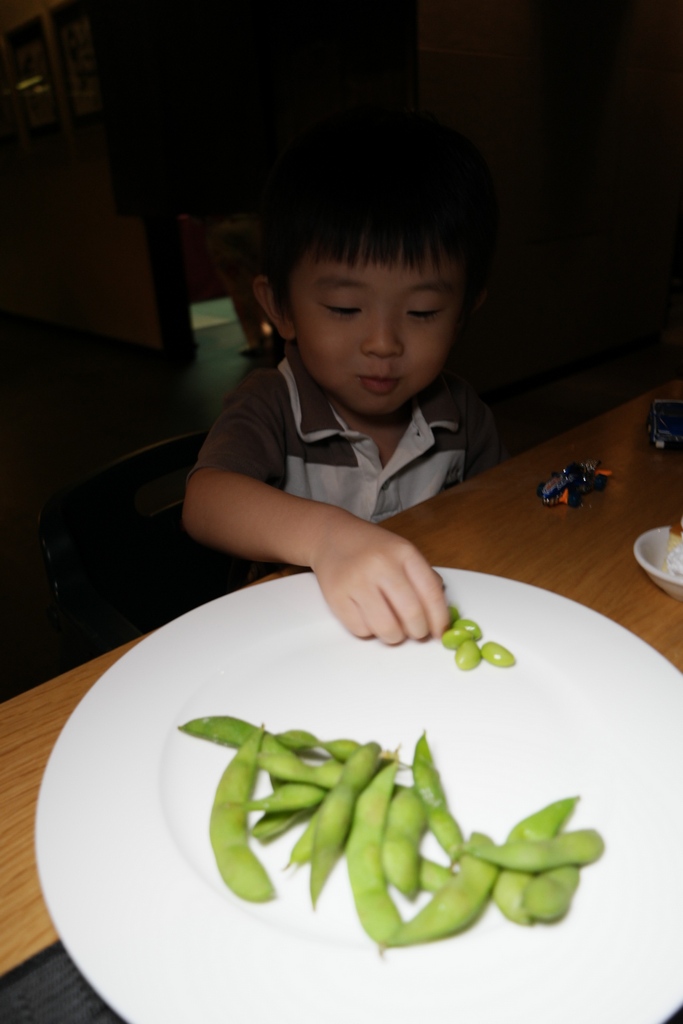 My boys had an enjoyable time feasting on 'bottomless' edamame. They are huge fans of edamame and having these in the buffet spread is such a joy.

Chawan Mushi
Chikuzen-ni
I also find this stew of root vegetables and other ingredients very appealing. It stays tasty even after it has cooled off. 
Oden
The boys love the eggs in the oden. 
We also tried their udon and cold soba. The boys love the fried udon best. 
Desserts
Green Tea Tiramisu
Sacher Cake is sure to delight your sweet tooth with its rich chocolate and apricot preserves. 
Manjū
The manju here caught my eyes as they are made to look like the famous raindrop cake but they are actually a traditional Japanese confection alike to the mochi. 
Our dinner is further enchanted with desserts such as this sweet red bean soup with mochi. 
Assortments of ice cream to keep the kids happy.
Such a beautiful scene seeing the big brother sharing his ice cream with the little one 
We had a lot to eat and best of all the food here is top notch. It was nice dining to quality food in a calming and harmonious dining environment. 
Tatsu Japanese Cuisine Saturday buffet dinner is priced at RM118nett per adult and RM69nett per child (5 to 11 years old)
For reservations, call Tatsu at 03 2782 6118 or email the team at [email protected]