Xenri D'River View
OK this post is not about me selling Elken products but coincidentally I was at Wisma Elken to meet up a friend who was there to collect something. It was late evening by the time I arrived there so we decided to have dinner nearby. It was just several days into the new year 2015 and we thought we should 'eat big' to start our year with abundance so we made our way to Xenri (located just at the corner of Wisma Elken) for a hearty Japanese cuisine.

Xenri D'River View
19, Lorong 4/137c
Bedford Business Park, Kuala Lumpur, Wilayah Persekutuan Kuala Lumpur
03-7783 8118
It has been quite some time since we last dine Japanese but Ethan still remembers that his favourite is always Unagi so we ordered the Unagi and Agedashi Doufu Zen set. I don't know what Agedashi Doufu means but I assume it is toufu? LoL! I am not a Japanese, so pardon me for my ignorance >_< What is most important is that it has Unagi in it :P
All four of us were served this plate of appetizer each before our meal is sent to our table. 
Ethan's Unagi and Agedashi Doufu Zen set (RM55)
The set comes with two huge slabs of Unagi (eel); grilled and brushed with a thick and sweet sauce giving it that lovely glossy shine. I can't believe Ethan actually ate all without sharing a single bite with me or the Daddy -.-
Chawanmushi. Egg custard steamed to perfection in a tea cup. The chawanmushi here is very good I must say. The tender egg custard is silky smooth with a very pleasing aroma. One of the best chawanmushi I've ever eaten. Oh by the way, Ethan did not share his chawanmushi with us too as we got a cup each from our sets as well.
Hah! This is Agedashi Doufu. I did my research so let me tell you what it is :P It is soft tofu coated with potato starch or cornstarch and deep fried until golden so that the outer shell is crispy. This is the Japanese way to serve hot tofu. It is then steeped in sweet fish sauce that is oh so flavourful. Yums!
Miso soup. Sorry. Bad photography. Ayden kept us all busy that evening that I did not even have time to scoop out whatever inside the soup to take a good pic :(
Ethan's refreshing fruit platter that comes with his Unagi set.
Now, let's take a look at what I had. Darling and I ordered their Special Set. It is called 'special set' because I actually leave it to the Chef to surprise me with what he thinks is best for that day. At just RM80 per special set, the Chef prepared all of these for us:
Meltique Teppanyaki Beef Special Set for me.
Meltique Beef Teppanyaki
You get Meltique Beef when soluble oil is inserted into lean meat cuts to give it more marbling. This is to ensure that all the natural juices are retained so the full flavour profile and tenderness of the beef is consistently delivered. What this means is that I get tender, buttery and "melt in your mouth" quality with every single bite. Too bad Darling does not eat beef for this is really good I wish he could have sampled it.
Sashimi. Choices of the freshest Butterfly Fish, Salmon and Tuna. I ate them all! I know we are not supposed to mix the wasabi into the soy sauce but I did it anyway. The correct way is to place some wasabi onto your sashimi and dip the other end into the soy sauce and eat it but ok, can I use Ayden as an excuse again? I need to eat fast so I just mix the wasabi into the soy sauce and drown dip my fish in them. The wasabi here is strong and I love it! I like it strong :D
My chawanmushi. As I've mentioned earlier, the chawanmushi here is of exceptional quality. One of the best!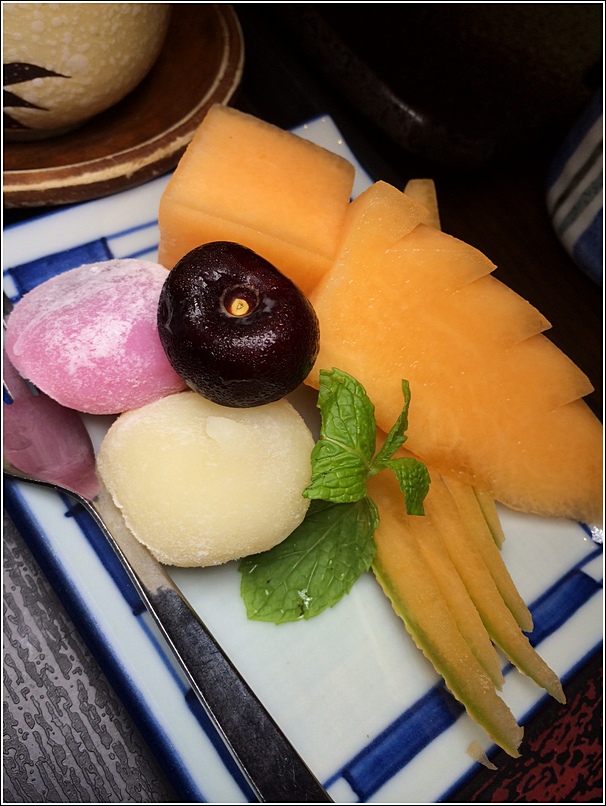 My mochi and fruits. My set comes with Miso Soup and a bowl of rice too but I forgotten to take pictures of those. Too happy eating lah. My friend actually sounded me for taking pictures before eating. He said some of these food especially the sashimi and chawanmushi are best eaten as soon as they are served but there I was, happily clicking away. Now he knows what it feels like dining with a blogger :P
Now let's take a look at Darling's Saba Rikkyuyaki Special Set.
Saba (mackerel) is a highly recommended oily fish for a healthy diet as it is rich in essential oils, vitamins, minerals and Omega fatty acids.
I took a bite of Darling's saba and fell in love with the special seasoning sauce made of Japanese rice wine. It is slightly sweet and bursting with flavour. I even 'stole' some sauce to pour over my rice :P
Darling's set also comes with tempura. I spotted vegetables and soft shell crab in there. The rest of the items in Darling's set are miso soup, rice, mochi and fruit dessert (same as mine).
While Darling, Ethan and I had their set meals, my friend ordered a Mini-Kaiseki for himself. The mini-kaiseki here is a 6-Course Japanese Meal. Kaiseki is a sophisticated cuisine. It is known for its meticulous preparation and beautiful presentation. It can also be an expensive experience if you take the full Kaiseki as meals can have up to 14 courses. I would love to have the Kaiseki experience had I not bring Ayden along because with a 16 month old toddler, it is quite impossible to sit, relax and enjoy our food at a slow pace. 
The Mini-Kaiseki (RM78) started off with an appetizer:
Sakizuke 
Appetiser. Bite-sized cold tofu served on a bed of crushed ice.
Mukozuke 
Seasonal sashimi. The butterfly fish, tuna and salmon sashimi is also served on a bed of crushed ice. 
Chicken Goubo
This is boneless chicken with goubo in the middle. What happened was my friend gave me a piece of this chicken to try and I ate it leaving that middle part on my plate untouched. My friend asked me why did I not eat that and I gave him a funny look as if asking, "You are asking me to eat the bone?" And then he told me that it is not a bone but goubo, a type of vegetable. OMG! I tell you! I wanted to dig a hole and burry my head in it there and then! >_<
Unagi Yanagawa
Braised eel with burdock. 
Kamameshi Unagi
His main meal is this grilled eel in a rice box. 
He scooped out some for me to eat. It's like claypot rice where the crustier and smokier it is, the better it gets? Same goes for this. Can you see the crust in the previous picture above? 
Matcha Ice Cream with Azuki Beans
He finished off his Mini-Kaiseki meal with this green tea ice-cream with red bean topping. 
Oh yeah, besides our set meals and my friend's mini-kaiseki, we ordered two ala carte dishes for us to share. We just had to try this tuna jaw as it is their latest promotion and everybody is raving about it. 
Maguro Kama (RM80). I love tuna for the layer of fat under its leathery skin. This part of the tuna (the jaw) is very soft and melts in the mouth. Ooh la la. 
Sakana Mori Tataki (RM40)
Mixed fishes (butterfly fish, tuna and salmon) seared and served with organic apple dressing. The apple dressing is really very appetizing. I enjoy bathing my fish in them, soaking it to the fullest before savoring them. 
We enjoyed our dinner and catch-up with my friend very much that evening but this Ayden kept wanting to get down from his high chair because there is something that attracted him from the very moment he stepped into this very zen feel place…
The koi fish. Ayden loves looking at them. 
I like this place. I love the ambiance, the food and also because there is always a parking spot available for their customers. Just drive to the front and they'll park your car for you. I saw that they are going to serve CNY lou-sang too so I'm thinking of going back there to try. But first, I need to gather enough friends 'coz it won't be fun lou-sang-ing with just Darling, Ethan, Ayden and I. 
Related Posts
//

//

//
//

//

//

//

//

//

//

//

//

//

//

//

//

//