Ramadhan Buffet @ Frontera Sol of Mexico
One thing I love about being in Malaysia is the abundance of food and their endless variety. This Ramadhan, we decided to try something different and join our Muslim friends in breaking of fast at Frontera Sol of Mexico. Frontera Sol of Mexico at Jaya One is serving Tex-Mex buffet for buka puasa. 
Frontera Sol of Mexico
83-G.2, Block E, The Square, Jaya One,
72A, Jalan University, 46200 Petaling Jaya, Selangor
Buffet Period: 29 June – 25 July 2014
GPS Coordinates: 3.1183, 101.6358
Just like our Muslim friends, we started our dinner with delicious sweet dates and ice lemon tea. After a day of fasting, the free-flow Ice Lemon tea is a refreshing treat to quench one's thirst.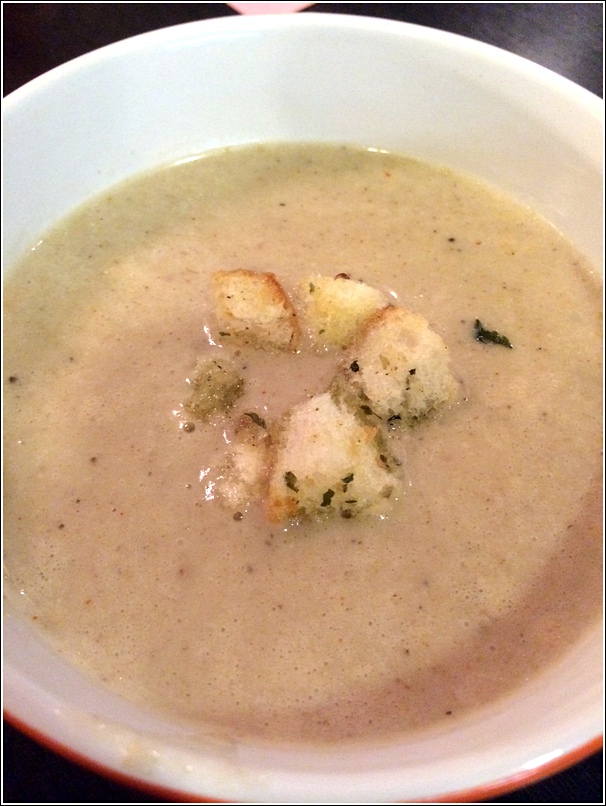 Mushroom & Chipotle Soup with Homemade Herbed Croutons
I love their mushroom soup. Unlike the usual mushroom soup that can be a little bland at times, the mushroom soup here has that special spice to it. I was told this is due to the Chipotle (Mexican hot chili pepper) that everyone is raving about. 
We took our sweet time to enjoy their starter meals. In fact, we took so long that we were already quite full by the time it is time to make our pick for the main meal! LoL!
Starter: Beef Taquitos with Salsa Verde & Sour Cream, BBQ Wing with Cilantro Ranch Dressing,  Baked Potatoes with Parmesan Cheese and Mexican Rice
Ethan first learned about Tacos from watching Turbo. 
Dos Bros Tacos in Turbo. Ethan has been curious about tacos since then. He finally gets to eat tacos here at Frontera!

Carne Asada Taco (beef)
Yutacan Prawn Taco
He particularly loves the prawn taco as those fresh prawns kept popping in his mouth. It is also worth mentioning that they are pretty generous with the ingredients. 
Our tummies are now nicely warmed-up and ready for the main meal. We made our selection from the 12 mouth-watering options.
Frontera Sol of Mexico's main course menu.
Darling's BBQ Chicken, Mushroom & Chicken Burger
My Chili Cheese Burger
Our burgers are served with jalapeno coleslaw. I forgotten to take a picture of that but you can see it in the picture below (in that cute bowl).
Darling and Ethan digging into their main course. Notice Ethan's Turbo on the table? Tsk tsk… 
Next is dessert time. There are 6 desserts for us to sink our sweet tooth into but I only have pictures of 3 of them as Ayden kept me busy that evening. 
Banana, Chocolate & Marshmallow Chimichanga
Mexican Flan
Fruita De Crema.
At just RM50++ for adult and RM30++ for kids (4 to 12 years old) this has got to be one of the most reasonably priced buka puasa meal I've had. Kids below 4yo eat for free. For every group of 8 pax, 1 dine for free (e.g. 7 pay, 1 free). Reservations is a MUST. 
To make a reservation, call Ramesh at 03-79588515 or 012-2928096 
Prayer room is available.