Buka Puasa Buffet Dinner at Serena, InterContinental Kuala Lumpur
Culturally rich in heritage, Malaysia's united identity shines in its cuisine as traditional flavours from different backgrounds blend together to create dishes we love.
In light of this, InterContinental Kuala Lumpur celebrates the different palates with a truly Malaysian feast at Serena Brasserie throughout this holy month of Ramadan.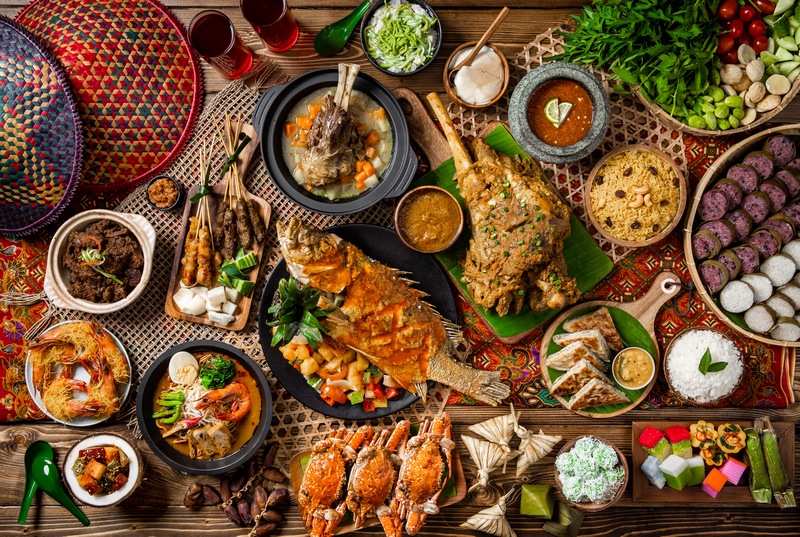 Themed, "Warisan Tradisi di Serena" the culinary team have combined their treasured family recipes and expertise to present a spread of childhood favourites that takes diners on a journey down memory lane with classics such as Roti Canai, Ice Cream Potong, Tau Foo Fa, Murtabak and many more.
Ikan Merah Tiga Rasa Pak Cik Mortaza
A dish close to his heart and one that is prepared with love Chef Mortaza's three flavoured Red Snapper infuses sweet, sour and spicy tastes for a deliciously tangy dish. Paired with fresh ingredients including tomatoes, pineapples and capsicum, the fried fish dish strikes a nostalgic note to his childhood days where many memories were made with this family favourite dish.
Uncle Wong's Stir Fried Tiger Prawn with Butter Sauce and Egg Floss
Beginning his culinary journey in a local restaurant the first dish Chef Wong mastered was Stir-Fried Tiger Prawn with
Butter Sauce and Egg Floss.
Not an easy feat, the egg yolks are carefully stirred into hot oil until they turn golden brown, all while ensuring they do not burn. This dish is perfect combination of fresh Tiger Prawns; savoury with sweetness of the butter sauce.
Kibas Bakar Pak Cik Yusof
Kibas Bakar, lamb that is slow roasted over charcoal, was a staple in Chef Yusof's village. Savoured for special occasions.
Kibas Bakar continues to be a much-loved dish as its succulent meat and crisp skin is a treat during the festivities.
Marinated overnight with aromatic spices, Chef Yusof's special marinade is continuously basted over the lamb to ensure every bite tantalises the taste buds.
Chef Roy's Roti Canai and Murtabak
A true local favourite and definitely a staple for some, Chef Roy's first dish was the popular toasted flatbread.
His variation features an unconventional shot of Sprite in the dough to provide that enjoyable golden-brown crispiness. A local favourite and found at various open stalls, Roti Canai is often coupled with various curries or Dhal. The Murtabak uses the same Roti Canai dough, except stuffed with savoury mix of eggs, meat, onions and spices.
Sup Kawah Gear Box Pak Cik Fakrul
Malay version of Lamb Shank soup, Chef Fakrul learnt to cook this rich and hearty soup from his mother.
Boiled over low heat with cinnamon, star anise, and other Malay herbs, he includes a secret ingredient to elevate the flavour, as taught by his mother. The meat is then slow-cooked to ensure a tender, fall-off-the-bone texture that melts in your mouth as you savour this delicacy. A must-have here at Serena.
Uncle Chan's Ice Cream Potong
Ice Cream Potong is one of Chef Chan favourite dessert. According to him, he and his mother enjoy dessert very much.
He still remember when he was younger, they will visit the night market during the weekends and they will have Ice Cream Potong together. In the olden days, Ice Cream Potong came in large blocks and was cut into small shapes and
served in a slice of bread. Chef Chan's favourite is red bean whilst his mother loves sweet corn.
Aunty Sze Wei's Homemade Tau Foo Fah
A soft tofu that is submerged into a sweet syrup, this local favourite dessert resonates with many Malaysian childhoods, including Chef Sze Wei who used to help her grandmother to sell her popular Tau Foo Fah at the market. Tender, silky and smooth, Chef Sze Wei adds ginger syrup to enhance the taste of the ordinary palm sugar, making it the perfect treat to cool of your body during the hot weather.
Rojak Buah Pak Amin
Rojak, which means mixture, is commonly a teatime dish that mixes different fruits with a tangy, peanut sauce. Chef Amin's Rojak principle is simple. A good Rojak sauce consists of prawn paste, sugar, roasted peanuts and chilli paste while an additional sprinkle of freshly roasted peanuts is the final touch to ensure a tasty Rojak.
Roti John Shawarma
The extensive spread also spans eight action stations with à la minute specials prepared on the spot including Roti John Shawarma, Tandoori, Rojak, and Kibas Bakaer.
Other stations include grilled station, featuring seafood, Lamb Shoulder and Beef Steak, deep-fried station and a dessert station serving Ice Cream Potong, Cendol and Ice Kacang.
Meanwhile, the buffet also boasts generous servings of Malay appetizers and ocean-fresh seafood such as Slipper Lobsters, Oysters, Scallops and Mussels The Indian corner features Chicken Tandoori, Lamb Biryani, Fish Head Aloo Ghobi and Jinga Korma Prawn.
Fans of Oriental cuisine can look forward to Wok Fried Crab with Kam Heong Sauce, Kung Poh Chicken and many more!
For desserts, diners will definitely be spoilt for choice with delectable items ranging from Western-style desserts such as chocolate fountain, assorted cakes and local Malay pastries such as Kuih Talam, Onde-Onde, Kuih Lapis and Cookies
Warisan Tradisi di Serena Buffet will be available from 6 May 4 June 2019, priced at RM 188 (Adult) and RM 69 (Child) for weekdays, and RM 158 (Adult) and RM 55 (Child) for weekends.
For reservations or more information, please call +603 2782 6168 or email to [email protected]