Stir Fried Green Beans in Belacan (Shrimp Paste) Recipe
My mother fries wicked 'bawang belacan' veges such as Pucuk Ubi Bawang Belacan and Ladies Finger (Okra) Bawang Belacan. She calls it bawang belacan as the ingredients calls for shallots (bawang), shrimp paste (belacan) and also chili. 
When Ethan was younger, he does not take spicy food hence all the veges are stir fried with only garlic or with the added oyster sauce. Now that he is turning 6 in 3 months time, he is starting to acquire the liking for a little spice in his food. 
Taking the risk of him not liking this dish, I went ahead and cook it tonight. We just got home from grocery shopping and I went straight to the kitchen to dish this out.
I used belacan given by my mother though. I don't like those belacan granules sold in the supermarket. My mother's source is the BEST but don't ask me where she gets it from as I have no idea!
Stir fried Long Beans in Belacan (Shrimp Paste)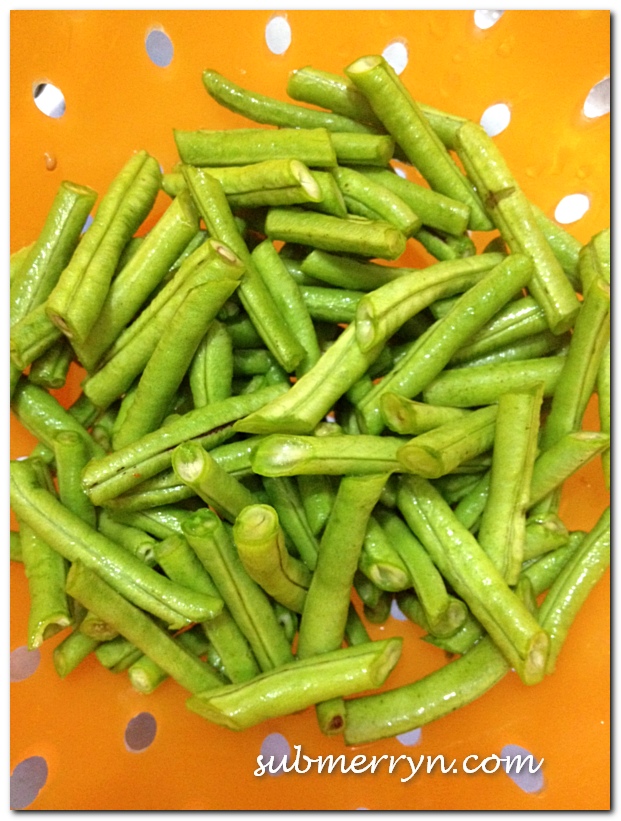 Wash and cut long beans diagonally.
Shelled and deveined prawns.
Marinate prawns with a dash of pepper, soy sauce and sugar or if you are a lazy bum like me, you can just marinate them with pepper and oyster sauce.
Method:
Pound shallots, garlic and chili. Add belacan last until it formed a nice paste.
Heat oil in a wok. 
Stir-fry the prawns for 15 seconds and remove. 
Saute the pounded paste until fragrant. 
Add long beans.
Stir-fry until soften. 
Add the prawns again and stir-fry for another half a minute. 
Transfer into serving plate. 
If you noticed, I don't use much chili as Ethan will be eating this and I don't want it to be too spicy for him. I'm glad that he loves it and even asked me to fry this again tomorrow! I'm thinking to add in a little bit more of chili tomorrow to see if he can tolerate the next level… Hmm.. *evil smile*
Related Posts