Kampar Claypot Chicken Rice Recipe
Last week during the one week school holidays, I was on a cooking spree. I tried loads of new recipes. One of them was this Kampar Claypot Chicken Rice by Debbie Teoh. I watched her YouTube tutorial and it looked so easy, with most of the ingredients not being too fancy that I have all of them in my kitchen at all times (except the claypot >_<)

Chicken marinate ingredients:
1) 500 grams chicken whole leg cut into bite pieces
2) 1 teaspoon salt
3) 1 teaspoon sesame oil
4) 1 tablespoon oyster sauce
5) 1/4 teaspoon dark soya sauce
6) 1/4 teaspoon pepper
7) 1 teaspoon sgar
8) 1 teaspoon cornflour
9) 1 tablespoon ginger juice


Mix them all together in a bowl and let it marinate for at least half an hour in the refrigerator.
For the rice
1) 300 grams of rice (washed until water runs clear)
2) 420ml water
Simmer for about 10 minutes.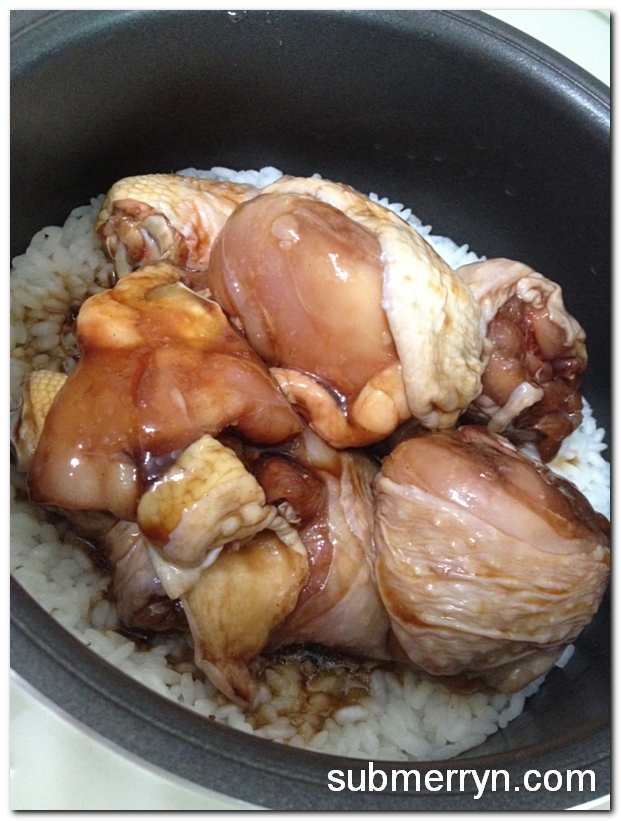 While the rice is cooking, mix up the drizzling sauce.
Drizzling sauce ingredients:
1) 1 tablespoon oyster sauce
2) 1/2 tablespoon dark soy sauce
3) 1 tablespoon light soy sauce
4) 1 teaspoon sesame oil
5) 2 tablespoon hot water
Once rice is cooked, add in marinated chicken. You may add salted fish and chinese sausages if you want. Pour some of the drizzling sauce and cover. Lower the heat and leave it for another 10 to 15 minutes. Do not open the lid right now. 

The claypot chicken rice is now done.
I cheated and used rice cooker instead of a claypot as I don't have a claypot at home yet. Now that I know this recipe rocks and both Darling and Ethan love it to bits, I'll definitely go and get a good claypot soon as I want to see how much more fragrant can it get using a genuine claypot :D
I served the claypot chicken rice with freshly blanched beansprout. Recipe here.
I got a feeling I'll be dishing this out really often during the weekends in the future :)
//

//

//
//

//

//

//

//
//
//
//

//

//
//

//