New Lobby at Theme Park Hotel | Resorts World Genting
There are seven hotels at Resorts World Genting and whilst each one has its own unique quality, the Theme Park Hotel definitely stands out amongst them. The Theme Park Hotel is aptly named as it is a mere stone's throw away from the upcoming Twentieth Century Fox Malaysia Theme Park. 
Guest will be transported to a different world at the Theme Park Hotel at Resorts World Genting which is ultimate family-friendly accommodation.
THE LOBBY
Forget the stereotypical look of hotel lobbies with chandeliers and tinkling fountains.
Guests will immediately feel the difference upon stepping into the hotel lobby which is splendidly decked out in massive trees that reach all the way up to the ceiling and seem to be lost amongst the 'clouds'.
There is no check-in counter quite like this one as visitors will encounter a life-sized hot air balloon draped in vines that looks like it drifted away and came to find its home in the middle of the forest that is so high it hits the roof.
Miniature grassy slopes cover the hotel lobby where children can be seen gamboling merrily and sliding down the 'hills'.
Parents watching over their frolicking little ones can take a seat in one of the four 'monkey cups' to enjoy a tranquil view of the surrounding rainforest and the Talking Gardens.
Every meticulously decorated corner is a selfie opportunity from the bright green slopes to the tiny model of the mountains, a nod to the highlands itself.
For the adults, it's the perfect place to reencounter the nostalgia of their childhoods whilst kids will be over-the-moon to explore the fun areas of the hotel.
THE ROOMS
The hotel has 456 rooms spanning 8 floors throughout the Main Wing and the Valley Wing.
We stayed at the Valley Wing. 
The corridor linking the two wings of the hotel features a floor with a hopscotch pattern on it so kids can indulge in exuberant play.
The quirky and playful décor is further expanded on the other areas of the hotel.
The television set is hung on brackets, with artwork around it to make it seem that it is enclosed in a TV cabinet.
Line art and cartoons abound around the property.
Directional signs around the hotel are all 'handwritten'.
The beds are the central feature of the rooms. Most rooms now feature a built in, Tatami-style raised platform on which are two queen sized beds which can comfortably hold four guests in the Quads rooms.
The raised sleeping platforms also serve as storage spaces. Compartments in the platforms are used to store luggage, while room safes are also built into the drawer space.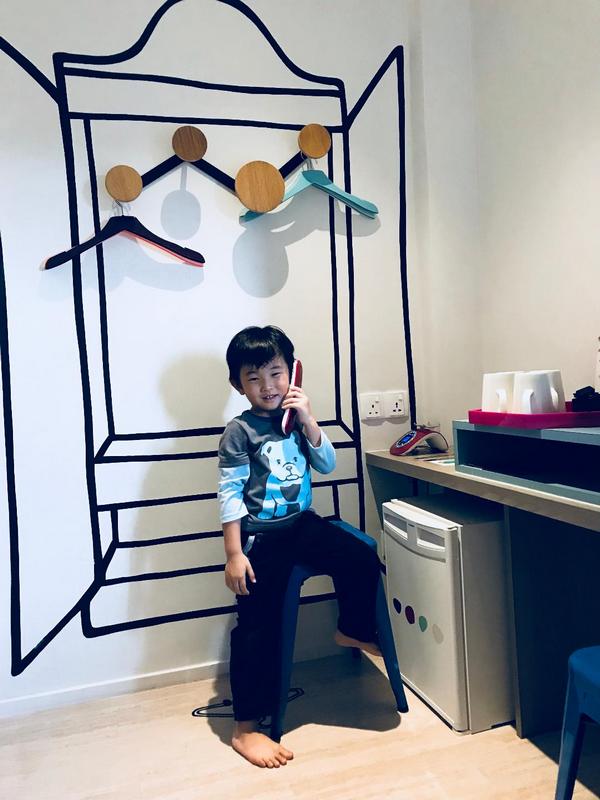 Clothes are hung on knobs around which artists have drawn outlines of closets.
Adorable hand drawn designs in white paint on blackout roller blinds.
Watch this video of our stay in this ultimate family-friendly hotel up in the mountain: