Creamy Durian Seafood @ Just Seafood, Sunway Giza
There is this one place I have been wanting to dine at for quite some time but never got the chance as it will only be fun to dine in a group as the meal I am eyeing for is having seafood laid out with us eating straight from the table.
Just Seafood
A-9-G, Sunway Giza Mall,
Jalan PJU 5/14,
Dataran Sunway,
47810 Kota Damansara,
Petaling Jaya,
Malaysia
012-229 0855
FB: JustSeafoodMY
I finally got my chance today as my friend Rachel called for a gathering here to try out Just Seafood's latest item on the menu – Creamy Durian Seafood. There were about 14 of us so that explains the amount of food you are about to see.
Imagine eating seafood drenched in durian based sauce. Sounds strange? I was sceptical too initially but it smells so good! Fragrant durian aroma filled the air the moment they poured the seafood on our table.
Oh, I also love that they used a huge bowl instead of a giant plastic bag to transfer the freshly cooked seafood from their kitchen wok to our table. The seafood is cooked in a wok in the kitchen and the sauce is mixed thoroughly there before transferring to our table to ensure every single piece of seafood is thoroughly coated with their sinfully delicious sauce.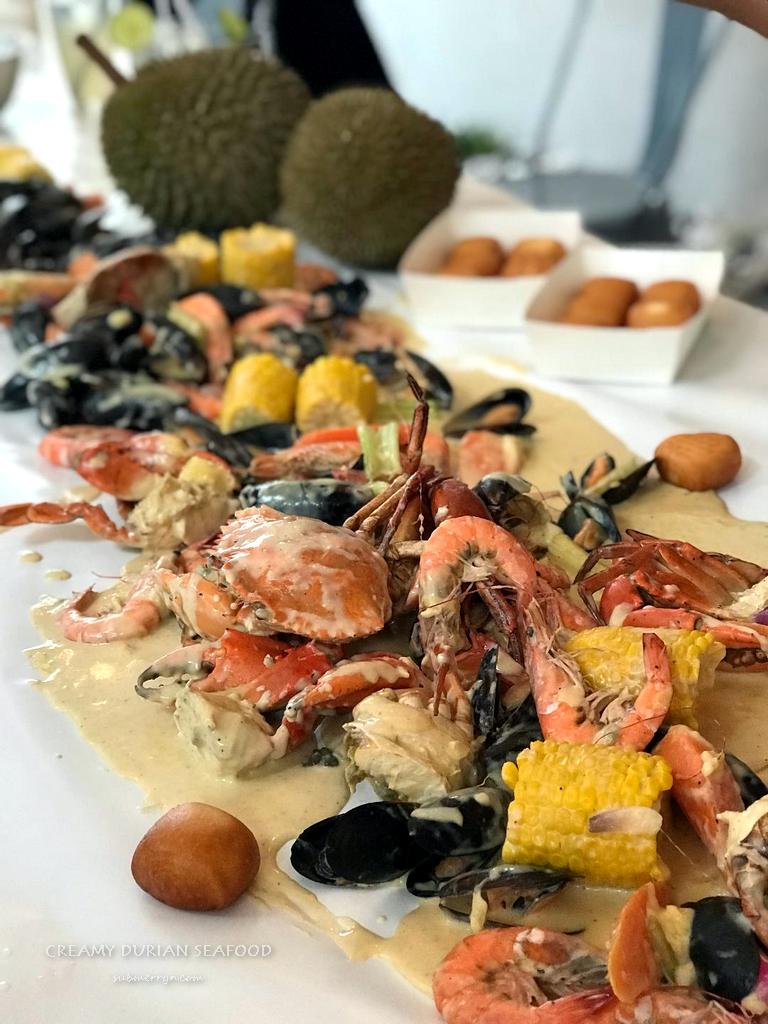 Looks so good don't you agree? It smells even better but does it tastes good?
Let's take a bite to find out.
The first prawn I took was generously coated with this thick and gooey cheese.
I went crazy just looking at it!
I took a taste of it and OhEMGee! The flavor just blew me away. I expected something sweet, you know, like eating the durian fruit itself? But it is nothing like that. It's NOTHING like eating fresh durian. Just forget about durian for a while. Get that thought out of your mind.
What we get is this savoury and very flavorful sauce that carries the fragrant aroma of durian. I'm still amazed that eventhough we get real durian pulp and fibers in the sauce, the durian sensation itself does not overpower the entire make-up of the sauce.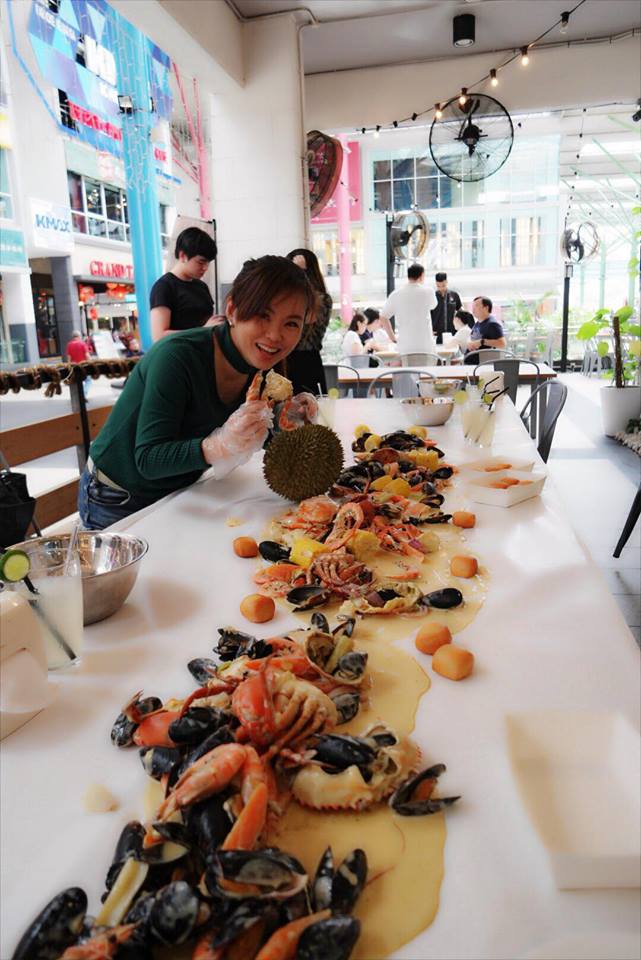 The verdict? I LOVE IT! Like seriously LOVING it! You see the fried mantao? We shiok max eating them dipped in the sedaplicious durian sauce.
You've got to try this to believe me. I think this Creamy Durian Seafood is the first in Malaysia as I've not heard any other places serving this, have you?
Disclaimer: The DURIAN I am holding is NOT included in the menu. Somebody cheeky actually brought the fruit there for fun 
The price for this awesome Creamy Durian Seafood is the same as their Butter Cream Milk and Golden Salted Egg sauce. It is not stated in the menu yet as they will only officially launch it this weekend if I am not mistaken.
Besides Creamy Durian Seafood, we also ordered their popular Golden Salted Egg seafood because we thought some of us may not fancy the Creamy Durian Seafood but what happened was we all sebulat suara LOVE the durian sauce that we ended up eating some of the salted egg seafood and tapau-ing the balance home cause we were all too full already from the creamy durian seafood feast.
Thick and sinfully delicious Golden Egg Yolk sauce. Drools!
Just Seafood also serves quick meals for lunch. Their are especially well-known for their Nasi Lemak seafood series but for now allow me to dream of my Creamy Durian Seafood feast just now ♥