Noble House KL Chinese New Year Menu
Before Christmas last December, I helped Darling call several Chinese restaurants in town to treat his business associates this coming Chinese New Year before we head home to our hometown to celebrate this joyous occasion. Some of these restaurants are already running high and almost fully booked as more and more city folks prefer to stay put in the Klang Valley during festive seasons.
I called several restaurants under The Oriental Group of Restaurants as they have a premium reputation specializing in Fine Cantonese Cuisine and they too are selling out really fast. I am lucky as I managed to secure a table at two of their restaurants for Darling's top business acquaintances.
I must be on a lucky streak as just after we confirmed our bookings, I received an invitation from a dear foodie friend Chris to join her for a special Chinese New Year preview at Noble House KL.
Noble House Restaurant is one of the restaurants under The Oriental Group of Restaurants. Oriental Group's Executive Chef, Chef Justin Hor and his team work hard to serve nothing but the best for their loyal diners ensuring endless flow of returning customers.

Noble House Restaurant
No. 19, Jalan Delima,
Off Jalan Tun Razak
55100 Kuala Lumpur
Tel: +603-2145 8822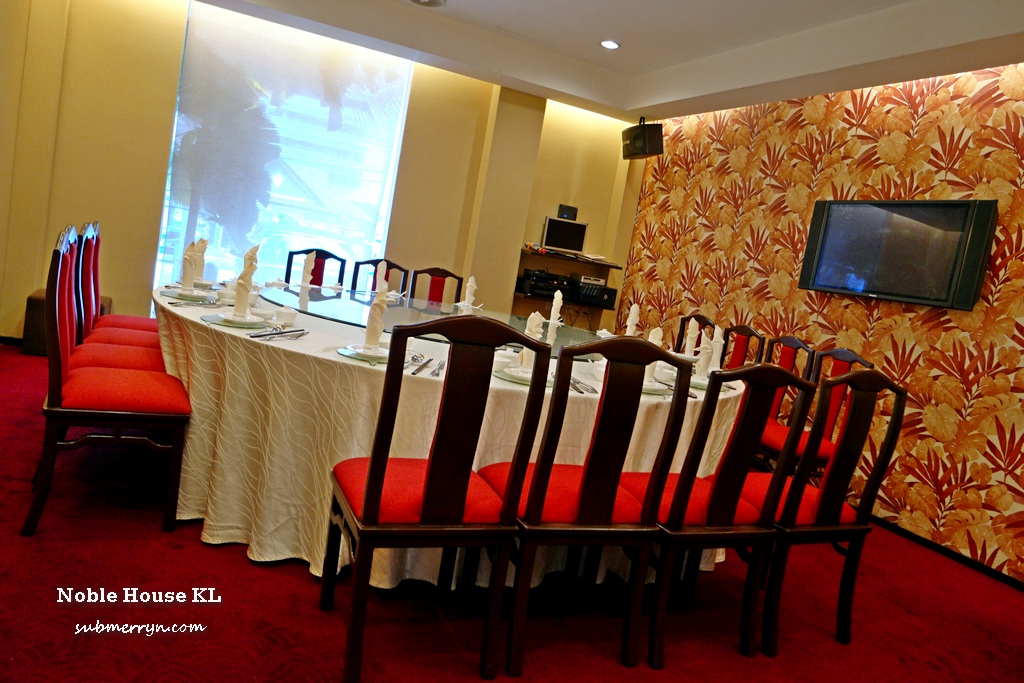 One of the many private rooms in Noble House KL.

We get to sample some of the dishes from Noble House's Chinese New Year Specialties menu as well as some other dishes.
The Chinese New Year Specialties menu differs from each restaurants under Oriental Group but the Braised Whole Abalone with Oyster Sauce promotion is applicable throughout all restaurants.
My little boss excitedly waiting for the Lou Sang session.
We can customize our yee sang to suit our preferred taste by:
1. Choose a base – Traditional, Modern Vegetables or White Truffle Yee Sang
2. Pick one or more of the many choices of main ingredients – Yellowfin Tuna, Soft Shell Crab, Golden Enoki, Smoked Octopus, Boston Lobster and many more.
Our Tuna with Crispy Fish Skin Yee Sang
Tuna is our preferred fish for yee sang. The crispy fish skin gives that perfect crackle and pop to our yee sang. The boys love it very much. They now have two favourite items in the yee sang – the crackers and the crispy fish skin 
A refreshing platter of yee sang with pretty colours and lots of different textures.
We began our meal with this luxurious pan-fried Hokkaido scallop with black truffle.
Pan-Fried Hokkaido Scallop with Black Truffle (RM33/pax)
Black truffle is a much sought after rare fungus. This truffles of the finest quality create the most enticing aromas giving the entire dish a unique flavour. I love the salad that comes with the scallop too.
Steamed Ocean Garoupa with Fresh Abalone, Glass Noodle and Dried Shrimp (RM488 per portion of 8 pax)
Weighing about 1.2kg, it only requires some light seasoning to bring out the natural sweetness of this ocean garoupa.
It is said a properly steamed fish is the benchmark for chefs and the one we had here certainly did not disappoint with the sweet firm flesh cooked just nice to get that springy yet flaky texture at the same time.
The boys enjoyed eating their all time favourite fishballs that were also included in the dish. 
Our fish dish is fit for a King with the presence of fresh abalones. 
We love the texture of the fresh abalone and its naturally fresh taste. The ingredients used in preparing this abalone are kept to the minimal and only to enhance the flavor of the already awesome abalone.
Braised Oxtail with Dried Oyster & Fatt Choy in Claypot (RM118/portion)
Authentic Chinese braised oxtail that is tender and extremely flavorful, I had many helping of this soft and melting meat. I love oxtails as they are one of the tastiest cuts of beef. 
Pan-Fried Lamb Cubes with Black Garlic Sauce on Hoba Leaf (RM30/pax)
We were very lucky to be able to sample this lamb cubes cooked with black garlic sauce as eating black garlic is known to be good for health in Japan. Black garlic is fermented in very pure sea water making it completely natural with no additives nor preservative. It is rich in antioxidant and its soft texture resembles that of dried fruit. 
Pairing lamb cubes with imported black garlic from Japan proves to be a very successful combo as it gives out an appetising balsamic aroma and teases my taste buds with its delicious flavor that is similar to preserved plums. 
Roast Baby Duck with Sweet Corn (RM50)
A baby duck has surprisingly no duck meat odor and the texture of the meat is much more tender. I love that they added lots of corn as the sweetness of the corn compliment the tasty meat perfectly. The duck is served with sauce on the sides but we did not touch it at all as it is perfectly delicious the way it is; crispy golden skin with tender tasty meat inside. 
Stir-Fried Celery and Baby Black Fungus with Wax Meat and Fresh 'Huai Shan' (RM38/portion)
I was pleasantly pleased with the way they prepared the wax meat for this dish.
The boys usually stay away from wax meat as they find it difficult to chew on it but the wax meat here is chopped and mixed with steamed minced meat and water chestnut and pan-fried giving it such an interesting texture that the boys kept requesting for more. 
Fried Glutinous Rice with Whole Abalone 
Our jaw literally dropped onto the table when the fried glutinous rice was served before us. I super love the presentation; having it served in a baby pumpkin that way. These days, I appreciate food being served in individual portions like this especially during wedding dinners when we are seated with some strangers. It is so much more comfortable to eat this way. 
Our dessert is equally a feast to the eyes as it was to our palate being served in a whole orange bowl. I dug into it to find luxurious bird nest, fresh orange cubes and zesty orange jello inside.
I did not get the name of this dessert though as I was too fascinated with it. If you wish to have this during your visit to Noble House, just show them this picture 
Last but not least, what is a Chinese New Year feast without Nin Guo.
We were served two types of Nin Guo. One is cooked the traditional way layered with sweet potato and yam while the other is similar to woo kok with the honeycomb effect and very crispy. I love both version but Ethan was extremely attracted to the later and traded his 3-layered Nin Kuo with my crispy honeycomb Nin Kuo 
To sum it up, we had a very satisfying lunch. Noble House KL truly live up to their reputation of being one of the top restaurants serving fine Cantonese cuisine. I can now rest assure that Darling's business associates will be very happy this Chinese New Year.