Ultherapy™ at The Sloane Clinic
2015 is a brand new year that marks many personal milestones for me. One of them being Darling and I will be celebrating our 10th wedding anniversary this year.  I'll also be turning 38 this year. Oh my, where have the time gone? Like it or not, I'll be touching the big 4-0 in a couple of years' time :(
As I aged, my skin becomes less firm. It is no longer as tight, causing droopiness around the eyelids and some loose skin around the jaw area. I am also starting to develop some laugh lines around my mouth and my cheeks are starting to sag.
I wish to age gracefully and will do all that I can to try maintain my 'youth' but I am not ready to resort to invasive procedures just yet. If there is a non-surgical cosmetic procedure that is able to improve the skin, tightening and lifting it, I will definitely give it a try but is there such a thing?
Yes there is. It is called Ultherapy™. I was given the opportunity to go for a full face Ultherapy™ procedure at The Sloane Clinic's Bangsar Branch recently.  The Sloane Clinic is the pioneer for Ultherapy™ in Singapore and Malaysia. Ultherapy™ is the only non-invasive procedure FDA-approved to lift the skin on the brow, neck and under the chin.
Ultherapy™ is an ultrasound procedure that stimulates the production of new collagen and elastin deep within the skin without harming the outer layer of skin for dramatic and long-lasting benefits of facial firming, skin tightening and lifting.
So there I was at The Sloane Clinic's Bangsar Branch on a fine afternoon.
The Sloane Clinic, Bangsar
Nice, cosy interior.
Consultation
After my consultation with Dr Wong, she decided that I should do a full face Ultherapy™ treatment though their most popular treatment is the full face and neck treatment which gives patients the maximal visible benefits. I should be happy to hear that as that means my neck is still very much gravity defying :P
Before the treatment
They prepared my skin by removing make-up and cleansing the skin.
Photograph Protocol
After my skin is cleansed, I am escorted to the photo room where my pre-treatment face is photographed. This will be kept in their record and to be used to track my progress upon my return two months later for a follow-up treatment.
Skin Numbing
Numbing cream is then applied onto my face to numb my facial skin.
It is massaged into my skin for better absorption.
My face is then covered with a cling wrap for maximum absorption of the numbing cream.
The entire numbing process takes about 15 minutes.
Ultherapy™ Procedure (RM11K for full face / RM14K for face and neck)
Once they are satisfied that my skin is numb enough, we proceeded with the Ultherapy™ procedure.
Do check out Sloane Clinic's Ultherapy™ Link to read more on the procedure.
Dr Wong did some markings on my face.
Face mapping. Dr Wong explained that she'll use two types of scopes. One that will treat deep inside my skin while another that treats the superficial layer of my skin.
Dr Wong performing the Ultherapy™ procedure on my skin.
Using ultrasound technology, Dr Wong is able to visualize the different skin layers and to have pinpoint accuracy during the treatment. Using focused ultrasound rays, the procedure targets deep skin tissue layers without any harm to the underlying skin.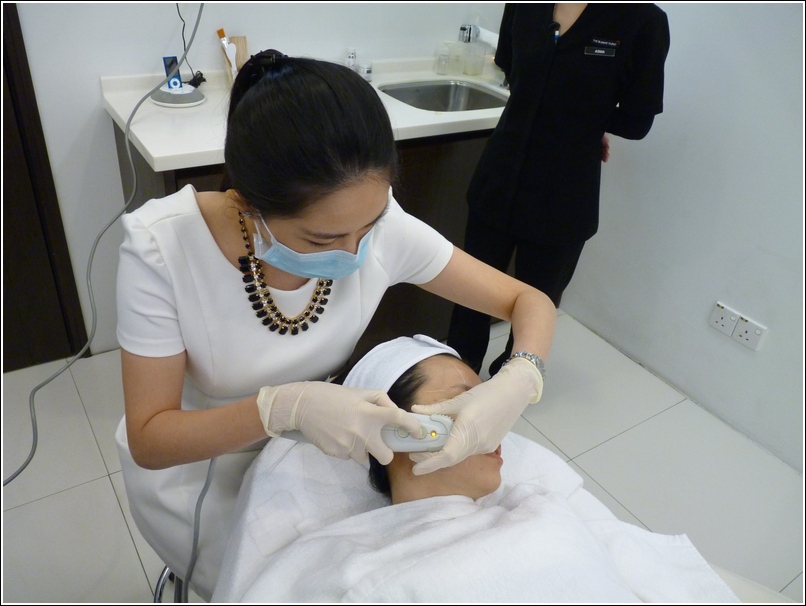 Now let's talk about what I feel throughout the entire procedure. As this treatment targets the deeper layer of the skin, I feel a warm, prickly, tingly sensation when the ultrasound energy is being delivered into the target tissue. It is more intense around the jaw and upper face area but is bearable thanks to the numbing cream. Dr. Wong complimented me on my high pain tolerance. I'm a mother of two. This is nothing compared to child birth. Haha. Anyway, for patients with lower pain threshold, oral painkillers can be prescribed upon patient's request. However this request has to be approved by the doctor. Patients will need to inform the doctor about any drug allergies etc. This is all part of the pre-treatment protocol.
The entire Ultherapy™ procedure takes about 60 minutes.
Post Treatment
After the Ultherapy™ procedure is completed, I am given the Silver Ion Mask treatment. This treatment aids in relaxation and soothes inflammation of the face. It enhances and restores the skin surface and reduces inflammation of underlying tissues, aiding in the healing of those soft tissues. 10 minutes later, I am good to go. Before I left the treatment room, the therapist applied Sloane Inc's 24K Gold Primer on my face followed by their sunblock.
Sloane Inc's 24K Gold (RM395)
This age-defying treatment combines pure 24 Karat Gold with the power of antioxidants and botanicals to enhance skin's elasticity, firmness and smoothness. The clinic also gave me a complimentary bottle (as shown in pic above) to bring home.
I love this glow inducing skin primer. Can you see the gold flakes? By improving circulation and decreasing skin inflammation pure gold helps to rejuvenate the skin from inside out, boosting skin's natural radiance and luminescence.
I can resume my normal activities right away after the Ultherapy™ procedure. I can put on makeup if needed.
They even have this gorgeous powder room with complete range of make-up for our convenience.
I was served cookies and refreshing red date tea as my therapist advised me on post treatment care. I was told to continue with my daily facial regimen but avoid harsh scrubs and to stay away from direct sunlight exposure for a week. I was also informed to return two months later for a follow-up treatment and to discuss my progress. Already my skin feels tighter now but the full effect will build gradually over the course of two to three months so I am pretty excited to check out my progress a couple of months later. I was told that most patients repeat their treatments every year, while others may want to repeat the treatment after a longer interval. Of course, your skin will continue its natural aging process, so you may need to schedule additional treatments over time to maintain the results. The doctor at The Sloane Clinic will be able to advise you on that decision during your follow-up visits.
To see a list of other treatments provided at The Sloane Clinic, do check out http://www.sloaneclinic.com/en-my/
The Sloane Clinic
Bangsar Branch
79 Jalan Maarof, Bangsar
Tel: (603) 2288 1788
Opens on Monday to Saturday from 10am – 8pm. Closed on Sundays & Public holidays.
Pavilion branch
Lot 7.02.04, Beauty Hall, Level 7, Pavilion KL.
Tel: (603) 2110 6488
Opens every day from 10am – 9pm.
//
//
//
//
//
//
//
//
//
//
//
//