Paper Quilling Chinese New Year Card
We don't usually go to Paradigm Mall but several weeks ago we did to meet up with friends. After out meet up, we thought of walking around for a while when we passed by Popular Bookstore and saw that they are giving a free art and craft session for kids but there was not even a single kid keen to participate. Why? What is happening to kids these days? Art and crafts don't fancy them anymore? That is extremely sad. 
Luckily Ethan was keen. He eagerly went to register himself and they started off with only ONE kid, Ethan. The project for the day is Paper Quilling.
Strips of paper for paper quilling.
Quilling tools and some Chinese New Year themed stickers. 
It is Ethan's first time quilling. He was guided by this young teacher.
Ethan uses the quilling tool to curl the strips of papers. 
He is then required to paste the end of the strip so it stays in place. He had to quill many of these red and even white strips of paper as his project requires quite many of them. By now, several other kids decided to participate when they saw what Ethan was doing. 
Once done with the paper quilling, Ethan continued to make these 'raindrop shapes' from short strips of paper. It took him an hour to finish all the quilling yet he persevered and continue to complete his craft work. Those other kids who joined after seeing Ethan, stopped quilling after ten minutes and their parents ended up finishing their project for them. Kids get bored easily these days, huh?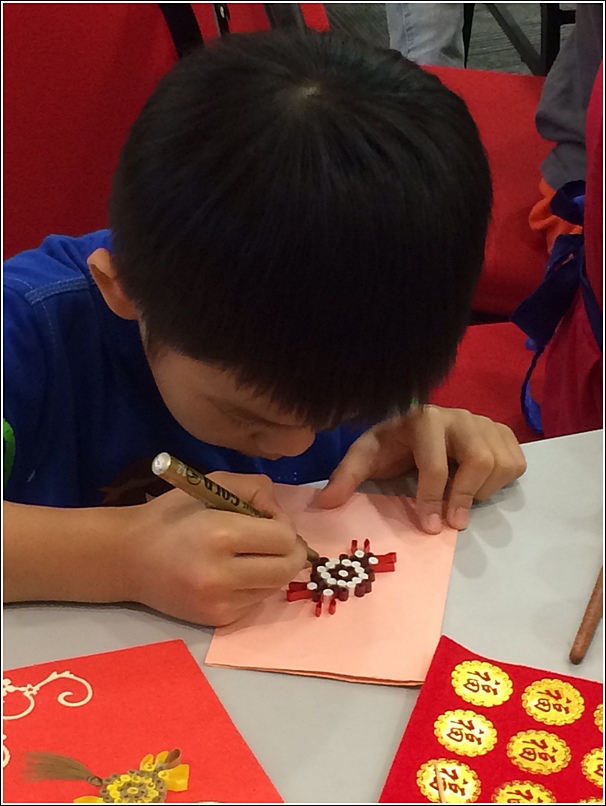 After pasting his hard work on a colored construction paper, he drew the golden tassel.
He also wrote the CNY words on the card. He told me the teacher wrote the Chinese characters wrongly but I am not too sure as I don't read Chinese. The teacher heard him and re-checked. The teacher then told Ethan that he has been writing it that way all his life and only that day he was told that it has an error in it and they both laughed. The teacher said that the people around him are very naughty to not correct him when there is a mistake. I am still unsure though if what Ethan said is true.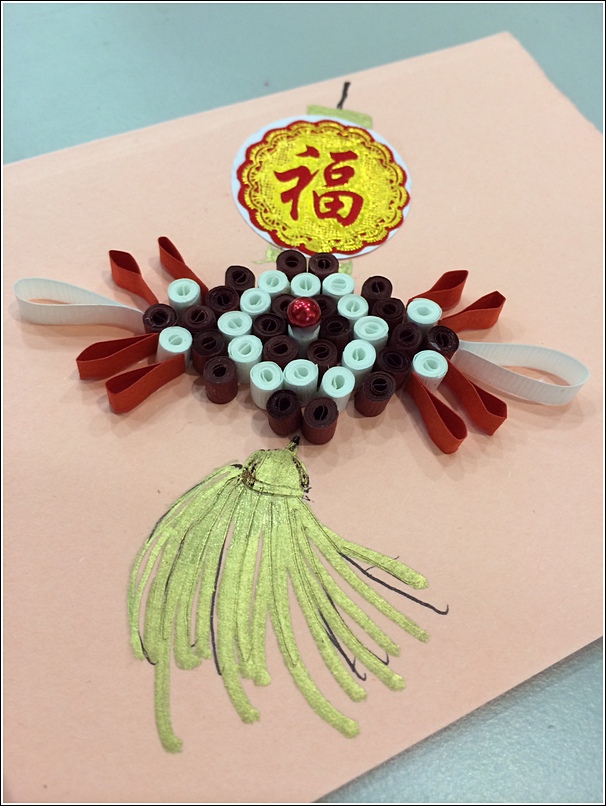 Ethan's paper quilling Chinese New Year card.
Ethan and both the teachers that day. They insisted to take a picture with Ethan as they said he is the only kid who persevered throughout the entire 90 minutes to complete his work. So I also take the advantage to take this picture of them with Ethan. 
Ethan said he wanted to make this paper quilling CNY greeting card at home for his teachers but I told him, "Good Luck!" as I doubt he'll have the patience to spend 90 minutes x 5 teachers!