Easy Homemade Chicken Stock for Babies
Since Ayden started eating solid food, I've been cooking porridge for him every day without fail. You can check out some of the porridge recipes here. He'll be 11 months old in a week's time and I want to add varieties into his meals. I am feeling like feeding him pasta so I boiled chicken stock. Homemade chicken stock is better for babies instead of those commercial ones as it is not encouraged to feed babies (below a year old) salt as their kidneys have yet to fully mature. 
It is so simple to DIY our own chicken stock I don't understand why people need to buy those commercial ones.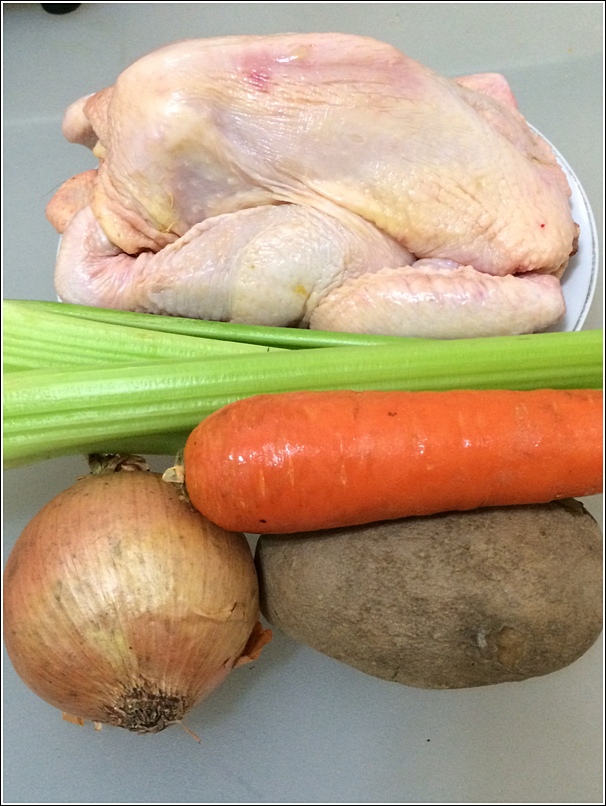 I used a whole kampung chicken, celery, carrot, big onion and potato for my chicken stock. You may add parsley, garlic or anything else to suit your fancy but make sure that your baby has already gone through the 3 days allergy test on all the ingredients used. 
Remove chicken skin, chop and trim off visible fats. Rinse. Bring a pot of water to a boil. Add all the ingredients and let it boil for an hour. Reduce fire and let it simmer. I like to let it simmer for hours until the entire house smells of delicious chicken soup. Turn off fire and let cool. 
Once cooled, remove chicken bits and the rest of the ingredients. Strain the stock. I usually boil a big pot of chicken stock so what I did was to store them in those milk storage bottles (since I don't pump and store milk as I'm a latch on mom) and freeze them.
This chicken stock is delicious as it is. Do not add salt. It is already very tasty. 
These frozen chicken stock can keep for up to a month but I always use them up in a week. All I need to do is to take a bottle out, thaw it and bring to a boil. 
Boil some organic pastas, drain and add into the reheated chicken stock. 
Oh yeah, I sometimes add some chopped spinach too (fresh from my garden).
I use this chicken stock for Ethan's meal too but of course for Ethan, I'll add salt to taste. 
Besides using the chicken stock for pasta, I also use it to boil porridge. Simply replace water with chicken stock and the porridge is so much yummier!  Life is so much easier with these chicken stocks waiting in the freezer. 
//
//
//
//
//
//
//

//

//

//
//
//

//

//
//
//
//
//
//

//