Universal Studio, Hollywood!
Last year, Ethan had the opportunity to do some ads and work with a TV station on a craft segment. He gets paid for each episode he starred in. At only 5 years old, he doesn't really know the real value of his earnings. What we did was to open a Savings Account for him and all his earnings went direct into his account. We did however reward him with toys for his effort.
Ethan is a Transformers fan. Without fail, he'll request for a Transformers toy.
I took this picture from Ethan's Facebook account. This is some of his Transformers collection.
We were in Giant last weekend. I don't really know how we ended there as we don't usually shop at Giant but yeah, we were there and Ethan saw this Oreo Transformers Bundle pack.
Two of his favourite things packed together – Oreo and Transformers! One look at it and he pestered us to buy it for him. Darling was in a good mood and bought not one but two packs for Ethan.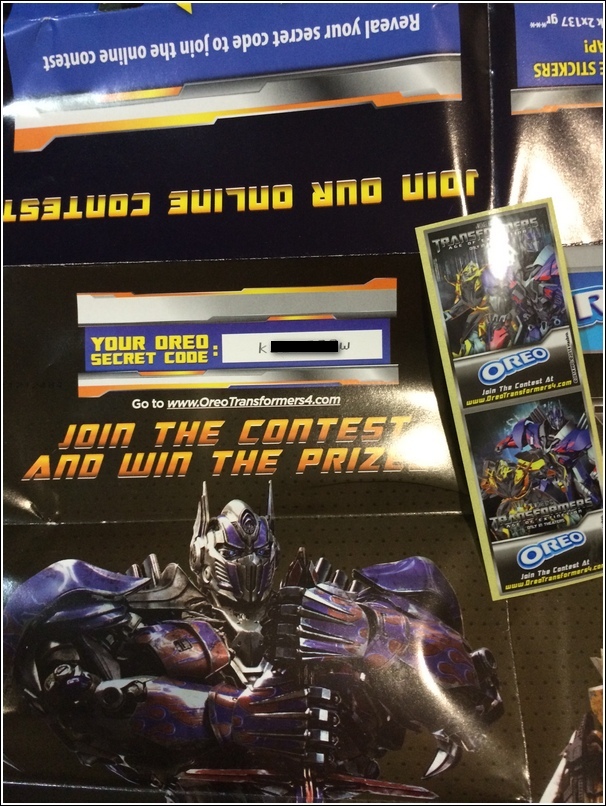 There's a free poster/Action Map inside and at the back of the poster is the Oreo Secret Code. Sorry I can't reveal my code as that is my key to Hollywood. I'll tell you more about it in a bit. There are also a couple of stickers included in the packet. I read that there are actually 30 collectable stickers to complete the Action Map.
When we reached home, the first thing Ethan did was to switch on the laptop and logged into http://oreotransformers4.com/my/en/ to check out the Oreo game that is mentioned on the bundle pack.
Ethan (Optimus Prime) playing the Transformers game while Darling and Ayden watched intently.
Ethan trying to grab as many Oreos as possible. Ayden found it very interesting and sat there watching the big brother play. I just love to see my 3 boys spending time together <3
Now here's why I hid my Secret Code earlier. It is because Ethan can use it to accumulate points in that online game to try to win a trip to Universal Studio, Hollywood for a family of FOUR! There are four of us in our family and Ethan loves Universal Studio! Maybe we can be THAT family that will win that trip to Universal Studio Hollywood!
Our last trip to Universal Studio Singapore, he had fun riding on The Transformers Ride!
Transformers The Ride, one of the MUST ride in Universal Studio.
We thought Ethan was too young for that ride as he was only 5 years old then but he has already achieved the height limit and loved the ride so much that he went TWICE!
There are also 10 daily prizes up for grabs so I'm allowing Ethan some time each day to go online and play the game. Who knows, he might be the lucky one. After all, he is Optimus Prime! :D
//
//
//
//
//
//
//
//
//