Project Cookie Fail
Ok. Today's entry is a replicate of my Dayre entry. I've been thinking, I update my Dayre sometimes but nobody reads it there. It's like a ghost town there in my page. So I'm going to post it here in my blog instead where at least I have one or two readers -.- But the best part about Dayre is their stickers. The stickers you see here are 'stolen' from Dayre. Do check it out here if you are keen. 
Here goes…
Tested the oven yesterday and it was working well. My oven had not been working well for some time now but it was okay yesterday.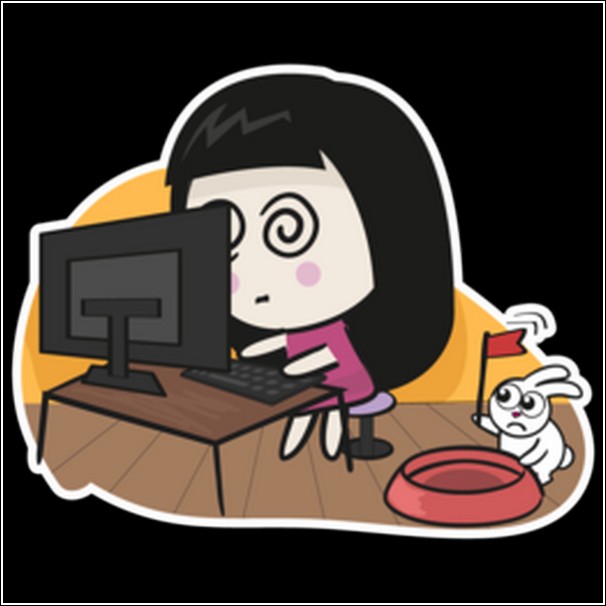 Quickly browsed the internet for some quick and simple cookie recipe.
Happily went shopping for cookie ingredients today. Being rather ambitious, I bought quite a lot of stuffs!
Saw this famous Penang White Curry noodles on sale in Cold Storage. Promo price at RM7.99?! Where got cheap like that? In my mom's kampung we can get it at RM6.90 nia..
I ate this before. A friend gave me a pack of 4. I ate one, gave my mom one and my sister another one. One more keep at home in the first aid kit in case of emergency.
My mom tried. She said not nice. Very jelak. Aiyo very hard to please that Nyonya. My sister tried she said OK ooooo. Sedap jugak. And then my mom had to outdo me. She gave me Mamee Chef! She asked, "Pernah makan this one?" I said NO wor. She said "eat la. This one nicer. Not so jelak. The noodles texture oso better. Daddy oso lagi suka this". The way she promotes this, people will think she owns Mamee or something!
My mom gave me these two. Ok la, that's prove that she doesnt own Mamee after all. If she does, she would have given me at least a carton, kan? >_<
I cooked it and yeah wor, I prefer this to that White Curry Noodles. I love the springy texture and this is not so jelak la. But still I am fair, I keep both this and the white curry noodles in my first aid kit. In case of emergencies, I can have BOTH!
ANYWAY… *why am I talking about instant noodles when I actually wanted to write about cookies!* Coming back to my cookies… I went home and happily laid some of the stuffs I bought on the table to take picture for blogging should the cookies turn out so well I'll be more famous than Famous Amos!
This is part of the first recipe that I planned to bake. I told you I was rather ambitious and actually wanted to bake two recipes!!! 
So after taking this picture, I started measuring the ingredients. Oh yeah, before that, I switched on the oven to preheat it. Then while I shiok shiok measure ingredients, the entire house blacked out. My oven tripped the power AGAIN!
What the heck should I do with all the ingredients now?!!
//

//

//

//

//

//

//

//

//

//

//

//

//

//

//

//

//

//
//
//
//
//