Absence Makes the Heart Grow Fonder
People has been commenting that I have not posted much about Ethan since the arrival of Ayden so today's post is all about what Ethan has been doing over the weekends.
My mother is here to take care of my confinement needs and also to help take care of Ayden for this month. My Dad came from Malacca over one of the weekends and brought my Mom shopping where they bought a remote control car for Ethan. They then brought Ethan to the playground at my place to play the car.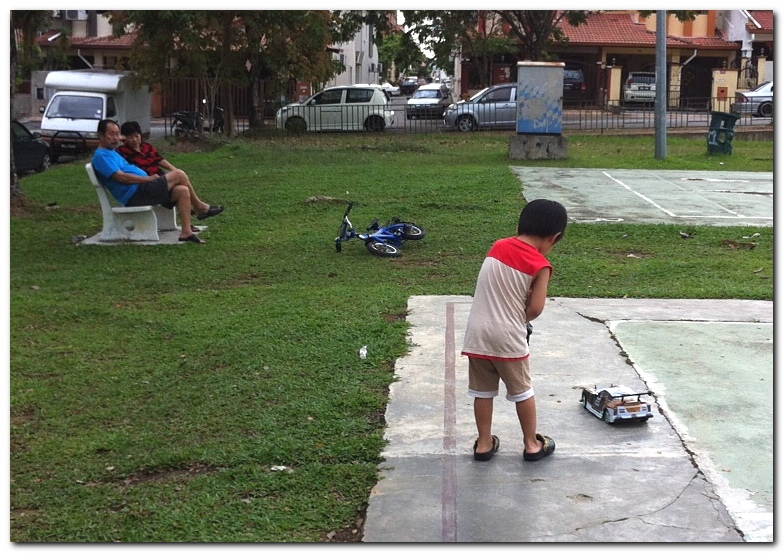 See my Mother and Father sitting at the bench. Loving-nyer. Absence makes the heart grow fonder doesn't it? <3
That is how big the RC car is. Ethan is already asking Darling to get another RC car so they can both race at the court!
Last weekend, Ethan attended the free BASF Kids' Lab 2013 at Empire Shopping Mall. Darling brought him there as I am still under confinement.
The kids stood there for almost 2 hours I heard. Scientists don't sit on chairs, eh?
They experimented on 3 subjects: Making lotion to protect against UV rays, Super absorbent and another thing that I can't remember.
Ethan and the rest of the BASF Kid's Lab participants.
Besides the above, Ethan also brought my Mom to a mooncake celebration in my neighbourhood. It may be overdue but I'll blog about the lanterns he made later. I try not to slack on blogging but time is just not enough these days -.-
Overall, Ethan is kept occupied by Darling most of the time. Darling try not to make him feel neglected by bringing him out but guess what? Ethan insisted to stay home as he wants to be as close as possible with his adik..
Tomorrow my confinement will be over and I'll be a free bird to fly everywhere again. Watch out world, I'll be back! :D
Related Posts
//
//
//
//

//

//
//
//
//
//
//
//
//
//