Ethan on Chiki Boom's 'Saya Kreatif' TV2
Ethan's very first appearance on Chiki Boom's 'Saya Kreatif' segment was aired last Sunday but we missed it as we were up in Genting celebrating the famous Thailand's water festival, Songkran. This week, we made it a point to stay home to catch the second episode of Chiki Boom's latest season.
The episode this week touches on the kids' journey in FRIM hence the call for a nature art. They did a dried leaf craft called, 'Kraf Anak Ayam'.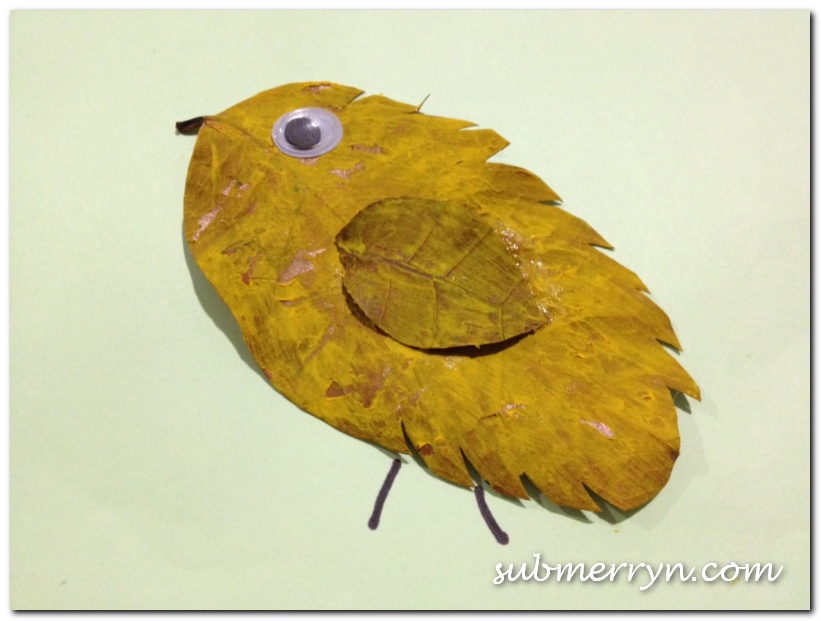 Dried leaf chick craft
A snippet of Ethan with the hosts of Chiki Boom – Bella, Chandini and Abang Alif
This episode's "Saya Kreatif" was recorded in our Crafty-Crafted Studio and I caught our Studio's name at the end credit.
I also caught MY name as the demonstrator but did not managed to capture it as it caught me off guard. Nevermind, next week I'll try to take a picture of it :P
Update: Managed to finally get this screenshot
Oh in case you don't know, my role in Chiki Boom's "Saya Kreatif" is to contribute some creative ideas on what crafts to be done according to their weekly theme. 
I'm so happy to finally watch the finished product of our project. There'll be many more episodes to be aired every Sunday and I'm glad, of the many projects that is being offered, I chose to accept Chiki Boom as I find it quite entertaining to watch! Thank goodness for that!
If you missed it, I recorded it while watching so here goes:

Credits to Chiki Boom, TV2
Catch Chiki Boom every Sunday, 10.05am on TV2
Related Posts
//
//
//

//

//
//
//
//
//
//
//
//
//